Lake Papakeechie Sustainability Initiative Inc. (LaPSI Inc.)
---
An Aerial Photograph of Lake Papakeechie, Syracuse, Indiana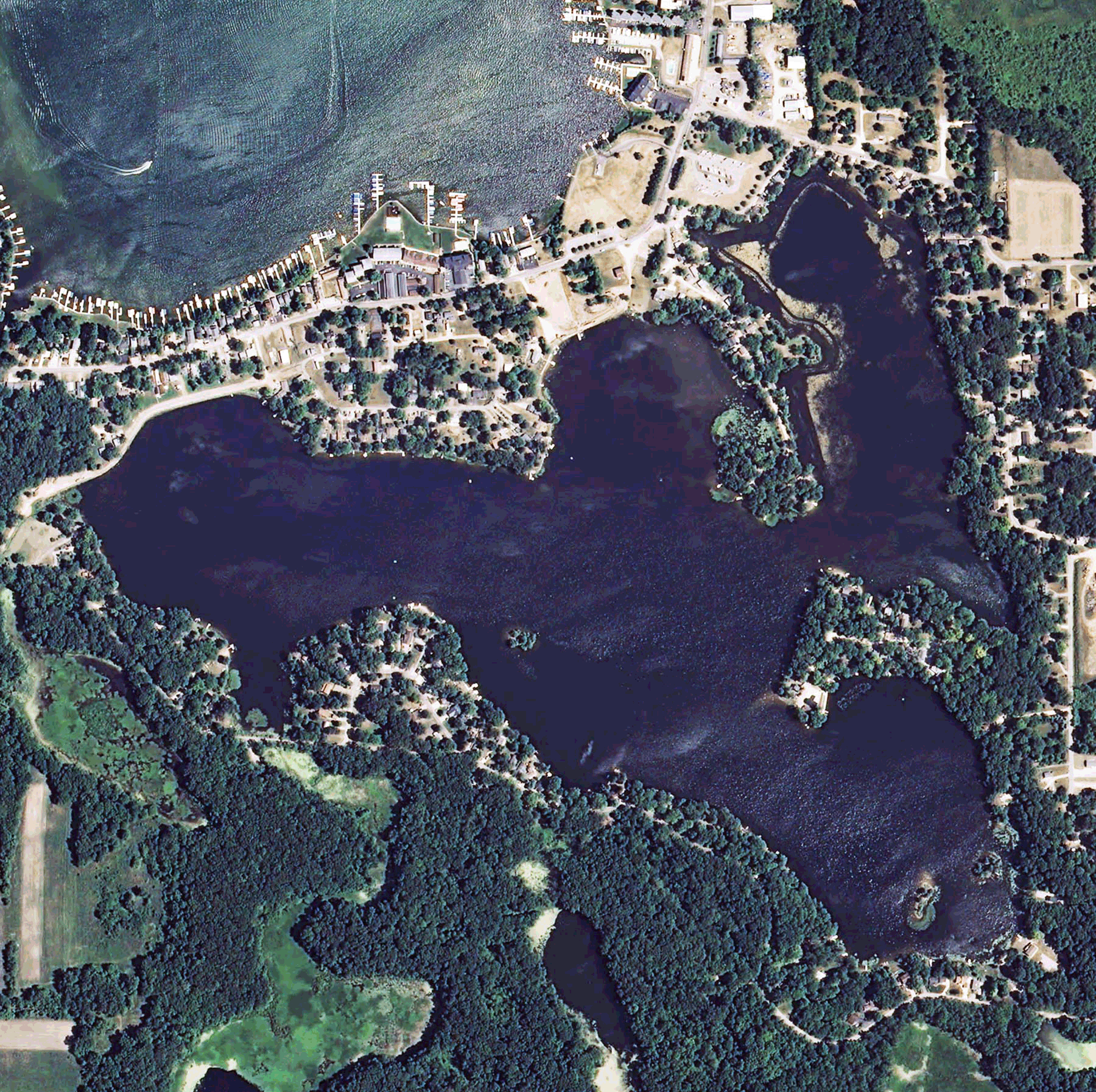 ---
History
The Lake Papakeechie Sustainability Initiative (LaPSI) was founded by Anthony S. Serianni in 2012, in collaboration with an advocate on the Papakeechie Protective Association Board, Bernie Ebetino. The idea grew from Prof. Serianni's teaching of sustainability principles and practices in a Sustainability Gateway course embedded in the Sustainability Minor started at Notre Dame in 2011, and from his personal interest in Lake Papakeechie.
Lake Papakeechie is a 179-acre private, non-sports lake in Syracuse, Indiana (Kosciusko County). The lake is part of a three-lake interconnected water system comprising Syracuse Lake, Lake Wawasee and Lake Papakeechie. The Tri-County State Preserve lies directly south of Lake Papakeechie. Since the complete water system lies north of the Continental Divide, waters from the Tri-County Preserve flow northward and into the above-noted three-lake system, and from there into the St. Joseph River. To explore the direction of flow of streams and rivers in the United States, see Streamer.
---
Mission
LaPSI serves all of the residents of Lake Papakeechie, represented by the Papakeechie Protective Association, as an environmental information resource to promote a healthy, vibrant, beautiful, and sustainable ecosystem at Lake Papakeechie and its environs, including its watershed, through the use of modern and diverse scientific tools and methods.
---
Vision
To serve as a key technical information resource and advisory group to the Papakeechie Protective Association (PPA), and its Board, on matters related to the health of the Lake Papakeechie ecosystem as assessed by modern scientific methods; to engage with local, state, and national individuals, groups and organizations on lake management approaches and methods; to witness continuous improvement in the quality of life in and on Lake Papakeechie over the coming decade and beyond; to insure that Lake Papakeechie remains a desirable and thriving community for future generations of all life on the lake; to respond to, and manage, events of nature (e.g., climate change) in a manner that secures and ensures a viable long-term future for the lake and its diverse ecosystems.
---
Principles of Operation
To fulfill its mission and vision, LaPSI employs multiple approaches and methods, including but not limited to: (a) the collection, analysis, archiving and communicating of scientific data on water quality, and on other biological and ecological parameters; (b) responsible applications of contemporary management, control and conservation measures; (c) consistent monitoring and assessment of aquatic and non-aquatic microorganisms, plants and animals; (d) supporting and promoting sustainable behaviors and activities by lake residents with respect to use of the lake as a natural resource and source of pleasure; and (e) ensuring and promoting the private character of Lake Papakeechie.
---
Incorporation
LaPSI was incorporated in the State of Indiana on March 15, 2017 as a domestic nonprofit corporation, and a Certificate of Incorporation has been issued. As of this writing (March 17, 2017), LaPSI is in the process of filing paperwork with the Internal Revenue Service to secure 501(c)(c3) tax status.
---
Members and Contact Information
Current Leadership
Diane Tulloh - Group Leader (dtulloh@gmail.com)
Virginia Surso - Treasurer (sursov@aol.com)
Current Members and Their Primary Activities
Bernie Ebetino (ebetinob@gmail.com)
Kendall Floyd (kendall.floyd@rockets.utoledo.edu): PPA website
Jody Hedges (jodyandmac@gmail.com): water testing
Mac Hedges (jodyandmac@gmail.com)
Charlotte Hill (rjohill1@hotmail.com): invasive plants
Jan Laurent (jlaurentmusic@gmail.com): water testing
Mark Laurent (mdlaurent@aol.com): Lake Papakeechie Wiki page
Anthony Serianni (aseriann@nd.edu): scientific consultant, LaPSI website
Ann Serianni (serianni@gmail.com)
Virginia Surso (sursov@aol.com): publicity
Diane Tulloh (dtulloh@gmail.com): overall LaPSI management, water testing
Past Leadership
Anthony Serianni - Group Leader, 2012-2014
---
LaPSI Consultants
---
Achieved and Aspirational Goals, Activities and Studies
1. Develop and implement a Lake Management Plan
2. Background Studies
(a) Study human and animal populations, and agricultural activities, on/near lake; identify and evaluate land usage in the Papakeechie watershed.

(b) Prepare a bathymetric (depth) map of the lake. Click here to download this map created by John Hart and Hannah Becker in the summer of 2013 using LaPSI sounding equipment and associated data-processing software.
3. Identify and address potential lake environmental factors/issues/problems, including: weeds/algae/invasive plant growth and management; noise control; fish (size, number and species distribution); shoreline management; litter/rubbish removal; wildlife control; water level; effects from runoff/seepage.
4. Implement a systematic water testing program, including: dissolved O2; temperature as function of depth; nutrient analysis, including total phosphorus, nitrogen, and chlorophyll a; water transparency (Secchi); water hardness; pH; sedimentation; bacterial load (E. coli).
5. Identify and evaluate intervention options chemical/biological control of vegetation physical harvesting of vegetation: alien/invasive species control (fish and/or plant); agricultural runoff land purchases for protective purposes.
6. Develop a plan for shoreline maintenance and development to promote shoreline ecology, natural beauty, and sustain/improve property values.
7. Conduct a fish census; consider stocking options.
8. Maintain an up-to-date website to disseminate information, and prepare and distribute an annual newsletter to lake residents summarizing meeting discussions, scientific data and an analysis/interpretation thereof; provide advice and guidelines for the protection and enhancement of the lake and its watershed.
9. Identify and secure funding to cover costs associated with the implementation of the Management Plan; recruit volunteers in the lake community to help with data collection.
10. Develop professional relationships with existing lake management groups and organizations within the county, state and country, including the Wawasee Area Conservancy Foundation (WACF), the Indiana Clean Lakes Program, the Indiana Lakes Management Society (ILMS), and the North American Lake Management Society (NALMS).
11. Develop working relationships with local colleges/universities and other institutions to promote the development of a LaPSI Advisory Board, and promote joint activities and projects. The local colleges and universities include the University of Notre Dame, Holy Cross College, St. Mary's College, Goshen College, Indiana University-South Bend, Bethel College and Grace College.
---
Commissioned Technical Studies and Reports
2016 Aquatic Vegetation Sampling Report - Lake Papakeechie (November 15, 2016). This work was commissioned jointly by the PPA and LaPSI. Download
2016 Fish Survey Report - Lake Papakeechie (December 12, 2016). This work was commissioned jointly by the PPA and LaPSI. Download
---
Maps, Technical Documents, and Scientific Methods and Equipment
A. MAPS
For an extensive collection of Indiana geographic information system (GIS) map data, see IndianaMAP.
B. TECHNICAL DOCUMENTS
1. Wawasee Area Watershed Management Plan, 2007. This is a large document and may take time to download. Download
2. Volunteer Stream Monitoring, Training Manual 2015. Hoosier Riverwatch. This is a large document and may take time to download. Download
3. Aquatic Invasive Species - Plants. Indiana Department of Natural Resources. This site provides extensive information on how to visually identify specific invasive plants common to Indiana lakes, and information on how to manage and/or prevent their growth in lakes. Multiple downloadable pdfs on specific invasive plant species (see three examples below) are available. Connect to IDNR Invasive Plant site.
Curlyleaf pondweed Download
Eurasian watermilfoil Download
Purple loosestrife Download
The following articles provide additional discussion of aquatic plants and weeds, and the positive and negative consequences of the various methods used to control them.
Aquatic Plants - Not Just Weeds Download
Aquatic Weeds - Nuisance and Necessity Download
4. Plant Identification Chart. This material was obtained from the Midwest Aquatic Plant Management Society. Download
5. Grace College Lake Study 2007. Download
6. Supplement to Grace College Lake Study 2007: Lake Papakeechie Report. Download
7. Supplement to Grace College Lake Study 2007: Lake Wawasee Report. Download
8. Citizen Lake-Monitoring Program: Instruction Manual. Minnesota Pollution Control Agency, February 2008. Download
9. Interpreting Lake Data. B. Jones, School of Public and Environmental Affairs, Indiana University. Indiana Clean Lakes Program. Download
C. SCIENTIFIC METHODS AND EQUIPMENT
Test Equipment in Operation:
1. Water Clarity. Watermark Professional Secchi Disk Kit (heavy duty): 20-cm diameter, black/white quadrants, polycarbonate with nylon cable. Purchased from Fondriest Environmental.


2. Dissolved Oxygen (DO) and Temperature Meter with Probe. YSI ProODO Optical DO and Temperature Instrument (with Data Manager PC software, USB cable and communication saddle; equipped with a YSI ODO probe and 30-m cable). Purchased from Xylem; manufactured by YSI Incorporated.

3. Microbiological (E. coli). Coliscan® Easygel® (purchased from Micrology Laboratories LLC, Goshen, IN). The Coliscan® Easygel® medium contains a sugar that is linked to a dye which, when acted on by the enzyme, β-galactosidase (produced by coliforms including E. coli), turns the colony a pink color. A second sugar is also present in the medium that is linked to a different dye which produces a blue-green color when acted on by the enzyme, β-glucuronidase. Since E. coli produces β-galactosidase and β-glucuronidase, E. coli colonies produce a purple color (pink + blue). Exploiting the use of two dyes allows the test to differentiate and quantify coliforms and E. coli (i.e., total coliforms are determined by counting the pink and purple colonies).







Test Equipment Under Evaluation:
4. Orthophosphate (PO4-3).
5. Nitrate (NO3-1).

a. Hanna Instruments HI96786C Nitrate Portable Photometer Kit. Range: 0-100 mg/L. Purchased from Amazon.
b. Water Nitrate Test Kit (Standard Range and Low Range) (Simplified). This is an enzyme-based test using nitrate reductase and NADH. Purchased from NECi. See the following documents for more information about this test.




Procedures to conduct the NECi nitrate test (low range): Download
Procedures to conduct the NECi nitrate test (standard range): Download
Literature paper discussing the NECi nitrate assay: Download




6. pH ([H+]). Instrument purchase under consideration (Summer 2015).
Ancillary Equipment:
7. Incubator/Oven (for Coliscan® Easygel® test). Boekel Economy Analog Incubator Model 132000 (0.8 cu. ft, 115V/50-60 Hz, see-through glass door). Purchased from Boekel Scientific.




Boekel Model 132000 Incubator User Manual: Download



8. Refrigerator (for Coliscan® Easygel® test). Haier HCR17W 1.7 cubic feet refrigerator/freezer. Purchased from Amazon.

9. Lowrance HDS5 GPS Unit (equipped with sonar probe).



Lowrance HDS5 GPS Unit Operating Manual: Download



---
Matters of Interest To PPA Board Members
1. LAKE LEVEL DRAWDOWN (WATER LEVEL)
2. AQUATIC PLANTS AND VEGETATION - BEST MANAGEMENT PRACTICES (BMP)
Aquatic Plant Management: Best Management Practices in Support of Fish and Wildlife Habitat. Aquatic Ecosystem Restoration Foundation, January 2005. Download
Review of Best Management Practices for Aquatic Vegetation Control in Stormwater Ponds, Wetlands, and Lakes. Auckland Council, August 2013. Download
A Primer on Aquatic Plant Management. Download
3. INFORMATION ON THE SYSTEMIC HERBICIDE FLURIDONE
4. EXAMPLES OF LAKE VEGETATION MANAGEMENT PLANS FOR NEARBY LAKES
Aquatic Vegetation Management Plan for the Years 2013-2017: Clear, Round and Anne Lakes, Steuben County, Indiana. R. Scribailo and M. Alix, Aquatic Restoration Systems, LLC and Biological Sciences, Purdue University North Central. Download
Lake Tippecanoe Aquatic Vegetation Management Plan - 2012 Update. Aquatic Control, 2013. Download
5. ENVIRONMENTAL PROTECTION AGENCY DATA AND DOCUMENTS
Indiana Draft 2016 303(d) List of Impaired Waters. Download
---
Northern Indiana Lakes Council Project
---
Training
Indiana Watershed Leadership Academy, Purdue University. Three LaPSI members, Diane Tulloh, Kendall Floyd and Anthony S. Serianni, each earned a Professional Certificate in Watershed Management upon completion of this on-line course in Spring 2014.
Notre Dame Undergraduate Research Training. Since 2013, three Notre Dame undergraduates have received summer stipends through the University of Notre Dame (ISLA Da Vinci grants; see below) to conduct scientific and social-psychological studies on Lake Papakeechie: Hannah Becker, Brian Roddy and Matthew Williams. These students also collaborated with the Wawasee Area Conservancy Foundation on projects associated with Lake Wawasee.
---
External Funding/Grants
1. Institute for Scholarship in the Liberal Arts (ISLA Da Vinci Grant), University of Notre Dame, 2013. Stakeholder Mindset and Ecological Impact: Do Personal Beliefs and Values of Lake Papakeechie and Lake Wawasee Residents Influence Lake Stewardship? Total cost $4468. Download
2. Institute for Scholarship in the Liberal Arts (ISLA Da Vinci Grant), University of Notre Dame, 2014. Stakeholder Values and Lake Ecology: Motivating Adjoining Lake Communities in a Common Watershed Through Improved Communication and Best Management Practices. Total cost $4000. Download
3. Omicron Biochemicals Inc., South Bend, IN 46617. Unrestricted Grant-2012. Total cost $2000.
4. Omicron Biochemicals Inc., South Bend, IN 46617. Unrestricted Grant-2013. Total cost $2000.
5. Omicron Biochemicals Inc., South Bend, IN 46617. Unrestricted Grant-2014. Total cost $2000.
---
Invited Speakers and Other Presentations
1. Jim Donahoe, Aquatic Weed Control. Syracuse Community Center, March 15, 2014.
2. Limnological and Social Psychological Studies of Lake Papakeechie and Its Environs. A. S. Serianni, PPA Board Meeting, North Webster, April 12, 2014. Download
3. Lake Checkups: Water Quality Tests: A Multi-Media Communication Tool. Z. Martin, R. Van Matre and A. S. Serianni, Indiana Watershed Leadership Academy, Final Project, Conference Center, Fort Harrison State Park, May 21, 2014. Download
4. LaPSI Poster, PPA Annual Meeting, August 2014. Download
5. Prof. Nate Bosch, Director, Center of Lakes and Streams, Grace College. Syracuse Community Center, November 1, 2014.
6. Stakeholder Mindset and Ecological Impact: Effect of Personal Beliefs and Value Systems of Lake Residents on Lake Stewardship. H. Becker and A. S. Serianni, Indiana Academy of Science Annual Meeting, Indianapolis, March 2015. Download
7. Martha Bishop Ferguson, Master Gardener/Master Naturalist. Syracuse Community Center, March 21, 2015. See this link for more information.
---
Water Testing SOPs
1. Secchi Water Testing SOP: Download
2. DO/T Water Testing SOP (2013 Version): Download
3. DO/T Water Testing SOP (2014 Version): Download
4. E. coli Water Testing SOP: Download
---
Additional LaPSI SOPs
1. Using the GPS Function on an Apple iPhone: Download
2. Basic Instructions on the Use of Microsoft Excel: Download
3. Instructions on the Use of the Lowrance HDS5 GPS Unit: Download
4. Instructions on Charging the Battery on the Lowrance HDS5 GPS Unit: Download
---
Lake Ecology and Lake Management Articles and Documents
1. Understanding Lake Ecology. Taken from: Limnology, 2nd Edition, A. J. Horne and C. R. Goldman, Chapter 1, McGraw-Hill, NY, 1994). Download
2. Common Lake Water Quality Parameters. Lake Notes, Illinois Environmental Protection Agency, December 1998. Download
3. Lake Papakeechie: Beneath the Surface: An Investigation into Your Lake's Health. Center for Lakes and Streams, Grace College, 2015. Download
---
Experimental Results; Raw Data Archive
---
Publicity
1. Water Testing Key To Sustaining Lake Water Quality. The Mail Journal, August 21, 2013. This is a large file that may take time to download. Download
---
LaPSI Phamphlets, Brochures and Related Materials
---
LaPSI Meeting Minutes
---
Links
---
Web Master: Anthony Serianni - Last Update 03/17/17