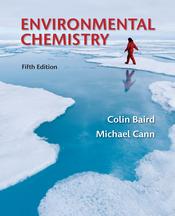 Spring 2013, T Th 2:00-3:15 pm
Prof. Prashant V. Kamat
Department of Chemistry & Biochemistry
(Please remember to include Chem20204 in the subject)


Office Hours: Tues 3:15 -4:15 pm Room 230 NSH OR
by appointment at 223B Radiation Research Building

TA
Jacob Hoffman Email: jhoffm10@nd.edu
Office Hours: Wed 4:00 -5:00 pm Room 230 NSH

Releasing CO2 to atmosphere! The Diet Coke-Mentos experiment




---
Check Registrar's Office Website for Final Exam Schedule http://registrar.nd.edu/exams.shtml
---
Environmental Chemistry

Fifth Edition

Colin Baird and Michael Cann

ISBN: 10:

1-4292-7704-1

W. H. Freeman & Co (Publishers)

(Fourth Edition ISBN

1429201460

is also adequate for this class)


Solution Manual and Publisher resources For Environmental Chemistry Collin Baird

Additional Resources "Chemistry of the Environment"

Thomas G. Spiro and William M. Stigliani,

Prentice Hall, 2003.

ISBN0-13-754896-6


Weblinks (Fourth Edition )


Test 1: 100 points (February 14),

Test 2: 100points (March 21)

Test 3: 100 points (April 25)

Final 200 points

Assignments (100 points)

Extra Credit : Up to 15 points A

10-15 min presentation in class or a written report on an environmental topic

is strongly encouraged. Students who wish to make a joint presentation should also submit a project report for securing maximum points. Additional 5 points for participation during discussions in the class.

Deadline for submission of the outline (1/2 page) is January 24, 3:15 pm

.
Approved topics will be scheduled for class presentation starting February 12. Written reports (5-6 pages, paper copy) are due

March 19

(after Spring Break). See Discussion Topics.

FINAL:



Tests will be conducted in the class at regular times (Tues or Thur @ 2pm). The duration is 1hr.
Tests will be in the form of Multiple choice questions and Problems. The final exam will be comprehensive

Please practice the homework problems independently. Submit your homework assignments by the deadline - See TA if you have questions. Many of the test questions will be based on homework problems.