A Cave of Candles / by Dorothy V. Corson
---
Believing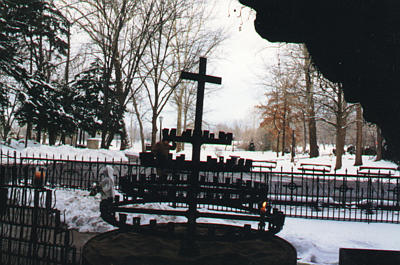 Someone has said: "Belief is believing in God. Faith is believing God believes in you." Bernadette, like Mary, was just a child when she received her own personal glimpse of a Heavenly vision. From that moment on she never wavered in her belief in what she had experienced. She lived her brief life with an unshakable faith in what she believed to be her mission in life. And in doing so, her story has continued to inspire millions of people, of all faiths, world-wide.
The poem thoughts below were written many years ago. I was reminded of them when I added "My Own Grotto Story" to this journal of research. Remembering them and reliving that episode in our lives has moved me to share it because it also expresses the theme of this manuscript.
Believing

You have to go right on believing
Even when all hope seems lost,
Holding fast to your belief
No matter what the personal cost.

Even when life's troubles
Seem too burdensome to bear,
You have to believe in this crisis
He may be leading you somewhere.

Believe that problems are sent to us
Not as a burden, but as a sacred trust,
Meant to shape our lives
To mold our character as He must.

Even as the fiery furnace
Tempers and strengthens steel,
Suffering produces endurance
Forces the soul to kneel
And the heart to feel.

Though at times our share
May seem more than ample,
Compared to His suffering
Ours is but a sample.
Could it be He's chosen you
To be another inspiring example?

Believing is not without
Its trials and tribulation,
Faith's spiritual exercises
To effect the soul's liberation.

Doubt and discouragement cloud the mind.
They dim our creative desires.
While believing kindles our brightest hopes
Generating the power to uplift and inspire.

For those who have hungered for it,
Thirsted for it, one taste
And no other life will suffice,
Having found at rainbow's end
That Pearl of Great Price!

-- D.Verne
1-29-73
The Kingdom of Heaven Within
John 7:37-39
To Jenna Griffin: Who never gave up hope and never stopped smiling. Her unrelenting faith and courage, in the face of incredible odds, inspired this poem. It kept her alive many years beyond her doctor's expectations. The warmth of her personality was an inspiration to everyone whose path crossed hers, including my own.
This long ago poem affirmation was written in memory of her brave fight to live long before the Song of Bernadette entered my life. It and the verses below have been a comfort to me on more than one occasion, our own family crisis being only one of them. The prayerful thoughts below also stemmed from events that followed those related in my own Grotto story.
---
During my husband's recovery from surgery our young son received a computer consulting assignment in the east. It required a number of connections there and back, two of them commuter flights on small planes. I had never been in a commercial airplane before and it was our son's first flight. I was a bit uneasy at the prospect so soon after my husband's close call. Our son welcomed the new experience and was looking forward to the adventure when I drove him to the airport. Outwardly, I appeared the same, but inwardly, I was wishing for better weather, uneasy about a pending controller's strike, and trying to crowd out all those "what if" thoughts.
Never having been in quite that situation with our son before, alone, I turned to him in the sparsely peopled terminal where we were seated and asked him if he'd like an advance parting kiss from his mother before his plane was called. He turned to me with an impish grin that was noncommittal, so I let it pass, and continued my prayerful thoughts. Minutes later as the plane was called and we moved toward the embarking door in our small airport, I saw in my mind's eye the perfect prayer to silently send him off with. At the same time, while I was preoccupied with my thoughts, my son had quietly switched his briefcase and package to one arm and with the other gave me a big bear hug, a quick kiss, and a parting grin as he moved confidently into his first big business venture.
All the while he was gone, whenever anxious thoughts would surface, I would silence them with this little prayer, comforted and warmed, by the reassuring way it was planted in my thoughts:
Traveler's Prayer

Dear Lord,
Bless our son,
Keep him happy, healthy,
Safe and sound.

Direct him, protect him,
Guide him where you want him to go
And always bring him
Safely Home.

D.V.C.
---
Eighteen years later, in October of 1998, shortly after I had given Kevin at the University Archives permission to put this manuscript on the Internet, tests confirmed my husband had another aneurysm, this time a thoracic aneurysm near the heart. Our first reaction was, been there, done that, and never thought we'd ever have to do it again in our lifetime. It could not be operated on locally. Our doctor recommended immediate surgery at the Baylor College of Medicine at the Texas Medical Center in Houston. His survival was uncertain, I was advised to prepare for either alternative. I might be coming home alone. We made immediate plans to fly to Houston. Preparing my manuscript for the Internet was put on hold indefinitely.
Our son had moved from Chicago to Austin, Texas, the year before. When he was settled in his new surroundings he invited us to come to see him. It was too far to drive. The only alternative was to fly there. It was my first experience. The weather and the flight were picture perfect. I couldn't keep my eyes off the clouds and ground below, it was like catching a glimpse of heaven. And Austin was breath-taking, the mountain views, the rocky trails for hiking, amid the streams and hilltop greenery, were a joy to experience. Later in looking back on that trip my son and I both remembered that his father, even then, was showing small signs of his impending medical emergency waiting in the wings. He often waited in the car while we explored stone trails across a creek. How fortuitous that visit turned out to be. Having taken my first plane trip I was better prepared for whatever was to come.
As the date of our departure approached, my husband's condition began to decline. The flurry of activity required to put our affairs in order and prepare our home for our departure was a blessing. A day or two before we left I cleaned the house from top to bottom, knowing there would be no time for that later -- regardless of the outcome -- and it was a good way to crowd any negative thoughts out of my mind. In the midst of vacuuming and trying to stay focused more poem thoughts came to mind. I scribbled them down on a piece of paper, laid them down near my travel bag, and continued my work. As we left for the airport, I folded the small piece of paper into a tiny square and tucked it into my pocket. There it stayed to give me a boost whenever I needed it throughout our stay in Houston:
Remember God Loves You
Whatever trials and tribulations
Life has forced you to face,
A faith-filled heart will soften
And time will inevitably erase.
Believe
And your trials will become triumphs
Your anxious fears His love will quell.
Trust in God and His Divine Providence
And you'll soon see,
Whatever happens, all will be well.
D.Verne
It was again our good fortune that our son was now living and working in Austin, Texas a two hour drive from the Texas Medical Center. He drove to Houston to meet our plane and arranged to be with us for the first week of the sixteen days we were there. My husband survived what the doctor called the largest, most grueling operation performed on the human body. His nurse said they had to practically cut him in half to reach it. The incision was 24 inches long and looked like a shark had taken a bite out of him. A second surgery to repair a paralyzed vocal cord, a possible side effect of the major surgery, also went well. We arrived on October 11 and returned on October 27 feeling very fortunate, indeed, to have weathered another personal crisis. By sheer chance, the surgeon who performed the operation was a Notre Dame Alumnus; an internationally known aneurysm surgeon, and a protegé of Dr. Michael DeBakey who pioneered heart by-pass surgery.
I met and shook the hand of a smiling Dr. DeBakey, in a chance encounter in the surgical waiting room during my husband's second throat surgery. It was not the last coincidence of our trip to Houston. Because of my husband's delicate condition so soon after surgery, we were given three seats on the plane to cushion his return flight home, and we were the first to enter the plane. As he was wheel chaired down the aisle, to our surprise we found ourselves exchanging smiles with former First Lady Barbara Bush and her secret service men who had preboarded our flight from Houston to Chicago from the tarmac. I spent the next six months seeing my husband through his initial recovery without any contact with the University Archives or any progress on this Internet Web site.
---
It was said of Kilmer, the author of "Trees," that he loved the simplest things of life because he was himself perhaps the simplest. His poetry expressed the remedy for all this world's woes, in one small word of deep and lasting significance, the word 'home.' When we designate it as a place it immediately shifts to a feeling, a person, an object. It may embrace an entire country or it may be confined within the perimeter of four walls."
Distance may separate loved ones but loving memories of home and family keep them together always. Our son is now a seasoned international traveler and has moved even further away from home since this second surgery, but my nightly Traveler's Prayer keeps him close and always in our hearts. It follows him wherever he goes. I offer it and the poem below -- which came to me in gazing at his sleepy head resting on the pillow when he was a little boy -- to all those who have loved ones in far away places. Too soon the words in it became a reality. In the blink of an eye time flies too quickly by, and it is always later than we think.
Our Little Boy
He's been such a JOY, our little boy.
This child of God, and our love
Was somehow miraculously
Placed in our keeping.
Those merry, bright eyes
Weren't made for weeping,
Just for blissful, peaceful sleeping.
Too soon he'll be grown-up
He'll be leaving us someday,
BLESS HIM LORD, guide his way,
Teach him life is serious,
No longer all play.
Help him to remember
All we've tried to convey.
Then send him a sturdy
Winsome little lad,
Kind, loving, affectionate and glad.
Then he'll know
What happiness we've had
Just being his grateful Mom and Dad
Lovingly,
Your Mom & Dad
To Our Son: Who is everything we would have wanted him to be.
---
When our son moved to Chicago in the fall of 1991 to pursue his career in virtual reality, in the Location Based Entertainment field, I began my research on the Grotto at Notre Dame on his hand-me-down computer (a MacPlus) which he had taught me to use. Were it not for his fascination with computers, which he passed on to me, the encouragement of Peter Lysy, and the foresight of Kevin Cawley, Notre Dame archivists, this Web site would not exist on the Internet.
Watching our son fly ever higher on the wings of his creative aspirations and experiencing my own adventures in becoming an accidental researcher have confirmed for me what I have always believed. When we go where life sends us, follow our heart, and make the best of what presents itself, life is full of sweet surprises. Like the publication of Grotto Stories was a little unexpected miracle, so too, this delayed Internet Web site was also a small miracle in the making that almost didn't make it online.
Our son is now a Software Engineer in Research and Development with Sony Computer Entertainment America near San Francisco where he and other researchers helped launch the Sony PlayStation 2 which recently went on the market. He is continuing to do what he has always wanted to do, spread his wings and give his creative ideas a chance to fly. Seeing him follow his dreams inspired me to do the same.
It has been said: "A researcher's almost religious obligation is to follow the string to its very end no matter where it may lead." I have hidden away my longer poem thoughts in these Web links near the end of this journal hoping those readers who "follow the string to its very end" will find them and understand my reason for sharing them.
Becoming an archival detective -- something I never imagined I would ever be -- has taught me, many times over, that life is a game of hide and seek. If we never give up, if we keep seeking and searching we will find hidden away in our midst a world full of possibilities just waiting for us to discover them. Once I had committed myself to learning the story behind the Notre Dame Grotto, I kept "pushing on" looking for answers, even though I didn't have a clue to where my novice research was taking me at the time. In doing so, Matthew 7:7 has truly become a reality in my life. The more I've searched the more I've found, the more I've asked the more I've received and the more doors I've knocked on the more were opened to me.
And so, because I dearly love a mystery, this Internet manuscript -- the culmination of a lifetime of soul searching -- has become a story within a story, my message in a bottle for others to discover long after I am gone. I offer it as evidence that we are never too old to follow our dreams. The body may age on the outside but loving life, following our inspirations and intuitions, and never giving up on our dreams keep the heart and soul forever young on the inside. "Age may wrinkle the skin, but a lack of enthusiasm wrinkles the soul."
My journey into the past has reaffirmed my belief that we each have a unique God-given gift that is ours alone to give. And it is our mission in life to discover that gift and share it -- being true to our own path -- no matter how long it takes, no matter where life sends us. Lloyd C. Douglas, the author of The Robe said it best, "Once you've found the way it will obsess you, but it will be a Magnificent Obsession." I feel truly blessed that life planted me on a path that led to the Grotto and that it inspired me to fulfill what I have come to believe was my mission in life -- recording its history. It is my hope that taking my readers along with me down that trail of memories will also inspire them to keep searching for that something special life has planned for them.
"When you find your direction / all you'll see is life's perfection. / Then nothing will seem / an impossible dream." How do I know? Because it happened to me. Your life changes, you are never quite the same person ever after, when you get a hold of something you believe in.
I leave you with Father Ted Hesburgh's encouraging words to me: "You'll never know if you don't try. The help will be there when the time comes."
Wishing you everything you wish for yourself in the future, the kind that insures a happy heart.
Savor every memory-making moment
Don't let any go to waste.
For it's fond remembrance
That gives life it's sweetest taste.

D.V.C.