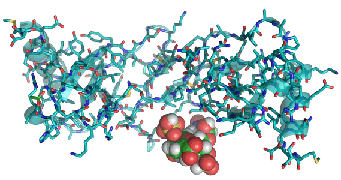 Books, Book Chapters and Book Reviews
---
Books
A. S. Serianni, 13C Nuclear Magnetic Resonance Spectra of the Monosaccharides: Natural and Stable Isotopically-Enriched Compounds, Omicron Biochemicals Inc., 1986.

NMR Applications in Biopolymers, edited by J. W. Finley, S. J. Schmidt and A. S. Serianni, Plenum Press, New York, 1990.

---
Book Chapters
A. S. Serianni and R. Barker, Synthetic Approaches to Carbohydrates Enriched with Stable Isotopes of Carbon, Hydrogen and Oxygen, Isotopes in the Physical and Biomedical Sciences, E. Buncel and J. R. Jones, eds., Vol. I, Labelled Compounds (Part A), Elsevier, 1987, pp. 211-236.

A. S. Serianni, Nuclear Magnetic Resonance Approaches to Oligosaccharide Structure Elucidation, Glycoconjugates: Composition, Structure and Function, H. J. Allen and E. C. Kisailus, eds., Marcel Dekker, 1992, 71-102.

A. S. Serianni, 13C-1H Spin-Coupling Constants in Furanosyl Rings: Application to Oligonucleotide Structure Determination, NMR of Biological Macromolecules, C. I. Stassinopoulou, ed., NATO ASI Series H: Cell Biology, Vol. 87, Springer-Verlag, 1994, 293-306.

A. S. Serianni, Stable Isotope Labeled Carbohydrates and Nucleosides: Synthesis and Applications in Chemistry and Biology, Stable Isotope Applications in Biomolecular Structure and Mechanisms, J. Trewhella, T. A. Cross and C. J. Unkefer, eds., Los Alamos National Laboratory, 1994, 209-245.

A. S. Serianni, Carbohydrate Structure, Conformation and Reactivity: NMR Studies with Stable Isotopes, Bio-organic Chemistry: Carbohydrates, S. M. Hecht, ed., Oxford University Press, 1999, 244-312.

T. Klepach, H. Zhao, X. Hu, W. Zhang, R. Stenutz, M. J. Hadad, I. Carmichael and A. S. Serianni, Informing Saccharide Sructural NMR Studies with Density Functional Theory Calculations, Glycoinformatics, Methods in Molecular Biology 1273, T. Lütteke, M. Frank, eds., Springer, New York, 2015, pp. 289-331.

W. Zhang, S. Zhao and A. S. Serianni, Labeling Monosaccharides With Stable Isotopes, Methods in Enzymology, Academic Press, New York, 2015, in press.

W. Zhang, T. Turney, M. J. Hadad, A. Wang, I. Surjancev, A. Incandela, I. Carmichael and A. S. Serianni, NMR J-Couplings in Saccharides: DFT-Informed Experimental Studies of Their Structural Dependencies. In: NMR in Glycoscience and Glycotechnology, K. Kato and T. Peters, eds., Royal Society of Chemistry. In Preparation for Submission in Fall 2015.
---
Book Reviews
Advances in Carbohydrate Chemistry and Biochemistry, Vol. 44, 1986. In Carbohydr. Res. 1987, 166, C1.

Calculation of NMR and EPR Parameters: Theory and Applications, Kaupp, Bühl & Malkin, Wiley-VCH Verlag, 2004, J. Am. Chem. Soc. 2006, 128, 8987-8988.

Carbohydrate – 25th International Symposium, IDrugs 2010, 13, 686-688 (Thomson Reuters Scientific, Conference Report).
---
Last Update: 02/09/16
---