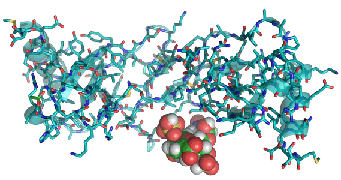 Professional Activities
---
President and CEO, Omicron Biochemicals Inc., 115 South Hill Street, South Bend, IN 46617. Founded in 1982. This biotechnology company specializes in the synthesis of stable isotopically enriched carbohydrates, nucleosides and their derivatives for chemical, biochemical and biomedical research. Currently employs twelve research and development personnel. (email: omicron@omicronbio.com)

Organizer, ACS Carbohydrate Chemistry Division Symposium, "Recent Developments in NMR Spectroscopy of Carbohydrates", 195th ACS National Meeting, Toronto, 1988.

Organizer, ACS Carbohydrate Chemistry Division Symposium, Claude S. Hudson Award Symposium, 203rd ACS National Meeting, San Francisco, 1992.

Co-organizer, ACS Carbohydrate Chemistry Division Symposium, "In Vivo NMR Spectroscopy of Carbohydrate Metabolism", 204th ACS National Meeting, Washington, DC, 1992.

Conference Host, Chicago Area NMR Discussion Group, October 31, 1992.

Conference Organizer, 1st Annual Notre Dame Biochemistry Retreat, Potawatomi Inn, Pokagon State Park, Angola, IN, June 20-21, 1996.

Thematic Platform Session Organizer, Applications of Stable Isotopes to Study Carbohydrate Structure and Reactivity, XIX International Carbohydrate Symposium, San Diego, CA, August 9-14, 1998.

Managers and Supervisors Conference, South Bend, IN, September 9, 1999 (SkillPath Seminars, Mission, KS): Professional one-day seminar on management and leadership skills development.

Conference Co-Host, Chicago Area NMR Discussion Group, October 2002.

Chair, 10-Year Strategic Planning Committee, Department of Chemistry and Biochemistry, University of Notre Dame, 2002.

Teaching Research Ethics Workshop, Poynter Center for the Study of Ethics and American Institutions, Indiana University, Bloomington, IN, May 15-17, 2002.

Member, Strategic Planning Committee, Division of Carbohydrate Chemistry, American Chemical Society, Washington, DC, October 31-November 2, 2008.

Program Committee Member, 20th International Symposium on Glycoconjugates, San Juan, Puerto Rico, November 29-December 4, 2009.

Elected, Provostís Advisory Committee, University of Notre Dame, September 2009-2012.

Chair, College of Science Committee on Sustainability (COSCOS), University of Notre Dame, Spring 2009-2012. Accomplishments: (1) Proposal for ND vertical-axis wind turbine (funded); (2) Minor in Sustainability developed and approved for launching in Fall 2011; (3) Sustainability Outreach to local elementary schools; (4) Proposal prepared/submitted for large solar array at Notre Dame.

Founder and Chair, Lake Papakeechie Sustainability Initiative (LaPSI), 2012-present. This group of lake residents is engaged in scientific studies of Lake Papakeechie, Syracuse, Indiana with the purpose of maintaining and protecting the general watershed and its ecosystems, and maintaining open dialog with similar lake research groups in Indiana and nationwide.

Student, Indiana Watershed Leadership Academy, Spring 2014 (earned Purdue University Professional Certificate in Watershed Management upon completion of this on-line course).
---
Last Update: 02/09/16
---