Title: Bifurcations of random matrix products.
Bertrand Deroin (École Normale Supérieure - Paris)


Title: Elements of boundary theory and Lyapunov exponents.
Alex Furman (University of Illinois - Chicago)


Title: Entropy and drift of random walks in hyperbolic groups.
Sébastien Gouëzel  (Université de Rennes 1)


Title: Random walks on groups with hyperbolic properties.
Joseph Maher (College of Staten Island - CUNY)

Talk Abstracts

Pictures

College of Sciencs News Story


VIDEOS OF TALKS
**Financial support will be available for undergraduate students. Click on the Participant Application tab above to apply.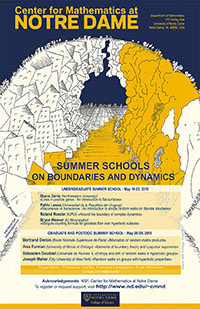 Please feel free to contact us at cmnd@nd.edu with any questions.