Application of Glass Fiber Reinforced Plastics (GFRP) and Stainless-Steel in Bridges
Juan Sobrino
Founder and President, PEDELTA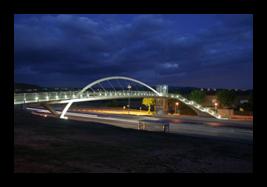 November 1, 2012
3:30pm - 4:45pm
102 DeBartolo



As evidenced throughout the history of construction, the fundamental advances in structural engineering have almost always been related to the use of new materials. The emergent application of advanced materials with high mechanical properties and durability seems to confirm this, paving an attractive way for structural engineering. The increase in the use of new materials in structural design can partially be attributed to the increasing awareness from the Public Administration about the use of materials that require a reduced maintenance in addition to having greater mechanical resistance, capacity to be reused, etc. Hence the use of advanced structural materials, such as GFRP or Stainless-Steel, in structural engineering constitutes a way of innovation and, at the same time, a vindication of the enormous value of engineering, as an impelling element of the development and society's progress. The main advantages of these materials made up either with GFRP and Stainless-Steel will be presented in this seminar.
 Dr. Juan A. Sobrino studied Civil Engineering at the Polytechnic University of Catalonia (UPC) located in Barcelona, Spain. He received his PhD from the UPC in 1994, and founded Pedelta in Barcelona in the same year.
His professional activity has been devoted to the design of bridges and civil engineering structures as well as to the assessment and rehabilitation of existing bridges. His work includes Fiber Reinforced Plastic (FRP) pedestrian bridges, the first stainless-steel duplex road bridge, and the first hybrid stainless-steel FRP pedestrian bridges. He has also designed over 19 km of high-speed railway bridges, the Abetxuko Bridge in Spain, and various cable-stayed and extradosed bridges. Dr. Sobrino is an adjunct professor at Carnegie-Mellon University in Pittsburgh and a part-time associate professor at the UPC in Barcelona. He is an active member of many international associations, including IABSE, FIB, TBR, ACI, among others. He has been invited as a senior lecturer in to many universities and technical associations around the world including, in countries such as Brazil, Colombia, Portugal, Spain, Switzerland, and the USA.