Political Science 43002 Sec 7:
Debating Great Articles in Security Studies and U.S. Foreign Policy
Edward J. DeBartolo Hall 301, Tuesdays and Thursdays, 14:00-15:15
Syllabus
Professor Dan Lindley
Department of Political Science
Office: 448 Decio Hall; Phone: 574-631-3226; Email: dlindley "at"nd.edu;
Website: http://www.nd.edu/~dlindley/
Office Hours: Tuesdays 11:00-12:30pm and Wednesdays 12:30-2:00pm
            In this course, students will present articles and critique them. This course has several goals:
1.         To help you learn to present and critique orally before an audience.
2.         To help you learn how to respond on your feet to criticism.
3.         To think aggressively and critically when reading, writing, and during public interactions.
Our articles will be drawn from these four International Security readers. IS is the leading journal in security studies, and its articles are well known for substance and clarity.
            The readers are:
1.         Michael E. Brown, ed., Nationalism and Ethnic Conflict, Revised Edition (Cambridge, MA: MIT Press, September 2001)
2.         Michael E. Brown, Sean M. Lynn-Jones and Steven E. Miller, eds., Perils of Anarchy: Contemporary Realism and International Security (Cambridge, MA: MIT Press, March 1995)
3.         Michael E. Brown, ed., America's Strategic Choices, Revised Edition (Cambridge, MA: MIT Press, July 2000)
4.         Michael E. Brown, ed., Theories of War and Peace (Cambridge, MA: MIT Press, October 1998)
More information on the readers is available here, where you can examine their respective tables of contents (or see below): http://bcsia.ksg.harvard.edu/publications.cfm?program=ISP&project=IS&ln=ISReaders&pb_id=101&gma=14&gmi=37
            For each class session, we will read one article. A two student team will present the article as if they had written it. This will last 10-20 minutes (we'll experiment as this is the first run for this course). A second two student team will act as discussants and critique the article. This will last 10-20 minutes. The presenters will then respond for a few minutes. All other students in the class will write down four or more critiques, and I will randomly call on these students to offer their critiques. All presentation, discussant, and critiques notes will be handed in to me at the end of class to be checked off and assure compliance.
            Students will write a 25 (~8000 words) page term paper on a topic relevant to the course materials modeled on the articles we read. The aim is write a mini-IS article. These papers will be distributed, presented, and critiqued in the final class sessions.
Additional Comments
            Note that the presentations and critiques are similar to the format used in political science conferences, and that the paper mimics some of the best articles in political science. Hence, the course should be good training for anyone contemplating a life in academe. Of course, learning how to make presentations, make arguments, give and take criticism are skills for almost any profession.
            Students may wish to use this guide on how to read to focus their presentations and critiques: http://www.nd.edu/~dlindley/handouts/howtoread.html
            More information on political science conferences is here: http://www.nd.edu/~dlindley/handouts/LindleyAdviceonAttendingAcademicConferences.htm
Typically, the Notre Dame political science department sends a few undergraduates to conferences every year.
Tables of Contents
Michael E. Brown, ed., Nationalism and Ethnic Conflict, Revised Edition (Cambridge, MA: MIT Press, July 2000)
Contents
The Contributors
Acknowledgments
Preface Michael E. Brown
PART I: THE SOURCES OF NATIONALISM AND ETHNIC CONFLICT
The Causes of Internal Conflict: An Overview Michael E. Brown
Hypotheses on Nationalism and War Stephen Van Evera
Nationalism and the Marketplace of Ideas Jack Snyder and
Karen Ballentine
The Banality of .Ethnic War. John Mueller
Containing Fear: The Origin and Management of David A. Lake and
Ethnic Conflict Donald Rothchild
PART II: OPTIONS FOR INTERNATIONAL ACTION
Internal Conflict and International Action: An Overview Michael E. Brown and
Chantal de Jonge Oudraat
Military Responses to Refugee Disasters Barry R. Posen
Kosovo and the Great Air Power Debate Daniel L. Byman and
Matthew C. Waxman
Lessons of Liberia: ECOMOG and Regional Peacekeeping Herbert Howe
Peacebuilding and the Limits of Liberal Internationalism Roland Paris
PART III: POLITICAL CHALLENGES
Refugee Flows as Grounds for International Action Gil Loescher and
Alan Dowty
Spoiler Problems in Peace Processes Stephen John Stedman
Designing Transitions from Civil War: Demobilization, Barbara F. Walter
Democratization, and Commitments to Peace
Possible and Impossible Solutions to Ethnic Civil Wars Chaim Kaufmann
Suggestions for Further Reading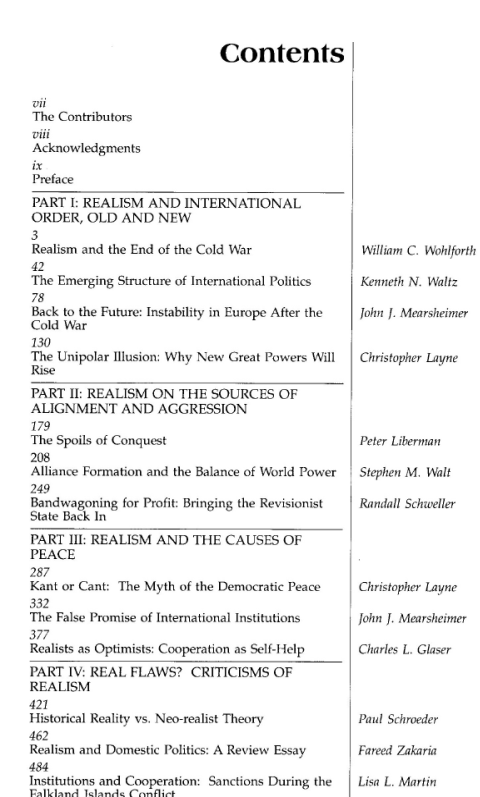 Michael E. Brown, Sean M. Lynn-Jones and Steven E. Miller, eds., Perils of Anarchy: Contemporary Realism and International Security (Cambridge, MA: MIT Press, March 1995)
Michael E. Brown, ed., America's Strategic Choices, Revised Edition (Cambridge, MA: MIT Press, July 2000)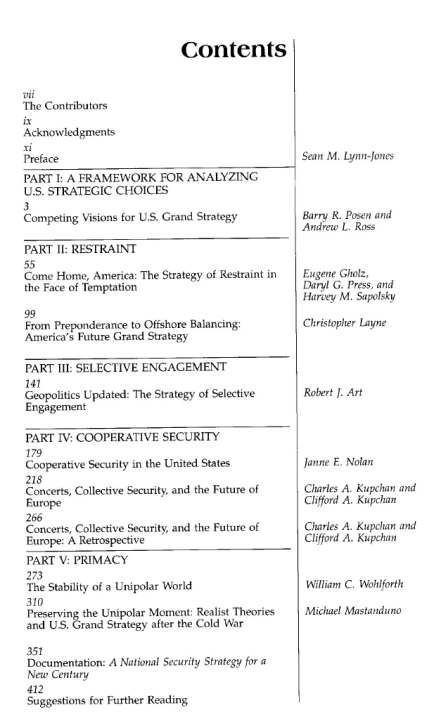 Michael E. Brown, ed., Theories of War and Peace (Cambridge, MA: MIT Press, October 1998)