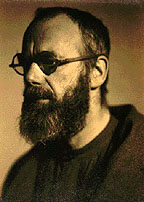 an introduction to the
University of Notre Dame


Eric Gill Collection

Special Collections
Hesburgh Library
and
Special Collections
contact info




acrobat version of this page
scroll to the right
Eric Gill (1882-1940) was an English engraver, sculptor, typographer, and writer who lived and worked in and near London. The University of Notre Dame collection includes over 2,000 items of Eric Gill's work: books, pamphlets, broadsides, prints, greeting cards, calendars, sketches, wood blocks, photographs, and other formats. The Gill Collection also includes many examples of the work by men who worked with or apprenticed with Gill (Hilary Pepler, Philip Hagreen, Joseph Cribb, David Jones, and Desmund Chute), most of the imprints of the Golden Cockerel Press (which produced The Four Gospels engraved by Gill), and an extensive selection of the output from Gill's own St. Dominic's Press. There are hundreds of fine art prints and over 100 photographs of Gill's sculptures. The collection was acquired in 1965 from John Bennett Shaw (Notre Dame alumnus '37), who purchased it from Evan Gill, Eric's brother. Since 1965, the collection has been added to selectively.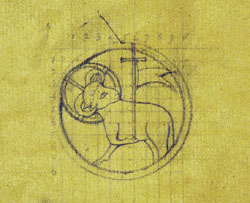 The collection has a large and interdisciplinary audience. The Gill Collection encompasses the genres of drawing, sculpture, lettering, engraving, and printing, as well as the intellectual pursuits of art theory, religion, and social philosophy. It is thus of interest to students and researchers in art history, graphic design, the book arts, fine printing and the history of printing, and the social thinking of the late 19th and early 20th centuries. It is also of interest to artists, creative writers, calligraphers, printers, and typographers. A few of the holdings are presented throughout this description to help communicate the range of unique items of Gill's work in the collection.
introduction to Eric Gill's work
To designers, Gill is primarily known for his popular type face designs. Eric Gill designed Gill Sans in 1927, Perpetua and the companion italic Felicity in 1925, and Joanna in 1930. The majority of his type designs were done for Monotype Typography, a company still producing type designs today. There are several Monotype posters and advertisements in the collection.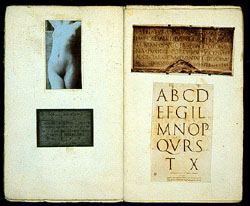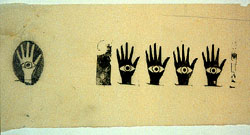 Also of interest to designers and illustrators are Gill's wood engravings for book illustrations, bookplates, and posters. The collection has both individual proofs of engravings and the books the engravings were used within. There are over 500 examples of Gill's engravings separate from where they were used. Especially of interest to scholars are numerous preliminary drawings for engravings and progression proofs of wood block carving. Documentation such as this are unique to this collection and are unknown to scholars with an interest in this area of Gill's creative work.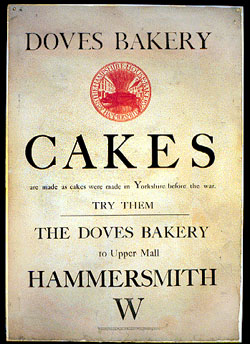 To sculptors, Gill is known for his many sculptures and memorials. Gill's professional early career began by carving letterforms in stone for numerous tombstones and memorials within and around London. This work led to a series of stone sculptures exhibited in galleries as well as many architectural sculptures on the BBC Headquarters, London Underground, and other locations. Gill also received numerous commissions for churches and WWI war memorials. The Notre Dame collection contains over 100 photographs of Gill's sculptures. Some document the work in progress and others show the work on site. The collection also contains many unique preliminary drawings for sculptures and stone relief's that are unknown to Gill scholars. There are two drawings for a painting 1/8 full size for the east wall of the tower of St Peter the Apostle. This is a Roman Catholic church designed by Gill located in Gorleston-on-Sea, Great Yarmouth in 1939.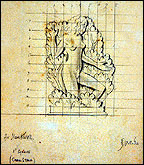 Theologians are aware of Gill because of his writings and lectures on workers' rights and community living. Gill and his associates banded together to not only work together on creative projects, but to live together as a community of faith. One of Gill's early mentors was Fr. Vincent McNabb, the prior of the Dominican house of theological studies. Fr. McNabb introduced Gill to the writings of the well known French philosopher Jacques Maritain, which greatly influenced Gill's ideas on art and philosophy. In 1923 Gill published The Philosophy of Art, the first translation of Maritain in Britain (Notre Dame has five copies of the book).
Fr. McNabb and Maritain are listed among those that helped define the Catholic Worker Movement. There are numerous examples within the collection of the social activism of Gill, Hilary Pepler, and Philip Hagreen. Gill and his colleagues used the facilities of St Dominic's Press to help promote their ideas. For example, there is a poster for Gill's lecture on Catholic Principles & Unemployment and many books published by Pepler. There are also many engraved illustrations by Hagreen for The Cross and Plough, a magazine published by the Catholic Land Movement of England.