AME 20231--Thermodynamics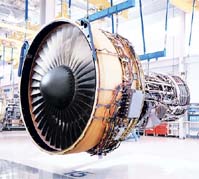 GE Jet Engine
Catalog description
" Basic concepts of themodynamics. The First Law of Thermodynamics. Work, heat, properties of substances and state equations. The Second Law of Thermodynamics. Applications to engineering systems. "
Offerings
next: ?
current: Spring 2013
previous: Spring 2012, Spring 2010, Fall 2003, Spring 2003, Spring 1995, Spring 1992, Spring 1991, Fall 1989
Prerequisites
Topics
Properties of a pure substance
Work and heat
First law of thermodynamics
Second law of thermodynamics
Power and refrigeration systems
Theoretical foundations of classical thermodynamics
This page maintained by J. M. Powers. Send me your inquiries.