AME 60636--Fundamentals of Combustion

image from Los Alamos National Laboratory, DX-2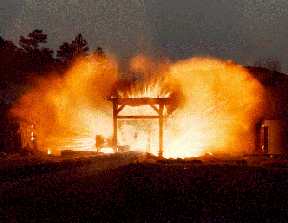 Catalog description
" Thermodynamics and chemical kinetics of combustion reactions, modeling of reacting fluid mechanical systems, subsonic and supersonic combustion, detailed and one-step kinetics, ignition theory, asymptotic an numerical techniques for modeling combustion systems. Not every year. "
Offerings
next: unknown
current: Spring 2012
previous: Spring 2009, Fall 2006, Spring 2005, Spring 2003, Spring 1999, Spring 1996, Spring 1994
Prerequisites
Topics
Chemical Kinetics
Chemical Thermodynamics
Governing Equations of Reactive Fluid Mechanics
Ignition and Stability
Laminar Flames
Detonation Theory
Blast Waves
Analytic and Computational Methods in Combustion Modeling
This page maintained by J. M. Powers. Send me your inquiries.