Notre Dame Legends and Lore / by Dorothy V. Corson
---
Photo by Robert F. Ringel ©
---
Ashes at the Newly Renovated University of Notre Dame Stadium
---
In the spring of 1997, I received a phone call from my brother who was working as a brickmason on the renovation of the Notre Dame Stadium. "Hey, Dot," he said, "something happened at work today I thought you'd get a kick out of." When he proceeded to tell me about it I thought he was making it up, it was such an amazing story. I was still mulling it over in my mind the next day. When I returned home from the campus and reached for my key to open our door, something on the rug in front of the door caught my eye. I reached down to pick it up. It was a hunk of mortar with a flat surface on one side. On it -- written with a flat carpenter's pencil -- were the words, "He lies within."
Only one person could have put it there. When my brother heard my voice over the phone, he laughed and said, "You didnít believe me, did you? So I thought I'd show you some evidence." I began to take notes as he went on to explain in more detail the unusual happening that occurred the previous day at the new Notre Dame stadium under construction. I had shared some interesting campus stories with him throughout my nine years of Grotto research. Now he had one to pass on to me. One that was to lead me down a crooked path in search of the identity of the devoted Notre Dame fan in this heartwarming story.
He then told me the topic of conversation that day during lunch break with his working buddy and several other brickmasons who had a close-up view of the incident.
Those who saw it said several well dressed people were noticed being escorted through the back gate of the construction site that morning. After being given hard hats they approached the area below where his buddy and other masons were laying bricks on the south wall of the stadium. My brother explained that mortar is mixed on the ground level in a mortar mixer then it is poured into large oblong mortar tubs and transported to the brickmasons on the scaffold with a fork lift. As the group approached below them, a man, and a woman carrying a plastic container, stepped forward, opened the container and poured the contents -- which the workers soon realized were cremated ashes -- in the mortar mixer. It was then mixed and transferred in a mortar tub by fork lift to the nearby scaffold where face brick and a section of decorative blocks were being laid in the wall on the south side of the stadium.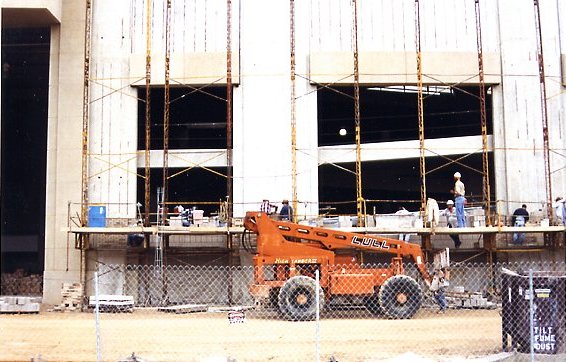 I made inquiries about it at the stadium the next day but no one seemed to know anything about it. When I mentioned it to my brother he said that was strange because all the workers were talking about it for several days. He then added more details to the story. He said his buddy -- who just happened to be one of the masons who was on the scaffold that day -- did remember hearing the name, Louie, mentioned. He said that as the tub of mortar was being lifted to the scaffold one of the masons -- who remembered that a tub of mortar was accidentally dumped the day before -- muttered, "Hope nothing happens to Louie on the way up." All went according to plan, and his daughter, was said to have remarked: "Dad would be delighted!"
All this I know now but at the time my brother knew only about the incident, the name Louie, and the rumor that the ashes were those of a man connected somehow with the golf course.
Often in my research when I've been faced with a particularly challenging archival puzzle to solve, Peter Lysy, one of the archivists, would encourage me with the comment, "Ya gotta be creative." It was such a creative and ingenious way for his family to honor his memory that I wondered if anyone would believe it in years to come without evidence on record to prove it. It was then I decided to document the actual event so it would be preserved in the University Archives.
I had discovered a number of intriguing stories in my research and this one had to be at the top of the list. I knew that spreading ashes on the campus was forbidden. Although this incident did not necessarily apply, I did not want to get my brother or anyone else in trouble by repeating the story. So I did not ask further questions at the stadium or on campus. For three months I tried in roundabout ways to match the first name Louie with last names in recent obituaries where the deceased were cremated, but without any luck. So I put my notes aside and decided, if it was meant to be, it would come out in the open someday. Such a great story just couldnít remain hidden for long.
Three months later, I was visiting an editor at the Notre Dame Magazine who had been using some of the unusual stories I had found in my research as Campus News articles in the magazine. I was about to leave when he said, "By the way, I just heard another good story." He proceeded to tell me about how he had heard that ashes had been placed in the mortar used to lay bricks at the stadium. I grinned at him and said, "You know I've been sitting on that story for three months but as yet I haven't been able to learn the identity of the person's cremains." He said he was planning to put one of his students on it, that they were great at sniffing out stories, and when he found out he would let me know the outcome so I could document the details of the story for the Archives.
True to his word his student found the answer and Ed passed the information on to me. About the same time, in the autumn of 1997, he ran a brief story about Louie Kubiak and the location of his ashes in the Campus News section of the Notre Dame Magazine. In his article he made a point to stress the University rule of no ashes on campus adding the admonition that this incident was a one time event only. The story in the Notre Dame Magazine also speaks of Kubiak's son, Jim, describing his father, a retired businessman, and his love for Notre Dame. His father lived so close to Notre Dame, he said, that "as a kid when he stepped out of his yard he would step onto property owned by the University." Following are excerpts from Jim Kubiak's letter in remembrance of his father: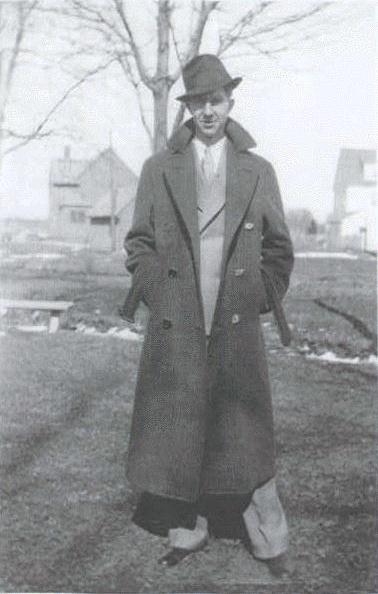 "Dad grew up in a house . . . literally in sight of the Dome and was baptized in Sacred Heart Church. One of his fondest memories was being outside of the Sacred Heart Church during Knute Rockne's funeral. He attended hundreds of football games, both home and away, and could recall the scores of each one of them. He was married and lived in South Bend all his life and raised four children.
"His connections to Notre Dame were long and deep, his father (my grandfather) was a foreman at Ave Maria Press before starting a printing company in South Bend, which my Dad and uncle bought and operated until the 1970s. They printed several issues of Notre Dame Magazine during the 1950s (which I worked on as a kid myself). Their largest customer over the years was Saint Mary's College, but they always did printing for the University. Dad counted among his friends from Notre Dame and Saint Mary's such people as Ed Fischer, John Cackley, Jim Armstrong, Sister Madeleva, Marion McCandless, Herb Jones, Tom Stritch, Fred Beckman, Moose Krause and many, many others.
"When he sold his business, my sister, who was working for Digger Phelps [Notre Dame's basketball coach] at the time, found out about a job as starter at the Notre Dame golf course. It was a perfect way for him to stay involved with Notre Dame.
"To him, Notre Dame was a truly sacred place. For him, to have the Stadium as his final resting place is the most appropriate memorial that our family could imagine. And I know he is looking down adding his cheers to each and every game that will be played there. Louie Kubiak may not be as famous as the "Gipper," but every team that plays in that stadium can count on his support Ė he will surely be there in spirit. Not bad for someone who never attended the University, because he was a Depression kid, who in the days before student loans, couldnít affort to fulfill his dreams of becoming a Domer. There are many others like him who have given so much to the University and been supportive who were not able to directly share in the benefits of a Notre Dame education. He had to settle for watching me graduate from Notre Dame in his place."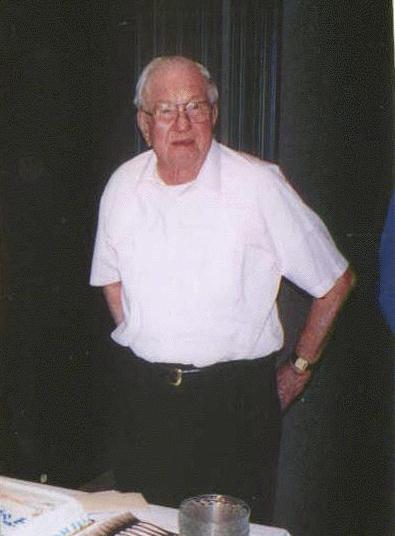 He was a lifelong Notre Dame football fan who worked during his retirement as a starter at the Notre Dame golf course. Ed Cohen, the magazine editor, very kindly gave me a copy of his magazine article, and Jimís letter, to include with my story so that long after the magazine is filed away on a library shelf the evidence will be available to historians and football fans at the University of Notre Dame Archives.
In completing this story, I spoke to Sharon Nyberg, daughter of Louie Kubiak, and a retired secretary from the Rec-Sports Department at Notre Dame for the first time. She said her Dad had died in September of 1996. In the spring of 1997, the stadium was nearing completion. She knew how much it would mean to her father to be laid to rest near his beloved Notre Dame. Taking a leap of faith, she went through the channels and received special permission to have her fatherís ashes mixed with the mortar when the last bricks were laid in the south wall of the new stadium. It was to be a quiet memorial to their father and his love of Notre Dame, an event that would be known only by the family and those few immediately involved with the placement of the ashes in the mortar.
When she, her husband, and a campus friend who accompanied them, arrived at the new stadium on April 30, 1997 to deliver the cremains, they had no idea of the surprise that awaited them. Unbeknown to them, someone on the job site, had taken special care to make it a memorable day for them. To make the location easier to find a special panel of decorative blocks was selected to be laid with the mortar and they were invited to pour the ashes in the mortar mixer themselves and watch the blocks being laid in place. Sharon said she has memorized the spot for her family and knows exactly where they are.
This tan vari-colored section of eight inch square blocks -- which was laid with the mortar containing Louie Kubiak's ashes -- is on the right side of Gate C on the south side of the new stadium. It is bordered on both sides with Notre Dame bricks and below with the building's precast concrete shell. The section of blocks ends at the top with a narrow border of precast concrete where the ramp opening begins in the wall and the gold letter "C" appears on the left of it. Look for the first tree planted east of Gate C. The section described above is directly behind it.
Although Sharon's mission was accomplished quickly and quietly -- and witnessed by only a select few -- my brother said the story spread on the job. It was the topic of conversation throughout the day. You really can't keep such a unique human interest story hidden for long. It will surface one way or another and this one finally did.
And so, I have added it to my research as another piece of campus lore that deserves to be documented and acknowledged for future generations. I love to see an idea fly. In her own loving way Sharon Nyberg and her family unwittingly scored the first touchdown in the new Notre Dame stadium for their father because thatís what football is all about achieving, in unexpected ways, unimaginable goals
Ed Cohen ended his Notre Dame Magazine article with this line which I have amended -- "In case you're keeping score, the new official capacity of Notre Dame Stadium is 80,225. Not counting Louie Kubiak . . . ." who must be smiling in football heaven right now. He's now a part of the "Land of Legends," present at every game, cheering for his favorite team, and smiling down from his lofty perch at all who enter or pass by the Gate C entrance to the University of Notre Dame Stadium.
Dorothy V. Corson
November 20, 2000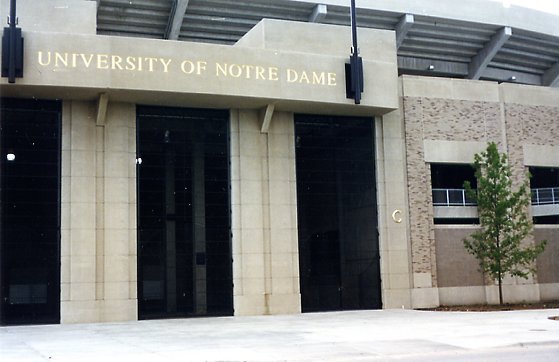 ---
Postscript: The moment I found "the evidence" -- the piece of mortar left on my doorstep by my brother -- I made up my mind that if my path ever crossed with the family of the above Notre Dame Fan -- if they wanted it -- I would pass it on to them as a memento of a memorable moment in their lives. It has taken almost four years for that day to arrive, but it is now in the hands of Sharon Nyberg and the Kubiak family along with a copy of this story. The Nyberg family supplied these photographs. The last photograph of Louie Kubiak was taken at his retirement party.
---