---
The Story Behind Joseph Patrick Flynn's Art Deco Paintings
---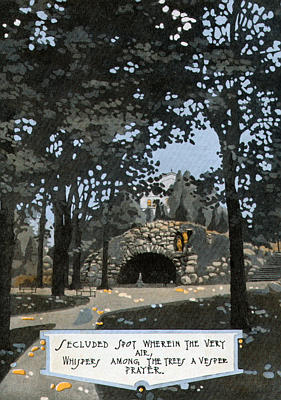 Early in my Grotto research, I was thumbing through a 1916 Dome when I ran across eight distinctive art deco style paintings with verses beneath them, one of them the Grotto painting above. Below the verse in the last of this series of paintings were three initials, T.E.B. I was able to identify the writer of the verse as Rev. Thomas E. Burke, C.S.C., but I could not find the artist's signature on any of the paintings. Years later, Father Burke wrote a book of poetry with the simple title, T.E.B, on its cover.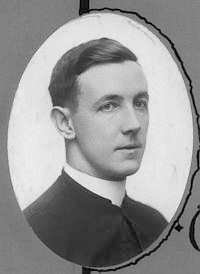 The painting of the Grotto, was used to illustrate one of the old fashioned stories in the book, Grotto Stories: From the Heart of Notre Dame. It was also used in the Hesburgh Library Grotto Exhibit which was on display from January 1996 to January, 1997 to commemorate the Grotto's Centenary, after which, I went on to other research satisfied that the artist's identity would have to remain a mystery.
More than a year later, I was given a print of an old black and white photograph of the Grotto by Nancy Hanson, Curator of Exhibits in the University Archives, who had heard about my Grotto research. Nancy told me the original was in a box of old photographs found in the basement of her home by Valerie Kelver, who worked in her husband's office in the Main Building. The photographs belonged to Valerie's husband's grandfather but they did not know their date or origin. She brought them to work to show Nancy's husband, Howard, and he in turn showed them to Nancy since at that time the Main Building was being renovated and she was working on an exhibit covering that restoration.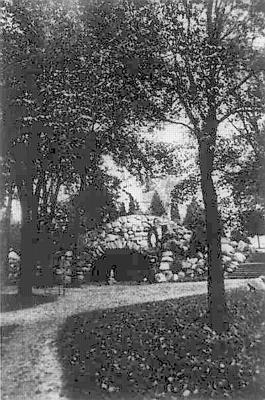 Because they were old, Nancy thought Charles Lamb, the Assistant Director of the Archives, and Curator of Photographs, might want to make negatives of some of them. When she noticed the photograph of the Grotto among them, she requested an extra copy of it to pass on to me to add to a growing collection of Grotto photographs I was compiling for the archives. She could not have known, nor could I, that her thoughtfulness was about to lead me to the identity of the artist I was seeking. What good, a first kind step, leads to.
I had been carrying this print in my briefcase for several days when something about it made me go hunting for the 1916 art deco Grotto painting I'd been so impressed with. To my amazement, the photograph matched it perfectly as if it had been used, as artists do, to paint from. The box of photographs had already been returned but Charles showed me the copies of the three from the box he had chosen. Two other photographs he had copied also matched two more paintings in the series of eight in the Dome book. I began to wonder if the grandfather, the owner of the photographs, also may have been the artist?
Stunned by the extraordinary coincidence, I showed it to several people at the archives, Wendy Schlereth, the Director of the Archives, among them. Each of the four experienced people I shared them with had a different perception so I picked up something new from each of them. Most especially, Wendy, who was looking at everything with fresh eyes not having seen any of them before. When I mentioned my wish to find the artist's identity, so I could share the discovery of the sketches with his descendants, she breezed through the series of eight sketches and to my amazement stuck her finger on the first one. In almost invisible script, looking like rubble on the road in the painting, was the ghost of a signature. Peter Lysy produced a magnifying glass which revealed the name, Joseph Patrick Flynn.
While I stood there with my mouth gaping (for two years it had been right under my nose) Peter left and returned with a folder which he handed to me. Inside was one sheet of paper, a 1924 Rochester, New York news clipping dated April 14, with a photograph of Joseph Patrick Flynn and an illustration of his award winning $1000 house design.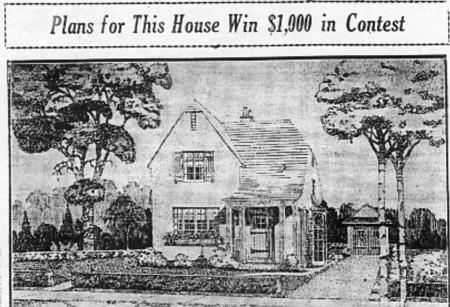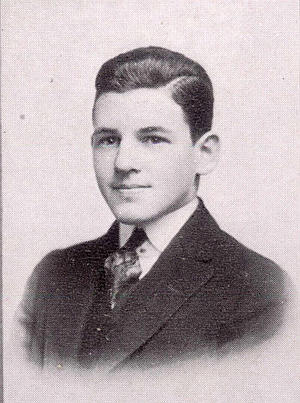 The art deco style of the illustration of the house design matched the eight paintings in The Dome. Peter said the clipping had come from an unknown source the year before. I had finally discovered the identity of the artist. Mystery solved? Almost.
The only remaining mystery was: how had the photographs the artist obviously used for his sketches, wound up in a box in someone else's basement? I contacted, Valerie Kelver, who works under the Dome, told her how her photograph had solved a mystery, and how her husband's grandfather was a part of it. I explained that I had something I wanted to show her, and if she would bring her box of photographs to share with me, I was sure I could tie up all the loose ends of this intriguing mystery.
My work on this unique piece of research culminated during lunch with Valerie at LaFortune Hall, the Student Center on campus, the following week. I introduced myself and explained to her that what I had to share with her concerning the Grotto might not be of interest to her unless she was Catholic. She said she was not but her husband, Daniel, was and that he would be interested because he went to a church that had a Grotto for that very reason. That he thought the Grotto at his church was even more beautiful than the one at Notre Dame. It surprised and pleased me to learn that the Grotto he admired was the replica of the Notre Dame Grotto my father built at St. Stanislaus Church just before he died. Valerie handed me a two page handwritten family history her husband had written for me the night before which recounted how his grandfather worked on the 1879 New Notre Dame Main Building and also helped gild the Dome.
It was an auspicious beginning to an exhilarating hour of conversation. I showed her the three paintings in the 1916 Dome that matched the three photographs Charles had copied from her box. She was as mystified as I was at the extraordinary coincidence. I then looked through the rest of the photos in the box, laid several out on the table, and compared them with the rest of the Dome paintings. We couldn't believe our eyes, there were seven photographs in the box that matched seven of the eight paintings in the series, plus another photograph of a bridge to Redbud Island in St. Mary's Lake that was reproduced in the back of the same 1916 Dome. The only one of the eight not in the box could have been combinations of the remaining photos. The photographs were now dated. They were taken sometime between 1914 and 1916 and remained hidden away for more than 81 years.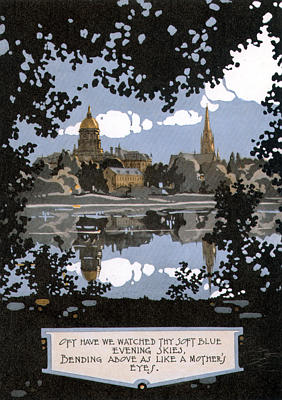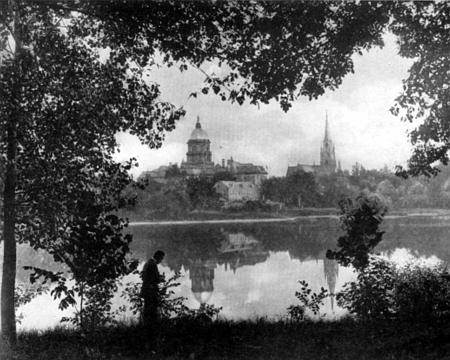 A brief death notice in The Alumnus reported that Joseph Patrick Flynn was president of the Architectural Club of the University his senior year. He graduated from Notre Dame in 1916, became a successful architect, and had his own firm in Rochester, New York -- Bohactet & Flynn. He died November 21, 1962 in Rochester, New York and was survived by his wife, a daughter, and five grandchildren. My father built the replica of the Notre Dame Grotto at St. Stanislaus Church in 1962 and died a year later on December 13, 1963. A check with the Alumni Association files confirmed there had been no alumni or students with the name Flynn since his graduation so there was no one related to him from whom I could learn his daughter's married name, and the names of his grandchildren. I was hopeful I might be able to obtain his obituary from the Rochester Public Library through Interlibrary Loan, but received no reply to my inquiry.
Shortly afterward, I received a call from the Alumni office informing me they had a Grotto Stories letter sent to them that they would forward to me to include in the growing collection of letters that had been arriving in my Notre Dame Post Office box since before the publication of Grotto Stories: From the Heart of Notre Dame. When I received the letter my archival detective antenna went up. It had a Rochester, New York postmark!
Nothing ventured, nothing gained. I immediately wrote a letter to John R. Klee thanking him for his impressive Grotto story and asking if he might know the family of Patrick Joseph Flynn. Flynn had started the first Notre Dame Alumni Club in Rochester and I was hopeful being an alumnus that Mr. Klee might have heard of the family. Several days later I received a phone call from Sheila Bianchi the daughter of Patrick Joseph Flynn. John Klee had called and given her my phone number.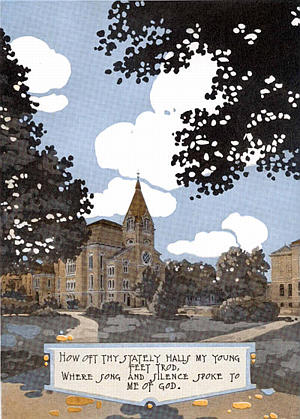 It was a wish come true to be talking to the daughter of the man whose sketches I'd been admiring for the past several years. To me, his spirit in those drawings was so powerful, I felt as warmly toward him as I do toward my own father, an architect and brickmason, who came from Canada. In Canada, he could be an architect without a lengthy exam, but when he married and came to the U.S., he felt the several days tests to become a licensed architect were beyond his education. Instead, he became a masonry contractor and shared his design talents through his work. Moise DuMont, the grandfather who saved the photographs Joseph Flynn based his sketches on, was also from Canada.
We had a stimulating telephone visit as Sheila filled me in on the details of her father's life. When I asked her if any of her grandchildren had shown an interest in Notre Dame, she said that they hadn't yet, but coincidentally, several had rooms decorated with Notre Dame memorabilia. She told me the $1000 award he received in 1924 for his house design set him up in business and he went on to become one of the foremost architects in Rochester, NY. Because very little remained of his art work, she was very pleased to learn of these long ago Dome paintings.
One of the paintings was of the Lemonnier Library built the same year the paintings appeared in The Dome. When the Hesburgh library was built in 1968, the Lemonnier Library building became the Architectural Building. Almost 80 years later, the building was renovated and in 1997 it was renamed Bond Hall. The 1924 news clipping that arrived in the archives the year before must have been sent to them when the building was emptied during its renovation (just in time to be added to my research of this story). One can only surmise that in a like way during one of the Main Building housecleanings, the Dome yearbook office, which was in that building, was housecleaned too. The grandfather may have been working there at the time and found the discarded photographs or asked for the photographs about to be thrown out.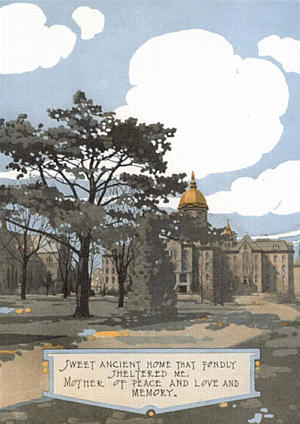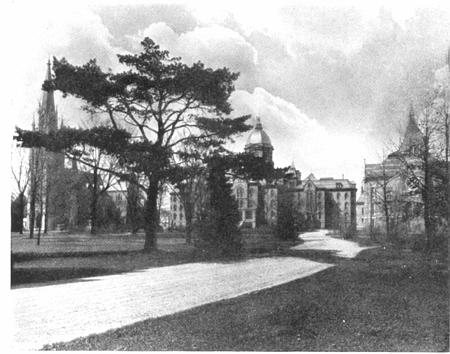 When A Cave of Candles: The Story Behind the Notre Dame Grotto went on-line on Lourdes Day, 2000, I selected three of Patrick Joseph Flynn's paintings to illustrate Chapters 3, 7 and 18. When I phoned Sheila to let her know that her father's artistic works were going out into the world to be appreciated by an ever-widening audience I learned that Mr. Klee had passed away. I assured her I would let his family know that his part in this story would also be going out there to inspire others. We talked about the strange way Mr. Klee's letter had brought us together and she told me the rest of the story.
She said Mr. Klee told her he did not know of the Flynn family but when he went to church the week he received my letter he felt moved to take it with him to share it with a member of the church staff. Hard as it is to believe, Sr. Sheila Geraghty, R.S.M., the pastoral assistant he shared it with, knew the Flynn family. She had gone to school with Sheila Flynn and it was she who supplied her married name, address and telephone number, to Richard, who passed my phone number on to Sheila.
Was it coincidence, Providence or synergism that the church Mr. Klee belonged to was named "Our Lady of Lourdes?"
---
John R. Klee passed away before "A Cave of Candles" went on-line. Since it was the extraordinary timely arrival of his letter -- and the events that followed it -- that inspired the creation of this Web link, it seems only fitting to make its contents -- his "Grotto memory" -- a part of this story. I'm sure he would have been as pleased, as I am, that his belated letter did "make publication" and its now being shared with an even wider audience on the Internet. It is also preserved in the Grotto Stories Collection in the University of Notre Dame Archives. Here it is:
Rochester, New York
December 18, 1996

To Whom It May Concern: --

I know I'm late with my Grotto memory, but it's still 1996, and I send it along whether it makes publication or not:

WHERE WERE YOU ON V/E DAY?

There are many memories of that special place on the Notre Dame campus called the Grotto:

Where we students in the '40s marched from the South Dining Hall for devotions each evening in May.

Where we burned many a candle prior to examinations.

Where I asked that most important question of my wife to be.

Where through the years visits were mandatory upon occasions we returned to campus -- like football weekends.

Where I said "Good-bye" and asked Our Lady's protection upon leaving for service in February 1943.

And a memory that will always remain special:

As a B-24 pilot I flew missions into enemy territory from Southern Italy. On one mission enemy flak wiped out one engine and pierced our fuel tank. The crash landing was the best landing I ever made -- the crew and I survived and most were awarded the Purple Heart.

In April of 1945 the 376th Bomb Group, to which I was attached, was ordered back to the States for B-29 training prior to assignment to the Pacific Theater. (Subsequent events cancelled that assignment.)

We landed at Newport News on April 30th, went through the necessary processing and were given 30 days leave. I'm sure Mom and Dad, sister and aunt, relatives and friends, were as pleased to see me, as I was to see them, but when these pleasantries were taken care of, there was something else I had to do. From Rochester I took a train west.

Where were you on V/E Day? On V/E Day, May 8, 1945, I was at the Grotto at Notre Dame saying "Thank You." Our Lady heard my prayer asking her protection back in February 1943.

Sincerely,

John R. Klee
Class of '44 - ND's Finest
---
Following any clues that land in my lap, however remote, has become a natural response ever since I became an accidental researcher. I've also shared my findings along the way with anyone who is receptive. All of which has taught me, many times over, how interconnected we all are. When we live our lives intuitively it demonstrates the interconnectedness of everything -- the answers come when we least expect them and from the most unexpected sources. The above story and how it evolved being just one powerful example.
Below is the last picture found in the box of photographs. It was reproduced with the verse below it in the last pages of the 1916 Dome, the same Dome that featured Joseph Patrick Flynn's paintings.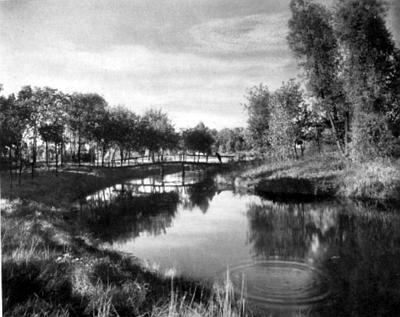 Bridge to Redbud Island



Some day returning out of ways more wide,
Again the pleasant waters I may walk beside;
Seek in old haunts and old accustomed places,
Seek -- and not find "the old familiar faces."
---