---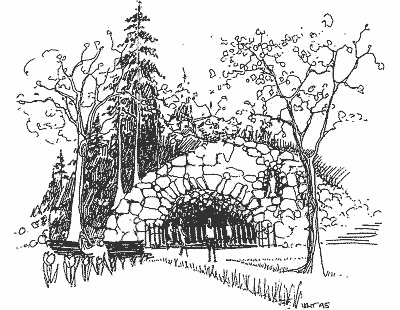 ---
The Story Behind this Unique Image of Notre Dame's Lourdes Grotto
---
In late May of 1995, a year before the August 5, 1996 Centennial of Notre Dame's Grotto, I was walking across the campus on a research errand when a poster on a tree near the Grotto—with this illustration on it—caught my eye. Naturally curious, about anything connected with the Grotto, I made a special effort to research the reason for it being there and found this interesting information I hadn't known before to add to my Grotto research:
It is believed that the current 'Senior's Last Visit to Sacred Heart and the Grotto' during the month of May stems from a tradition that evolved during a special 1959 year long celebration of the Centennial of the Lourdes Grotto in France held on the campus. The tradition declined in the 1970s but was revived by Father John Fitzgerald, C.S.C., and Steven Warner in early 1980.
Each year a student is chosen to create a poster with a religious theme to announce the Senior's Last Visit. It has also become a tradition that the Grotto is the last place graduating seniors visit before they leave the campus and the first place they go when they return.
The tiny student signature at the bottom of this picture, KMT '95, blends into the design so well that it is almost indiscernible. Since the '95 graduation was fast approaching when I first saw the poster, I lost no time in trying to locate the student before he/she graduated. When I finally located the artist, Kathryn Mapes Turner, she readily gave me her permission over the phone to use it, but because time was short, we did not have the opportunity to meet one another before she left the campus.
I could not have known then, in 1995, the special role this illustration of the Grotto—and this artist I would never meet in person—would play in my later years on campus. When my A Cave of Candles first person research manuscript went online six years later, on Lourdes Day, 2001, Kathy's one-of-a-kind depiction of the Grotto was included in Chapter 25a and they both went out in the world on the Internet at the same time.
Eleven years later, in 2006, when I was preparing my third person, chronological, A Cave of Candles: The Story Behind Notre Dame's Grotto—The Spirit, History, Legends and Lore of Notre Dame and Saint Mary's research manuscript for publication, her image of the Grotto again came to the forefront. Would it be possible to locate the artist almost ten years later?
A thorough search of the Notre Dame Alumni Directory did not reveal a telephone number under her name, so it was back to square one looking for another alternative. I did not know what part of the country she lived in so finding her or her family might be almost impossible. Imagine my delight when on my first try I reached her father and he very kindly provided her address and telephone number with this added reassurance, "I'm sure she will be pleased to hear from you."
We both enjoyed visiting again over the telephone after all those years and she very graciously gave me her permission to use it in my published book. As I was about to ring off, a glimmer of another idea taking shape in my mind prompted an additional request of her: "Would you mind if I also used it on my Grotto calling card?" Happily, without any hesitation, she replied, "I'd be honored."
Illustrated below is the front and back of my Grotto calling card, which my son, Greg, helped me design and prepare for the printer. It also has its own story to tell which I will capsule below it: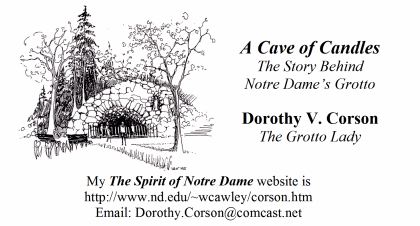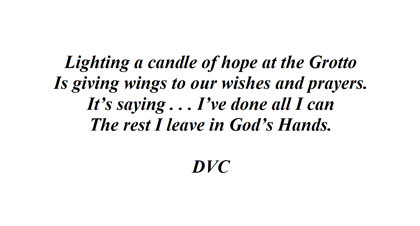 Throughout my 16 years of research, I found myself recording numerous Grotto stories shared with me in chance encounters with strangers I met at the Grotto and other places on the campus. Every now and then our paths would cross again, when they recognized me by the Lourdes Medallion I always wore on campus. When they couldn't remember my name, I was often greeted with: "Oh, you're the Grotto Lady." And I've become The Grotto Lady on campus ever since.
The brief poem on the reverse side of my card came to me one day when I stopped to leave a candle request at the Grotto. As I was leaving, absorbed in the dilemma that brought me there, the above poem came to me in my thoughts—as if from above—without any effort on my part. For me, on that day, those four lines now printed on the back of my calling card said it all. They have become my mantra ever since and seem meant to be included with this story.
I put my calling card in a clear plastic name tag container—left behind in a drawer in my son's room—and pinned it to my breast pocket where I keep more of them to share with everyone who purchases my A Cave of Candles book at book signings or with anyone who enjoys visiting the Notre Dame campus and its Grotto. The poem on the back always seems to please them and goes so well with Kathy Turner's unique image of the Grotto. Whenever I look at it, it always warms my heart. There's something magical about it.
Even to this day, when I can't be at the Grotto, I can say a prayer in my heart—wherever I happen to be—and envision lighting a candle there. And I always feel that same sweet afterglow I experience whenever I'm there in person. It's a feeling captured so well, by Robert F. Ringel, in this very special one-of-a-kind photograph of the Grotto.
---
(Place cursor on photographs and paintings for captions and credits.)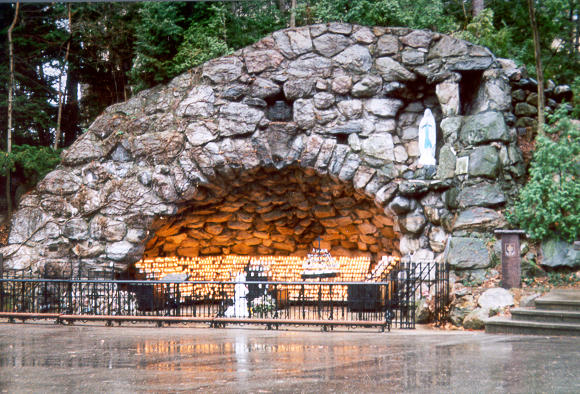 Afterglow at the Grotto

A pleasurable feeling following something greatly enjoyed.
---
Sweet Afterglow

Just as bewitching and charming
As a rippling,
Glittering wayside brook.

Is the sweet afterglow
Of a gleaming Cave of Candles
With that come-hither look.

DVC
---
When my published book arrived from the printer and appeared in bookstores, on December 13, 2006, the first thing I did was thank the many people who helped along the way by sending them autographed copies of A Cave of Candles, along with Bro. Jim O'Brien's 5 Star Review, my poem,"Always Have a Dream," and my Grotto calling card.
In the copy I sent to Kathy, I included several cards, which she would be seeing for the first time, and I added this promise: "Every time I am on campus I will say a prayer for you at the Grotto. And you will always be with me at book signings when I share our card and tell the story behind it to everyone who loves the Notre Dame campus and its Grotto."
I have yet to meet anyone, who doesn't smile, when I tell them about the artist who created this appealing one-of-a-kind image of the Grotto: "She's a cowgirl, a fine art watercolor and oil painter and she has the most romantic address. It's Triangle X Ranch, Moose, Wyoming—near Jackson Hole, Wyoming—where she continues to create beautiful scenic paintings of horses and landscapes amid the majestic Grand Teton Mountains and its pristine lakes."
When I completed this story and prepared to send it to Kathy for her approval, before adding it to my Notre Dame Legend and Lore stories on my Internet website, she surprised me, with this happy email news of her own latest assignment. "I'm going to spend the whole month of June painting in Tuscany, Italy." And she added to her message a joyful, "Whoopee!" I can already envision her at her easel painting in a peaceful meadow under the Tuscan sun.
---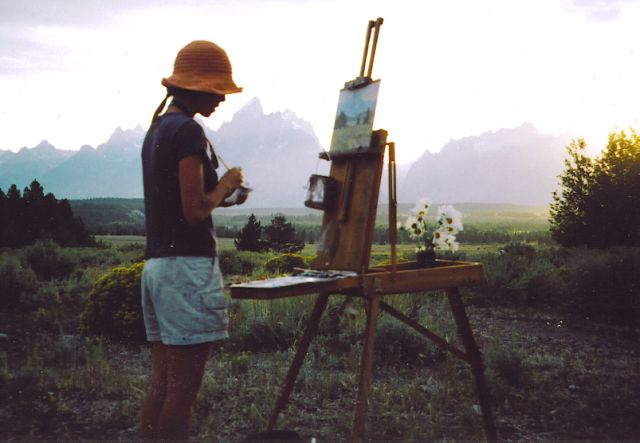 Kathy Painting in the Sunset with Daisies
---
Whenever I see the above photograph of Kathy at her easel—which she sent to me in another of her emails—it also warms my heart. As do these additional paintings from her Internet website which she has given me permission to share with this story.
---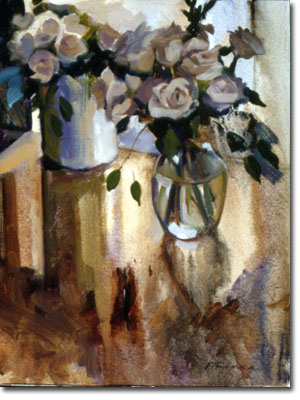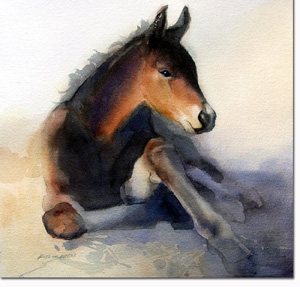 Bowl of Flowers and Artist's Horse When He was Small
---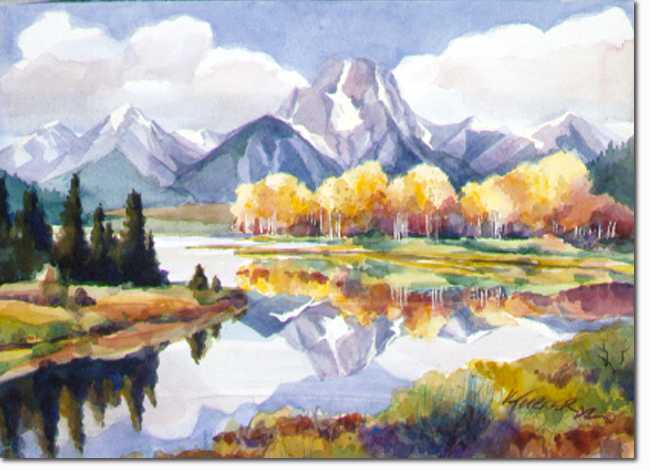 Fall at the Oxbow
---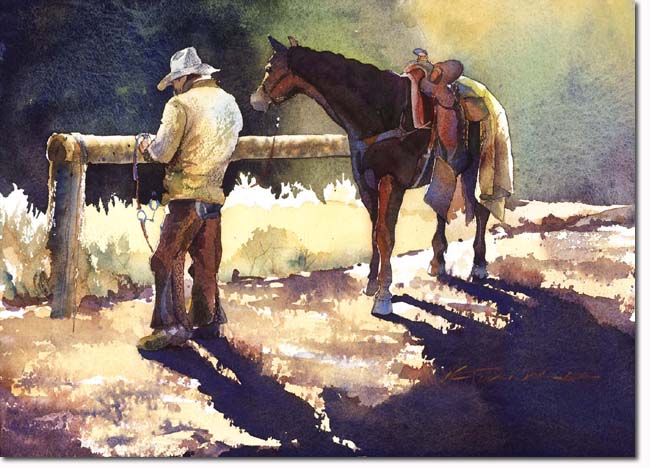 The Hitching Post
---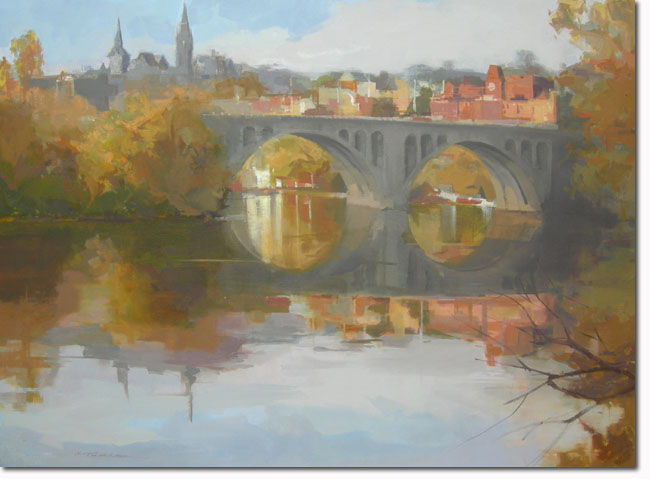 Georgetown Reflections
---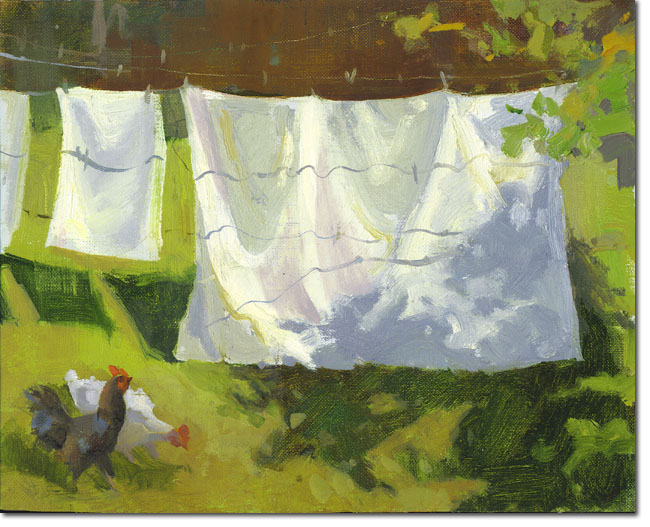 Life's Simple Pleasures
---
Another of Life's Simple Pleasures
---
Click here to go to Kathryn's website to see more of her paintings. Kathryn Mapes Turner is a nationally emerging watercolor and oil painter whose impressionistic images depict a wide range of subjects. She has been blessed with an innate ability to please others in capturing the world around her. I know you will be as impressed as I was with the appealing artwork and scenic western paintings created by this talented Notre Dame alumnus.

Somewhere I've read: The exciting thing about painting or creation of any kind is that you are giving the world something it never had before. Thank you for your inspiration, Kathy. Your unique illustration of Notre Dame's Grotto has taken on a life of its own and is still accomplishing its mission in welcoming any and all to this place of quiet reflection. May it ever be so for generations to come.

Another of those unexpected bitter-sweet surprises of the unexpected is the basis of my fourth and last example of Lasserre's "Dear Reader" beliefs. In it, I saw for myself, the fingerprints, if not the hand of God in my own life years before I began my Grotto research. It is the Author's Own Grotto Story and I will let it speak for itself.

DVC

May 5, 2009

---
All paintings on this page:
Copyright © 2004. Kathryn Mapes Turner Fine Art
All rights reserved

---