About the same time, John Bybee, another researcher, contacted both of us and shared his Rockne research with us. John has been into aviation history from the age of five, and was a student pilot as a young man, so his research on the Rockne story is focused on aviation accident investigations in order to provide a more complete picture of this horrific event.
To view this interesting July 1933 Modern Mechanix article John found in his research, "Do Wild Radio Waves Cause Air Disasters?" Click here.
Another intriguing story John Bybee sent to me is also associated with the death of Knute Rockne, Notre Dame's football coach, who died in a plane crash in Bazaar, Kansas. This bizarre, reportedly true story, reads like something out of the twilight zone. It appeared in The Milwaukee Sentinel on April 7, 1935, four years after the fatal plane crash. It details the strange deaths that occurred in the family of the pilot, Robert Fry, who was piloting the airliner Rockne was on when it crashed in Kansas killing all on board.
It is one of those extraordinary, almost impossible to believe, stories that is centered around a series of events that read more like fiction than fact. A large display of impressive photographs of the principal people in the story illustrate the article. Here's the title and the opener to the story:
---
Mrs. Fry's Strange Death "Jinx"
Five Years Ago It Began Busily to Push Her Family, Husband and Then Her Sweethearts,
Into the Grave, and Having Wiped Out All, Now Takes Her.
---
Because it is a large newspaper article you may need to move your mouse from side to side to view the impressive photographs and up and down to read this amazing story. Believe me, it's worth it! To view the above illustrated article and read the story, click here.

When I wrote to John to thank him for this unusual story from his extensive research he sent this interesting email in reply:

Hi Dorothy,

Yeah, there have been and still are numerable Twilight Zone moments between you and Jim and Randy Reynolds and I. We may never crack the absolute truth of the Rockne crash—but at least we know there's something amiss with the conventional history.

Here's the kit that got me hooked—the B-24 is still my favorite aircraft. I remember it must have been in 1955 or 1956, one night on the Ed Sullivan Show they announced they were going to show a film of a simulated Soviet nuke bomber strike on the U.S. They advised the audience to remove small kids from the room. I think I was in 3rd grade and there was no way I wasn't watching any show that had airplanes in it. That show scared the hell out of me, whenever I see a photo or model of a Soviet Bison bomber. . .

John



Brigadier General Jimmy Stewart USAF Reserve, flew B-24s as commanding officer of the 703rd BS, 445th BG out of RAF Tibenham, UK, before a promotion to operations officer of the 453rd BG. From 1943-1944, Stewart was credited with 20 combat missions as a pilot, including one over Berlin. Stewart flew several more (possibly as high as 20 additional) uncredited missions, filling in for pilots as duties and space would allow. Stewart's leadership qualities were highly regarded; the men who served under him praised his coolness under fire. He was a famous movie star when he entered service as a private in early 1941 and rose to the rank of colonel by 1945.
John Bybee's passion for B-24 Bombers has never diminished from little on up. Nor has his interest in aircraft accident investigations.
Throughout our shared mutual interest in the Rockne plane crash in Kansas, John has been sharing with me a story about a group of men he has been working with who have been trying to locate the aircraft wreckage and possible remains of three airmen who crashed into the ocean in the Adriatic between Hvar and Vis, near Croatia, on December 17, 1944. They have been looking for this B-24 nicknamed, Tulsamerican-B-24-24S-DT-10 for about 20 years. He sent me the article below to explain their avid interest in locating the remains of this very special plane.
---
On January 31, 2007, this article by David Million, Historian to detail dramatic end: German fighter planes came out of the clouds to end Tulsamerican's war mission, appeared in the Tulsa World detailing the fate of this last Tulsamerican 952 B-24 Liberator built at the Tulsa plant.
"It's one of those absolutely great American stories from World War II, one with a dramatic final mission," said Historian, Kevin Gray. His account of the history of this Tulsamerican's life from the time the airship was funded and built by Tulsa area workers is a fascinating story in itself. It also includes a photograph of the many employees at Tulsa's Douglas Aircraft Co. plant, who built 952 B-24s during World War II, posing with this final aircraft to roll out of the plant. The airplane flew 27 successful bombing missions before going down on its 28th, on December 17, 1944. For those who would like to read the complete article as it appeared in the Tulsa World on January 31, 2007, click here.
---
Later, at the very moment I was concluding this story about Rockne's plane crash. John sent me this surprising email news: "Divers have recently found and made positive identification of said bomber in the Adriatic between Hvar and Vis. The late pilot's wife and daughter are still living."
In John's next email, he sent me amazing photographs of that first dive. I was so impressed with the clarity of photographs, the courage of the divers, and the fact that the discovery was made just as I was preparing this Rockne story to go online, that I asked John if he thought he could get permission of the photographers and their dive team to spread the news further, by sharing the first underwater dive photographs and their accomplishment, with my website readers in a web link describing their mission.
Shortly afterward permission came from John, along with their WARBIRD INFORMATION EXCHANGE site Newsletter announcement by Kevin Gray which John Bybee also forwarded to me: The Tulsamerican-B-24J-DT-10 FOUND!!! To view these amazing underwater photographs taken on that first dive and read Kevin's newsletter announcement about the men who made it happen, click here.
---
When John Bybee sent me their dive photographs and I read about their amazing underwater adventure, I felt their 20 year mission to solve its mystery deserved to be shared before moving on to the conclusion of Jim Managan's historical research on Rockne's Ill-fated plane trip to California, which has its own amazing story to tell. Rockne would have applauded their victory. He also had that Never Give Up, No Matter What — Spirit.
---
Jim Managan Concludes His Research on Fr. Reynold's Life Story and His Friendship with Rockne
---
Those of you who have read my first Rockne story and Fr. Reynolds' part in it will also find Fr. John Reynolds' event-filled life, equally fascinating. In later years, Fr. Reynolds became a Trappist Monk of the Abbey of Gethsemani in Kentucky where he met and became a good friend of the revered Thomas Merton, the Trappist monk who was also an author and poet. He wrote a best-selling autobiography titled, The Seven Storey Mountain.
Thomas Merton also died a tragic death in Bangkok on December 10, 1968 after touching a poorly grounded electric fan while stepping out of his bath. He had gone to Bangkok to attend an ecumenical conference. He was 53 years old. His body was flown back to Gethsemani where he is buried.
Below is Jim Managan's research on Fr. John Reynold's life story and his friendship with Rockne.
---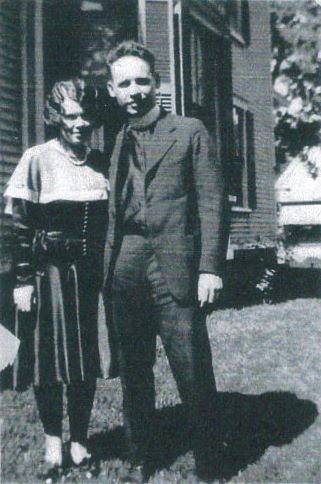 Fr. John Reynolds
with Catherine Reynolds Managan
Jim Managan's mother
---
SUMMARY OF
FR. JOHN REYNOLDS' LIFE STORY
BY JIM MANAGAN
---
FROM BELLOWS FALLS HIGH TO NOTRE DAME
---
Edward and John Reynolds
John, William, and James Mcauliffe
David Buckley
Paul O'Conner
All Irish, all Bellows Falls High Graduates. All attended the same church, and all of them graduated from Notre Dame.
Bill McCauliffe and John Reynolds would become priests and teach at Notre Dame. Paul O'Connor and Edward Reynolds would become surgeons. John McCauliffe would become a teacher and Department Head of his old high school. David Buckley would return to Bellows Falls and retire after many years as a lawyer. James McCauliffe would work in the insurance industry in Michigan and return to Bellows Falls to serve on the Town's School Board.
All of the above were Vermonters except Paul O'Conner. He was from New Hampshire but only 200 yards from Vermont. Of the people listed above one was on the first team that Rockne coached (Track). A second member of the group played on Rockne's last football team. In fact Bucky O'Connor played in Rockne's last college game and in the game he played against the New York Giants. The charity game against the Giants raised money for the food lines in New York. Bucky was fourth string running back who played a big part in the undefeated team that won a National Title in Football in 1932. O'Connor scored two touchdowns and became known as the Box Car Back. After the USC game, which was the final game, Rockne told O'Conner that if he played in the Charity game he would see to it that he got into medical school (Yale) at no expense to his family.
This story about Fr. John Reynolds begins in Brooklyn, New York, when a young mother died of brain cancer. Her husband was an engineer on the Ferry Boat between New York and New Jersey. As a working father he was unable to raise three boys and a girl and they were sent to an orphanage. The kids were very sad and as soon as details could be worked out relatives and friends in Bellows Falls took the kids in. John Reynolds was to live with the parish priest, his uncle, Father Edward Reynolds.
During this time John had many friends. Among them was a Murphy boy. During horseplay Murphy punched John in the nose and it caused sinus problems the rest of his life. The Murphys were related to the O'Conners. John Reynolds' high school teacher was also Bucky O'Conner's aunt. Even though John Reynolds was 10 to 15 years older than Bucky they knew each other before Notre Dame. Father Reynolds was also a Floor and Dorm Director for members of the football team as well as other students. Rockne was boxed in by Bellows Falls High School students. John on the first track team and Paul on the last Football Team.
Fr. John was also Assistant Professor of History. This photograph of him is from his 1932 Yearbook.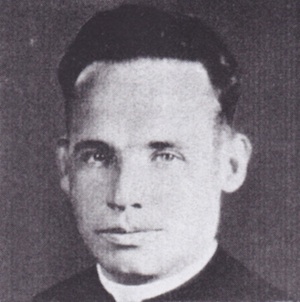 We move ahead to June 9, 1930. Father Reynolds was teaching at Notre Dame and having problems with his sinuses. He was on his way to Chicago to see his doctor. He was in his priest clothing. After leaving the train, as he was making his way to the doctor's office, across the tracks he made eye contact with a man, and while trying to figure out if he knew him, a shot was fired into the back of the man's head killing him on the spot. The dead man was Jake Lingle, a reporter for the Chicago Tribune. For an amazing array of photographs and information about Jake Lingle's friends and enemies in the underworld, click here.
All hell broke out after the shooting. At some point during the confusion Father John realized he had left his Day Planner on the train and ran back to get it. The sight of a priest added to the confusion and witnesses would report that they had seen a priest running from the scene. Father John did not report to the police and went about his business.
Back at Notre Dame, he was told by his bosses not to get involved in the murder. The police advertised for the priest witness to come forward and tell them what he knew and saw. Notre Dame finally permitted him to get involved in the investigation. Father Reynolds had two brothers living in Chicago and they may have been keeping him informed of what was happening in the case. Father John seemed to have gotten a good look at the killer or killers and he was often brought into Chicago by train to identify the possible killers.
March 1931 rolls around and its time to go to trial. Seven or eight witnesses testified and Leo Brothers was convicted. Because the jury did not believe Brothers was the actual killer his punishment was only 8 years after good behavior time was figured in. The actual killer was Frankie Foster. Father John called him Frank Sheppard but his name was Foster. During the trial Notre Dame forbid Father John from staying with the other witnesses so at night he was taken to a Polish parish to hide out.
Once Father John came forward and the defense was given his name as a witness the gang tried to scare him away. Father Reynolds was given at least two notes telling him that if he testified Notre Dame would be sorrier than they could imagine. One of the notes was given to him outside Morrissey Hall at Notre Dame. Father John read the notes and threw them into the trash. On a trip to Chicago five or six mob members came face to face with Father John on the train. A gun was shown moving from pocket to pocket but the gang took no action. Because there was no knowledge of these threats an in-depth investigation did not occur.
At some point, back at Notre Dame, Reynolds was supposed to have had a talk with Rockne and the two were supposed to have switched tickets to California. Rockne's train ticket supposedly went to Father John and Rockne took the plane ticket. This part of the story does not seem to hold water. However, Father Reynolds was tied up with the trial and he would not be free to go until the second week of April. I doubt that the court would want to wait until he got back in case he had to be a witness again. Rockne also had a full schedule and a train trip would not have given him enough time. Rockne also did his own arrangements for the team travel at Notre Dame and it seems he could get better deals as he was known and traveled often.
If Rockne was a target for Reynolds having been a witness it would have been easy to get Rockne in Chicago as he was there just days after Reynolds appeared in court. Rockne went to Chicago on the 30th of March. That day was his mother's birthday. He went to the Chicago Tribune office and talked to a reporter, met his financial advisor and went to lunch with him. He also stayed at the usual hotel. Early in the morning he took the train to Kansas City.
The plane crash occurs. Murphy's Law was that Reynolds was supposed to be on the plane. Who knows? Was there a bomb? Who knows? There was no fire and only a wing ripped off the plane. I had thought the Brothers gang may have set off a stink bomb but that seems to not be the case. Brothers had two convictions for arson and stink bombs in St. Louis. I thought perhaps something was put into the gas or the carburetor was fooled with to cause problems. No proof of that.
In the book, Prairy Erth, [regarding Fokker Niner, Niner East,] all of my above thoughts seem to lose out to bad weather. The Fokker flew like a duck according to pilots who hated to fly it. The rougher it got the more the wings moved only to be ripped from the plane. In the article the writer talks about radio transmissions and bad weather. That changed many of my thoughts.
Murphy's Law, the plane was not fit to fly. A mechanic had refused to sign off on the plane. He said it was unfit to fly. Someone overruled him and ordered the plane back in service. This came to light 55 years after the crash.
Murphy's Law, the plane carried 65 pounds of mail. Rockne worked for the postal service in Chicago before he went to Notre Dame. The plane was also one that had to be transferred from one airline to another because of postal air mail contracts. In an effort to have only one company with contracts for East-West routes, new contracts were issued by the postal service. This was known as the Air Mail scandal. I have no evidence whether there were threats or hard feelings because the smaller airline won the bidding over the larger company. Later contracts were cancelled and the Army flew the mail, only to lose many pilots and planes. Three to four days after Rockne was killed Brothers was found guilty but the damage was done. Many changes were to take place in the country.
The plane crash and the details of the shooting certainly changed the country. From start to finish, close to 50 people died in gang shootings, accidents, threats, court actions, jail sentences, payoffs, and closing down the Air Mail service. Federal authorities forbid 35 Fokkers from carrying passengers which may have actually saved additional lives.
---
JIM MANAGAN'S COMMENTS ON THE SPIRIT OF NOTRE DAME WEBSITE:
---
Bomb kills Rockne: In all my searching I did not come across this, "The Spirit of Notre Dame" website, and this story on it, "Unsolved Mystery Surrounds Rockne's Ill-Fated Plane Trip to California." The only way I got a copy of it was that a family member had it and sent it to me.
In this website story, it refers to an article that appeared in a Chicago Tribune paper on January 6, 1933 with this headline: "CLAIM ROCKNE PLANE BOMBED BY GANG TO GET LINGLE WITNESS."
Other headlines in other newspapers read, "ROCKNE DEATH LAID TO BOMB: ROCKNE CRASH PROBED BY U.S." and "BOMBING STORY IS SCOUTED AT NOTRE DAME."
For another forthright opinion suggested in this interesting, LETTER TO J. EDGAR HOOVER, click here.
These Press Bulletins I ran across also made me wonder:
WESTERN UNION PRESS BULLETINS: Notre Dame states that Father John was not going to California as classes were still in progress. The classes would still be in effect for Rockne -- why was he allowed to go? Father Reynolds was in and out of Chicago. It seems that someone had to cover his classes. It seems unlikely that he would take his classes back for a day or two with Easter break coming up.
THE SPIRIT OF NOTRE DAME: It was this website story on it, click here, that got me to do more research. I thought it was an excellent story and it improved and enhanced the information I had when I was a kid. In several emails to Dorothy Corson, the author, she stated that it was too bad I could not find someone who had spoken to Father John. This action takes place in 1930-1931. Not many people are still alive who were involved in this case.
Dorothy's words somehow stuck in my head. I thought someone from Rockne's last team may have information. I did research to find out about his last team only to find stories about Bucky O'Conner. I could not believe my luck. Another Bellows Fall High School student. I started to talk to relatives but no one had any bomb information.
Then I found someone. It was Bucky. Bucky played Rockne's last game, the Charity Game, and would later make a trip to California to be in the movie, "The Spirit of Notre Dame," the story of Rockne's football career. Rockne's wife was also in California. Other players were brought to California and Notre Dame to make the motion picture.
After talking to one of Bucky's kids I was unable to get more information, but I was able to share the information I had with them. Still Dorothy's words "Find Someone" stuck with me. Who could I find? I sat at the computer and found I was looking at a picture of Father John, Age 92, and the story of his death. I looked and there was a name of someone who interviewed Fr. Reynolds. It listed an author. I finally found someone! RON KARTON!
I searched for a paper, The Sentinel, because that was my next clue. No Luck. My daughter helped me search Oregon state phone records. Low and behold a number for RON KARTON! I called and explained to his wife what I was up to. He was out. I left my number. Later that night Ron called back. We talked and he said he did do an interview with Fr. Reynolds and he still had the tapes. He said he would look in his garage and get back with me. A couple of weeks later I received another call. He had found the tapes. Several weeks later the tapes arrived!
Below are a few examples of the comments Fr. Reynolds made in that interview that illustrate the gangland threats he experienced, on and off campus, in their efforts to intimidate a witness to the shooting during the trial in Chicago.
---

RON KARTON'S INTERVIEW:

Father Reynolds: I knew you would want to hear this part of the story because it is the second biggest part. But, here is what happened: One day I came out of Morrissey Hall. I said the Mass for the students and the whole college university was over in the dining room and a fellow dressed in a long coat, about my height, took a picture of Leo Brothers out of his pocket and said, "Are you going to testify against this man?" And I told him, well, my lawyer told me that if anybody asked a question like that I was to tell them that they must see my lawyer. So, he didn't seem to know how to handle that one and walked away.

Interviewer: Was Leo Brothers a mobster?
Father John Reynolds: Uh, Yes.

Interviewer: And this fellow was another mobster?
Father John Reynolds: Uh, yeah, and they were trying to protect him, see, and there was nobody around. He could have killed me very easily because I waited to make my Thanksgiving after the Mass, and nobody was around but he and myself, and he looked as though he had slept in his overcoat, see?

Interviewer: You don't know who it was, though?
Father Reynolds: Oh, no. I think it was one of their hatchet men, see, and he looked like a criminal. He had kind of an evil-looking face on him. Then the big thing that not many people know but you and myself, and a few that I've told it to, about the threatening letters. We were having recreation in the _______ room at Notre Dame when we got the report that Rockne was killed. The story was that a little farmer boy was watching the plane and he saw a pillar of fire rise up near where the wing attached itself to the machine and then the wing flew off, see, and the plane fell, of course. And, the FBI got after them because later on some reporter got the idea that I was supposed to be on that plane instead of Rockne.

Interviewer: Now, what happened with the plane?
Father John Reynolds: To the plane? They bombed it.

Interviewer: That Rockne was on?
Father Reynold: Yeah.

Interviewer: Was he killed?
Father Reynolds: Oh, yes, the whole thing crashed to the ground; there wasn't . . . you could hardly recognize the bodies it was so high when it started to fall. But, they recognized Rockne because he had his beads in his hand and the rubber on his leg because he had thrombosis from getting hit by tacklers that he was training, see?

Interviewer: Were you supposed to be on the plane?
Father John Reynolds: No, no. It was going out to make a picture, see? They made another picture later on and the president represented Gip in that picture, see?

So when I was drinking beer down in the _______ and heard the reporter, the boy, shouting out the Special Edition, I headed for the campus and I walked in so that I could say I was out for a walk, see, when they asked me, but all of the newspaper headquarters were phoning me wanting to know if I was on the plane, see, and I told them I wasn't. But, that is the way they [the mob] got even with Notre Dame, but it didn't work for them because we got a better coach, or as good a coach as Rockne, right after it, and, so . . .

Interviewer: Is it true that the mob rubbed out Rockne because they let you testify?
Father John Reynolds: Yeah, yup, absolutely, oh I am sure of that. Oh, yeah. Isn't that some story?
---
Note: Other documents on file, suggest that due to the wood components on the Fokker aircraft—and because Fokker couldn't or wouldn't produce the structural and technical specifications—their Fokker aircrafts were on the point of being grounded. The grounding order was to be released on April 1, 1931. Unfortunately, because of that one day delay in taking that action, a wing may have broken away from the Fokker Rockne was on and it was a fatal event for all the passengers on board.
Other sources steeped in Chicago gangster history maintain that there were rumors that a gang bomb may have blown the Rockne Fokker out of the sky. It has become a famous historic event that will always invite contemplation and speculations that are impossible to verify.
Father Reynolds' taped and recorded remembrances of Rockne will always warm the hearts of future generations who never had the pleasure of knowing him as a friend. Fr. Reynolds was on the track team, the first team coached by Knute Rockne and set a 2-mile record in 1916. He also coached football, basketball, and track and played some prize winning golf.
He said Rockne had a terrific memory, and he was one of the greatest scientists, and chemists, that Notre Dame ever turned out. That the president of the university told him that Rockne's summer home on Lake Michigan had books from the cellar to the attic and he knew about everything in those books.
In 1988, 59 years after the plane crash, the United States Postal Service honored Rockne with a 22 cent commemorative postage stamp in his honor. President Ronald Reagan, who played George Gipp in the movie "Knute Rockne, All American," gave an address at the Athletic & Convocation Center at the University of Notre Dame on March 9, 1988, and officially unveiled the Rockne stamp. No other coach in any sport has been so honored by the U. S. Postal service. Click here and the post office archives site will open in a new window, click on the miniature stamp to see a larger version and more information about it. When you are done just close the window.
One comment Fr. Reynolds made near the end of his Ron Karton interview, expresses his heart-felt feelings about Rockne: "I wish I was on that plane instead of Rockne."
---
JIM MANAGAN CONCLUDES HIS COMMENTS ON THE TAPES AND THE PROGRESS OF THE EVIDENCE THUS FAR
---
I have listened to the tapes many times and found they have answered many questions but not all. The search must go on. Father Reynolds died the same day as, Christa Mcauliffe, in the space shuttle crash. Father Reynolds was 92 when the tapes were made. Some of the names are wrong but most of the information is correct. Dorothy was so right, "Talk to someone." The tapes clear up some issues but create others.
At this point, I'm tired of writing and want to put this project to bed. However, there are still questions to answer. I need to meet people who have information on this and share each other's information. I want to go to Notre Dame and see a football game and be where things took place. It may get me fired up to look in new areas. I want to share my information with the college. I want to talk with Leo Brother's great grand-daughter. I also want to get the report from Wright Patterson Air Base. I guess I will never give up.
Jim Managan
27 Mark Street
Springfield, VT 05156
Home: 802 885-7090 (Nights not Wed)
Cell: 603 667 0671
jimmanagan@yahoo.com
---
POSTSCRIPT: All the research material Jim Managan and John Bybee generously shared with me, including copies of Ron Karton's CD interview with Fr. John Reynolds, transcripts of it, and a printout of this website story, will be passed on to the University of Notre Dame Archives for future generations to access when this story goes online.
---
LEGENDARY COACH STATUES AND THE STORY BEHIND ONE OF THEM
---
Fr. Reynold's comment at the end of his Interview, ". . . but it didn't work for them because we got a better coach, or as good a coach as Rockne, right after it" made me curious. It reminded me of the Stadium Stories that were collected in 1997 during the renvocation of the 1930 stadium. One particular story shared by the sculptor, Jerry McKenna—who created the statue of Frank Leahy that was placed at the Stadium that same year—stood out in my mind. The information that follows, from a Notre Dame stadium-information website page, provided the information I was looking for.
Below is Jerry McKenna's most recent Rockne Statue.
---

Statue by Jerry McKenna
Photo by Dorothy V. Corson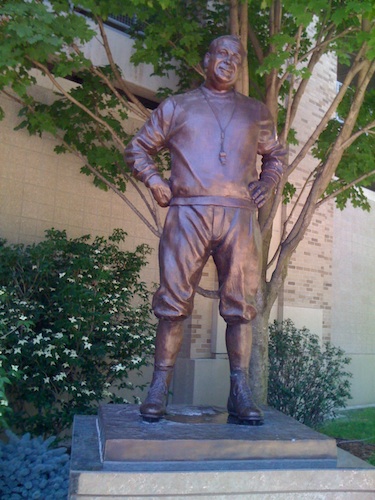 Notre Dame's Legendary Head Coach
Knute Rockne
---
LEGENDARY COACH STATUES
---
The greatest coaches in Notre Dame's storied history are honored with bronze statues in and around the Notre Dame Stadium.
The greatest college football coach of all time, Notre Dame's legendary Knute Rockne (1918-1930), pictured above, stands majestically outside the North Gate, facing Touchdown Jesus. Coach Rockne, winner of three national championships, 105 wins, 12 losses, 5 ties, was placed at the North Gate because it is also referred to as the Athletic Director's entrance, a position the coach also held during his tenure at Notre Dame.
Frank Leahy (Head Coach from 1941-1953) is immortalized outside the South Gate of the stadium. While at Notre Dame, Leahy had six undefeated seasons, four national championship teams and an unbeaten string of 39 games (37-0-2) in the late 1940s. He also coached four Heisman Trophy winners - Angelo Bertelli (1943); Johnny Lujack (1947); Leon Hart (1949) and John Lattner (1953) - and recruited a fifth, 1956 winner Paul Hornung. "The greatest all-around football player in Notre Dame history." His overall record at Notre Dame was 87-11-9.
Statues of two-time national champion Ara Parseghian (Head Coach from 1964-1974) are at Gate B and 1988 national championship winner Lou Holtz (1986-1996) guards Gate D of the stadium. Nearby each sculpture is a gate named after them. Eventually all gates will be named after a national championship coach with their bronze image keeping guard. . . .
Like his former coach, Knute Rockne, Leahy believed that games were won in practice and had the reputation for being relentless. Leahy was one of Rockne's boys. He was a tackle on Rockne's last three teams. He was famous for being a Longtime Notre Dame Head Coach. Leahy always referred to his players as "Leahy's Lads." Leahy quote: When the going gets tough, let the tough get going.
Below is Robert Ringel's photograph of Jerry McKenna's sculpture of Frank Leahy's statue. Beneath it is Jerry McKenna's own Stadium Story which appeared in the Alumni Newsletter among other Stadium Stories requested by the Alumni Association during the 1997 completion of the Renovation of "The House that Rockne Built" — the original 1930 stadium.
---

Statue by Jerry McKenna
Photo by Robert F. Ringel ©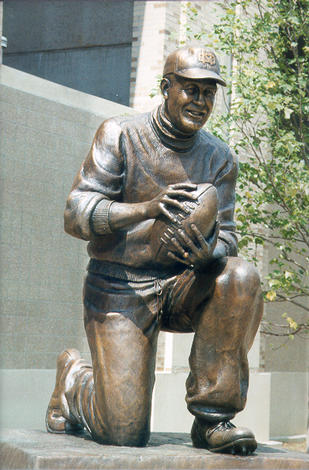 Longtime Notre Dame Coach
Frank Leahy
---
Jerry McKenna '62 of Boerne, TX, is the sculptor who created this statue of Frank Leahy outside the east wall of the stadium in a spot that already held meaning for him. When meaningful Stadium Stories were requested during the renovation of the 1930 stadium in 1997 he shared this cherished memory.
He tells of his first visit to Notre Dame with his high school friends, Jim Flannery '60 and Dan Coughlin '60 after they had all been admitted:
One night in July we borrowed my father's car and with a grand total of 10 dollars in our pockets we headed west for Indiana and arrived at the campus after dark. Not wanting to get caught prowling the campus in the dark, we decided to sleep in the car. After driving around the perimeter of the campus we selected what we considered to be a safe place to park—the small parking lot at the northeast corner of the stadium. The spot chosen for the Leahy sculpture 40 years later happened to be the exact spot where the three Lakewood teenagers slept in a car on their first visit to Notre Dame in the summer of 1956. -- Jerry McKenna '62, Boerne, TX.
Note: For the 2010 season all coaches statues were moved in front of the stadium gates. Frank Leahy (Head Coach from 1941-1953) Four national championships, six unbeaten seasons, is now immortalized at Gate C on the South side of the stadium, where he will still be smiling down on the young future sculptor who was destined to create many more sculptures on the campus of Notre Dame.
To view the McKenna's Studio Portfolio website, click here.
---
The stadium contract for the original 1930 stadium was awarded to the Sollitt Construction Co. on September 12, 1929 with work to start in a week to ten days. It was completed and dedicated on October 4, 1930 which was also the date of the first football game played in the new stadium.
---
To read the first of three more unique, "Stadium Stories: From the House that Rockne Built," with photographs, of special events that happened in the newly constructed stadium, click here. To read the second story, "Miniature Parachute Bread Drop at the Notre Dame Stadium," one of those unforgettable stadium events, most especially for children, click here. And to read the third story which features a unique photograph of the 1930 stadium under construction, click here.

For the "Ashes at the Stadium" story, click here. And for the story of Rockne's Baptism in Notre Dame's Log Chapel: "A Sacred Place filled with Sacred Memories," which includes a unique photograph of Rockne's home as it appears today, click here.

---
Dorothy.Corson@comcast.net