Notre Dame Legends and Lore / by Dorothy V. Corson
---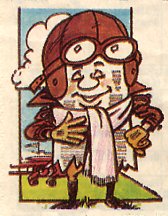 Cartoon by Carolyn Jagodits©
---
Miniature Parachute Bread Drop at the Notre Dame Stadium
---
Having found many unknown pieces of Notre Dame history by going through The Scholastic, The Dome, and the Notre Dame Alumnus page by page, I made it a habit, early on, to note the source -- and sometimes track down any interesting bit of campus history that caught my attention. On rare occasions being new to archival detecting, thinking it off the subject of my research, I neglected to do this. It was a lesson learned the hard way.
One of those occasions was the story behind the Miniature Parachute Bread Drop in the original Notre Dame Stadium. One day I was thumbing through the Notre Dame Alumnus, when I ran across a few lines of text describing little loaves of bread attached to parachutes being dropped from an airplane during one of the first Notre Dame games in the newly constructed Notre Dame stadium. I made a mental note of it, and grinned at the prospect, but being such a small mention I went on without noting the page I saw it on.
About a week or two later, the University Archives received an unusual telephone call. The receptionist turned to those nearby and asked if anyone had ever heard of miniature loaves of bread being dropped in the stadium by parachute from an airplane in the early 30s. No one had. She passed on this information to the caller and it became the subject of conversation after she hung up, as I was passing by. Everyone thought it was just another tall story about Notre Dame until I mentioned running across information about it in an old Alumnus. Unfortunately, it was one of those times when I didn't note the date. On several occasions afterward, I paged through the ones I thought I'd been looking at but without success. Now it really piqued my curiosity and I decided to research the almost 70 year-old event just to prove to myself I hadnít imagined it.
The people I talked to and the information I have filed away in my research materials has convinced me that the incident actually happened. Although no known media record of it survives, the mention of it I saw in the Notre Dame Alumnus, the written account of the man who accomplished it, and eye witnesses who claim they saw it, were prove enough for me. The son of the man who engineered this feat also verified it and felt some evidence from the event might still be in the family attic, although he has not as yet found it.
In addition, another of those striking coincidences occurred in pursuing William Busse's unusual advertising stunt. There was no way to trace the identity of the person with the initials C. L. in the request published in the enclosed January 25, 1995 "Action Line" article in the South Bend Tribune (the newspaper article that prompted the call to the University of Notre Dame Archives). However, by chance, in talking to Busseís son over the telephone he mentioned that there at been a much earlier article in the Action Line describing the same event. He said he recalled his father clipping the article and heíd be glad to send it to me to include with my research.
This one provided further proof of Busse's advertising venture. It was signed, R.W.G, Osceola and was published in the South Bend Tribune eighteen years earlier on March 1, 1977:
"When I was 6 years old, in about 1930, an airplane dropped small loaves of bread over the town of Plymouth. I wonder if it was Kreamo or maybe a local bakery. I think thatís an unusual promotion donít you? -- R.W.G., Osceola"
The Action Line's 1977 reply in the newspaper describes the event as "Operation Bread Drop" and mentions interviewing Wm. Busse "who confesses to having been the bombardier." It also mentions Busse's reply to "a crusty Notre Dame authority who called the next day to raise Cain -- and to secure a promise that the stadium would be excluded from any future bright ideas. 'I told him we wouldn't do it again, and we haven't. But it WAS fun!' Busse says."
I opened the letter and read the photocopy of the 1977 article during breakfast one morning. Seeing the three initials and the town Osceola triggered a crazy notion. Osceola is a small town. Would it be possible the person who wrote that letter might still be alive to interview? In 1995 there were not as many surnames beginning with the letter "G" listed for Osceola. Archival detecting does have its tedious moments. As I recall, it took about a half hour to run my index finger through all the "G" pages in the telephone book. There were no R.W.G initials but there were about eight listings with the initial R.G. I decided to give it a go. I drew a blank on the first two numbers I dialed but on the third, to my surprise, I hit pay dirt.
Not only did I get a very receptive person on the other end of the line but one who very kindly led me to the person I was seeking. She said she did not know anyone with those initials but her husband was home ill that day and she'd ask him. She returned to the phone with the name of his uncle whose initials were also R.W.G.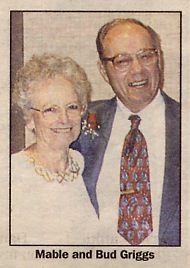 She said her husband and his uncle had the same names and lived on the same street. They began to get each other's calls so to avoid it his uncle used his nickname "Bud" in the telephone book instead. She gave me his telephone number and said she was sure he wouldnít mind my calling him. That they had no recollection of a story like that but perhaps he might and he did come from Plymouth, IN originally. Oddly had her husband not been at home and ill that day, I doubt that I would have pursued it.
It was my good fortune the number I was given was the residence of the retired owner of a Monument business in Osceola so he was home to receive my call. For some reason I thought it might have been his wife who sent in the letter and he might have known about it. I repeated the lines in Action Line letter just to see if they registered on him. He laughed out loud, obviously surprised, and said that it wasnít his wife who had sent in the letter that he had sent in the recollection himself in 1977. That he was the 6 year old and he remembered the event vividly to this day. He said two loaves on parachutes fell in his front yard. He ran with excitement to give them to his mother keeping the parachutes to play with. He said it was very special in depression times to see miniature loaves of bread floating down from the sky on parachutes [like manna from Heaven] because a lot of people were hungry.
Bud Griggs was a widower and not long after my inquiry I was surprised to see a picture of him and his new wife in the South Bend Tribune "Vows" section of the newspaper. Under the picture was the name of the man I had talked to over the phone, Robert "Bud" Griggs. I have added the article in the paper about his wedding in 1999 to my research papers.
He was not the only one I encountered who remembered this event. In following another clue I found a woman, from Bremen, a neighboring town, who also recalled seeing the loaves of bread on parachutes come down in their school yard. Later another man from Buchanan said his father had driven him and his brother by the stadium during the game. He said they didnít see the parachutes come down in the stadium but they did see them come down on the grounds around the stadium.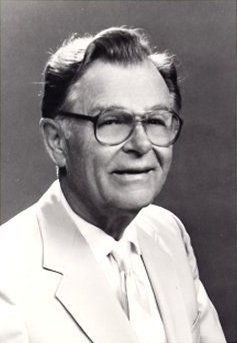 I met William Busse, the originator of the advertising promotion, over the telephone later and we had warm conversations on several occasions. He sent me a copy of the letter he wrote telling the story of his aerial adventure which he sent to the South Bend Tribune. They used only a small portion of his personal story so I was very pleased to be able preserve his interesting letter so I could scan it and use it to illustrate this story.

Unfortunately, Mr. Busse died before I was able to share these remembrances with him but I was able to share them with his son. I know he would have been pleased to know that the University of Notre Dame now has his account of his Miniature Bread Drop Parachute story preserved in its archives.

I have since learned from his son that he was an avid Notre Dame football fan all his life. His friends and employees have also shared with me their remembrances of him. Their stories about him say a lot about the kind of multi-talented man he was. One employee said his furnace broke down and when Mr. Busse gave him $500 for a new one he told him: "Don't pay me back. Pay me in the next 100 years I donít care." He described him as "a kind, caring, honest man, a private man who had a born-in-him talent. He believed in an honest days work for an honest days pay."

Mr. Busse told me his father Fred Busse came from Cleveland, Ohio to South Bend. He started the family bakery business by making cookies and fresh bread and peddling them by bicycle to his neighbors around St. Louis Blvd. One of William's business associates, Merl Hayes, said he came to work for Mr. Busse because he had the most outstanding reputation with the people he worked for at the time.

Mr. Busse had lots of advertising ideas. He said advertising wasn't an expense it was an investment. The company name, Kreamo, came from another bread company named Creamo that went out of business. The Kreamo trucks were painted with a flame along the side suggesting the bread was fresh from the oven. Many old time South Bend residents, myself included, have childhood memories of the heavenly aroma of fresh bread when driving by the Kreamo Bakery on Lincoln Way West.

Mr. Busse's son told me his father was a master of the tease. That usually six weeks before a promotion his father would tease the public with ads which would generally culminate in the fall because more bread was sold then. He figures the Bread Drop would have been sometime between September and November. That in those days football did not start early (in August) as it does now.

His employees also said he was great at teaser advertising. During the depression he ran continuous ads announcing a Hobo Convention was coming to town soon. It caused quite a stir. When the appointed day arrived all his Kreamo drivers appeared at grocery stores dressed like Hobos. Their trucks had banners announcing "Hillbilly Bread" a new bread Kreamo was introducing.

His plant manager said for fifty years, William Busse had tours of the Notre Dame campus on game days. He invited and paid for twenty people who had never attended a Notre Dame game to spend the day on the Notre Dame campus. They would start at 8:00 a.m. with a sightseeing tour of the campus, have lunch at the Notre Dame South Dining Hall and then go on to the game. In 1994, he was one of the first contributors to the College Football Hall of Fame.

I also learned he had more than one Notre Dame connection. He opened a new business in 1948, called International Bakers Services Inc. A Notre Dame chemistry professor in Roseland helped him create the flavors to start the business.

Below is a scan of the first page of William Busse's three page letter which he originally sent to the South Bend Tribune Action line. It is written with a script typewriter on his colorful and distinctive company stationery. In it he describes his aerial adventure in his own words. I feel privileged that he sent me a duplicate copy of it. He put a lot of himself into this letter and I am pleased that it is finally out there in the world for others to enjoy even if it took eight years to accomplish it.

He died December 22, 1995, at age 87, the same year he wrote this story. I was fortunate to have had several conversations with him. He had a wonderful personality and was still filled with vim and vigor. I'd like to believe that somewhere in Heaven he is smiling right now knowing his efforts to share his life and his story were appreciated. The complete text from Wm. Busse's letter telling his story in his own words follows this illustration of the first page of his letter.
---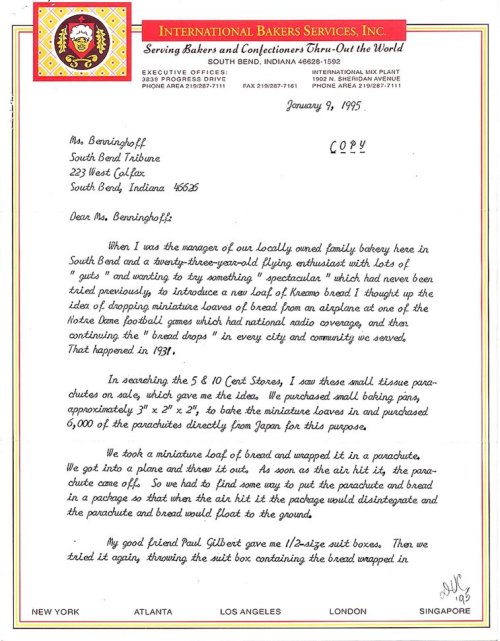 When I was the manager of our locally owned family bakery here in South Bend and a twenty-three-year-old flying enthusiast with lots of "guts" and wanting to try something "spectacular" which had never been tried previously, to introduce a new loaf of Kreamo Bread I thought up the idea of dropping miniature loaves of bread from an airplane, at one of the Notre Dame football games which had national radio coverage, and then continuing the "bread drops" in every city and community we served. That happened in 1931 [when I spoke to him he said it could have been 1930].

In searching the 5 & 10 Cent Stores, I saw these small tissue parachutes on sale, which gave me the idea. We purchased small baking pans, approximately 3" x 2" x 2", to bake the miniature loaves in and purchased 6,000 of the parachutes directly from Japan for this purpose.

We took a miniature loaf of bread and wrapped it in a parachute. We got into a plane and threw it out. As soon as the air hit it, the parachute came off. So we had to find some way to put the parachute and bread in a package so that when the air hit it the package would disintegrate and the parachute and bread would float to the ground.

My good friend Paul Gilbert [owner of the former Gilbert's Mens Store] gave me 1/2 size suit boxes. Then we tried it again, throwing the suit box containing the bread wrapped in parachutes out. This worked perfectly. As soon as the air came in contact with the suit box, the suit box opened up and the parachute with the bread floated down to the ground.

We filled small [suit] boxes with miniature loaves of bread. Back in those days, 63 years ago, airplanes did not fly so fast as they do now. We chose a four-passenger plane, removed the door and loaded it with l/2 size suitboxes filled with miniature loaves of bread which were stacked from the floor to the ceiling.

I sat in the doorway, with my feet hanging out, and unloaded the entire load of half-sized men's suitboxes, each containing about 24 miniature loaves wrapped in parachutes.

We had to test the air currents first to see where the boxes of parachutes would float down. The first box came down in the east stands where the viewers were sitting. We circled the stadium again and dropped our entire load so it would float down on the playing field.

The officials had to stop the game and remove the parachutes and bread so they could continue the game. This was on national radio throughout the USA. The following Monday some Notre Dame executives came to see me and complained that their football game was interfered with. I promised I would never do it again, and I never have.

In addition to the Notre Dame "bread drop" we also had 4 other "bread drops" covering the cities of South Bend, Mishawaka, Elkhart, Goshen, Walkerton, North Liberty, Knox and Plymouth in Indiana; and Niles, Buchanan, Three Oaks, New Buffalo, Berrien Springs, St. Joseph and Benton Harbor in Michigan.

At that time we had 12" x 15" cards printed in color showing an airplane dropping miniature loaves of bread floating down from the skies in parachutes, and stating the day and time the kids should be watching for them. These days were regular school days, and we tried to announce the date and time after school so the kids would be talking about it, watching, waiting and getting excited for the airplane to appear. These posters were placed prominently in grocery stores and also tacked up on telephone poles and trees. This "bread drop" created quite a sensation.

Back in the early thirties the only products that Japan made and sold were what we considered cheap items. The 5 & 10 Cent Stores were loaded with these cheap items. After World War II, Japan changed and began to produce quality items, such as watches, automobiles, tools, etc. With lower labor costs and with United State States' help and know-how, Japan has captured a large portion of the world market with these high-quality and low-cost items. And it is more difficult now for our nation to compete with the Japanese.

Sincerely yours,

INTERNATIONAL BAKERS SERVICES, INC.

William E. Busse
President

WEB:lm

---

Four of a fleet of eight brand-new Studebaker Kreamo Bread trucks lined up in front of the Notre Dame Stadium

---

Paul Gullifor, the author of The Fighting Irish on the Air, did some additional research on this story when I gave him it to him for the book he was writing at the time. It was published in 2001. When I spoke to Wm. E. Busse, Sr., when I received his letter, he said he wasn't sure of the exact date of the Parachute Bread Drop in the Notre Dame Stadium. Without that information it was impossible to trace it in the newspaper, although I did make the attempt at the time. Because Paul's book was about the early broadcasting of Notre Dame football games his researched opinion of the possible time this event occurred is the best we have to go on. This is his assessment of which Notre Dame Football game it might have been.

The radio announcers surely would have had to explain the delay in the game, giving Mr. Busse what was, in all likelhood, the first "commercial" ever aired within a Notre Dame home football network broadcast. Mr. Busse himself, who died in 1995, was not completely sure if the bread drop occurred in 1930 or 1931. Merrill Hayes, who worked for Kreamo Bakery 60 years confirms the story, and is certain it occurred in 1930. The only nationally broadcast game from Notre Dame Stadium that year was the Navy game on October 12th, and it stands to reason that Mr. Busse would have selected this particular game for his gimmick. It was the stadium dedication game so there was a large crowd, and plenty of publicity, presenting the perfect opportunity for the parachute drop. Additionally, the game was carried by both the NBC and CBS radio networks. WSBT began carrying all Notre Dame home games in 1930 . . . and would continue to do so for the next 30 years.

---