---
The Story Behind the Notre Dame Grotto
By Dorothy V. Corson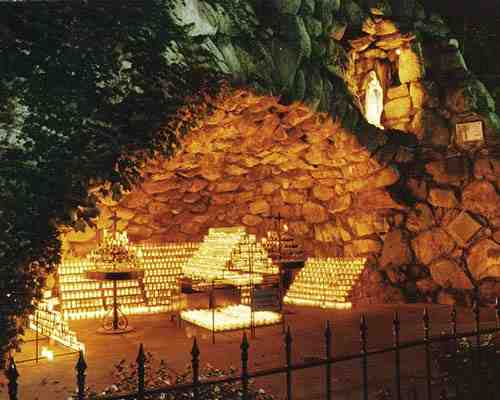 Including other Notre Dame and Saint Mary's Mysteries

The Missing Empress Eugenie Crown
The Legend of the Sycamore Tree
St. Angela's Island
Available in two forms
A first-person journal of research
in the chronological order of my own investigation.
A shorter third-person account
in the chronological order of historical events.
---
To My Husband and Son
Jack and Greg
Always My Inspiration
And most especially
To anyone
who has visited the Notre Dame Grotto
and wondered, as I have,
who planned it, who built it, and how it came to be.
---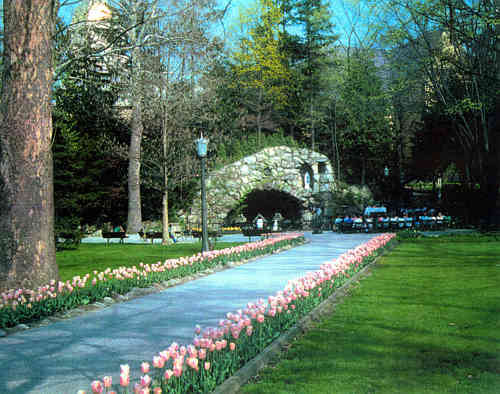 Note to the Reader
"A Cave of Candles: The Story Behind the Notre Dame Grotto" began as a personal journal of my research of the history of the Notre Dame Grotto. A copy of this updated manuscript was destined for a storage box in the University Archives upon its completion last fall. However, a curious set of circumstances, at the eleventh hour, has given it a life of its own, in a way I would never have expected, on the Internet. How it arrived there is a story worth sharing.
It has been said that "everything in life that matters is a mystery." I have pondered those words many times since the first time I heard them. As I've pondered the mystery of the paths my research has taken since I first set foot on that "Trail of Memories" in the autumn of 1991.
My first-person journal of research was completed in the summer of 1994, two years before the Grotto's 1996 centenary. A retired priest friend, Fr. George Schidel, C.S.C., who had been following my research discoveries with great interest, was the first person to read my preliminary manuscript. He asked my permission to share its new-found history with Fr. Theodore Hesburgh, C.S.C. Father Ted, in turn, sent me a beautiful letter of encouragement and directed me to those officials on campus who might be interested in its historical research for the Grotto's approaching centenary. They suggested I make a condensed version of my manuscript in third person focused on Our Lady and the Grotto's influence on the campus, which I completed on August 5, 1995. Six months later, they produced a beautiful illustrated pamphlet containing an essay by James Murphy based on the research in this second condensed manuscript. It was printed by the University for the Lourdes Day celebration at the Basilica of the Sacred Heart on February 11, 1996.
Shortly, thereafter, I was compiling a series of oral Grotto stories I had randomly collected during my search to include as an appendix to my journal of research. In the midst of rereading them, it suddenly dawned on me that the quiet memories being made every day at the Grotto were its true history and the most important part of my research yet to be completed -- preserving, in their own words, the personal experiences visitors to the Grotto took away with them.
The Grotto's August 5, 1996, centennial was six months away. I decided to present my idea to Fr. Hesburgh to see what he thought of placing a request for Grotto stories in the ALUMNI Newsletter which would have the potential of reaching many of the 100,000 alumni who received it. All the Grotto stories received would then be preserved, along with my manuscripts, as an archival record of the history of the Grotto for the next 100 years and beyond. Father Ted's response was just the boost I needed: "You'll never know if you don't try. It's a great idea. Tell them I sent you."
When the Grotto stories began arriving, they were all priceless. Too precious to be hidden away in a box in the archives, unshared. What to do? I knew publishing them myself was beyond my capabilities. This time I went to Our Lady at the Grotto for inspiration. "Lady dressed in Light , show me the way" was my heartfelt prayer. Immediately, an analogy came to mind, I could abort the whole idea of publishing them or give the idea up for adoption to give them the life they deserved.
The choice was obvious. With the permission of the powers that be at Notre Dame, Mary Pat Dowling, who wrote the Grotto Stories Request for the ALUMNI Newsletter -- and is now its editor -- compiled and published the research, photographs and Grotto letters I passed on to her and gave birth to a beautiful little book which she named, Grotto Stories: From the Heart of Notre Dame, a book that would never have had a life without her. Thanks to Mary Pat, and the help of her Notre Dame Publications book designer, Marty Schalm, miraculously, it was ready in time to commemorate the 1996 Centenary of the Grotto and is now in its second printing. If ever there was a miracle associated with the Grotto, it has been seeing that beautiful little book in print for future generations to enjoy.
Now all I had left to do was make a new master copy of my 360 page journal of research, which I had been continuously updating, and get a Kinko copy made of it to go with my condensed manuscript already stored in the archives. My one regret: only a fraction of the research in my manuscript had made its way out into the world.
Unbeknown to me, Our Lady wasn't finished with me yet. To my surprise, Wm. Kevin Cawley, Curator of Manuscripts at the archives, very kindly offered to make the master copy for me on their letter-quality printer. When I returned to the archives a couple days later, he handed it to me and asked a totally unexpected question. In the process of checking the printouts he said he began to read my manuscript, thought it had a "voice," and asked my permission to publish both manuscripts on the Internet. Be careful what you wish for . . . .
As the saying goes, "Never Underestimate the power of a woman," especially the Lady in Blue. Wm. Kevin Cawley, the Curator of Manuscripts she had planted in my path, was also the Web Master of the University Archives. Fr. Hesburgh's comment on our first visit, "The help will be there when the time comes," had foretold the future. Our Lady never lets a deed done in her honor go unrewarded. My research at Notre Dame has been blessed by "earth angels" seen and unseen. May Heaven bless all the good people who have been instrumental in helping me tell Our Lady's Notre Dame story to the world.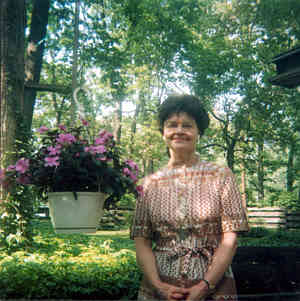 Dorothy V. Corson
Lourdes Day
2000
---
---
First, I would like to acknowledge Thomas Schlereth's part in this story. Had it not been for a casual comment he made to me, a stranger, over the phone, this story would not have been written. I had been given his name as someone to contact who was steeped in Notre Dame history. I knew he had written The Dome of Learning: The University of Notre Dame's Main Building and The Spire of Faith: The University of Notre Dame's Sacred Heart Church and was hoping he might be writing a third, on the history of the Grotto. With the title, A Cave of Candles: The University of Notre Dame's Grotto, perhaps? When I asked him if he was going to write another book, similar to the other two, for the Grotto's 100th Anniversary, he said: "No I don't plan to. Why don't you?" It was the inspiration of his unexpected comment, and the realization that probably no one else was going to do it, if I didn't, that prompted my first visit to the University Archives where most of my research on the Grotto was centered.
I would like to acknowledge the continual help, during the past eight years, of everyone at the University of Notre Dame Archives. Most especially, Peter Lysy, for his cooperation, patience and kindness toward a novice from the first day of my search. Without his guidance and friendly suggestions, I would not have had the courage to get past square one. To Sharon Sumpter, always there, in her calm quiet way, to assist in locating files and explain finding aids. To Wendy Schlereth, whose keen memory and helpful suggestions planted me on many an interesting side path. To Charles Lamb who scanned many of the photographs that enhance the text. To Bernadette Terry, Matthew Steffens, Delores Fain, Nancy Hanson, Marlene Wasikowski, Angie Kindig, Walter Ray, Erik Dix, and Matt Wilken, all helpful members of an excellent team effort to make researchers feel welcome. And to Kevin Cawley, Web Designer and computer guru -- who weaved it all together -- my heartfelt appreciation. This story would not exist on the Internet without him.
Also a special thanks to the following: To Rita Erskine at Rare Books and Special Collections, who welcomed me with a special warmth on my first day there, when I felt like a fish out of water, and who has become a very special campus friend. To Bob Ringel, architect, artist, and photogapher, who generously shared many of his beautiful photographs of the campus to illustrate this trail of memories. For more of his campus photographs, see the Notre Dame Photo Gallery.
And to Linda Dunn, for sharing her serene green Grotto photograph in Chapter 1. For me, it will always be, the 1996 Commemorative Centennial photograph of the Grotto. To Rev. James T. Connelly, C.S.C., and Jacqueline Dougherty at the Indiana Province Archives Center, where my search began, who encouraged me to visit the University Archives. To the Sisters of the Holy Cross for their kind cooperation, and to my Sister friends at Saint Mary's Convent, Sister Bertha, Sister Faith and Sister Miriam Kathryn; and to Sister Rosaleen, Saint Mary's College Archivist, and Sister Monica, who were always there to lend an ear and followed my progress with interest. And especially, to Bob Hohl, Reference Librarian at Cushwa-Leighton Library, Saint Mary's College, for his continual encouragement from the beginning. He always went out of his way to offer suggestions and make me feel welcome.
To Father Schidel, who came along when I needed someone just like him, who was one of my strongest encouragers. He was the first one to critique my manuscript, and did so with infinite care, offering unfailing interest and constructive suggestions along the way.
To Sue Dietl, Head of Access Services at the Hesburgh Library, who arranged a complimentary library card, opening a world of new books to take home that I would never have had the time to read at the library. And to all the unsung Reference Librarians at Hesburgh Library who, like Carol Szambelan, exemplify the kind of help that a reference librarian is always there to provide.
To Mary Waterson and John Palmer in the History Room, and Brenda Loving in Interlibrary Loan at the St. Joseph County Public Library, where I was always warmly welcomed. To Jackson Armstrong Ingram, Archivist, St. Joseph County, who introduced me to those musty old coroner's ledgers. To Terry Frost, whose suggestions, early on, put my computer back in service when the power board went out and it was sorely needed. Without it this story would never have been attempted. And last but not least, to Rev. Theodore Hesburgh, C.S.C., Dr. Ralph McInerny, creator of the Father Dowling mysteries, Rev. Richard Warner, C.S.C., Richard Conklin, James Murphy, and Ann Korb who generously offered to read my finished manuscript and offer their opinions.
There is just not enough space to thank everyone, from day one, who helped along the way; but Victor Couch, Mary Grix and Mary Kintz exemplified the many people I contacted who responded with interest and friendliness.
To one and all -- those I've mentioned and so many others along the way who offered their encouragement -- I would like them to know that I appreciated each and every piece contributed to the Grotto Puzzle. Bless all of you for helping to make this story possible.
Dorothy V. Corson
* * * * *
A special acknowledgment to all those writers
of the past 150 years of campus history
who penned the many descriptive passages
excerpted from their writings which became
a major part of the text of this story.
D. V. C.
Web design by Kevin Cawley

© Copyright 2001 by Dorothy V. Corson.
All rights reserved.
---