Notre Dame's Grotto / by Dorothy V. Corson
---
Chapter 10
---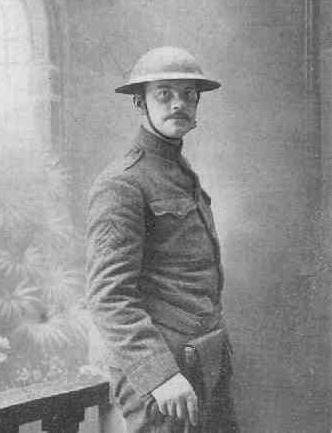 A Poet Linked to the Grotto
In 1913, a poet associated with Notre Dame, the Grotto, and the trees on campus, appeared on the scene -- Joyce Kilmer.
A brochure in the University Archives entitled, University Statue Shrine Stories, contains an interesting reference to Kilmer and the Grotto. In its pages, Father Henry Kemper speaks of a former classmate:
My old Notre Dame classmate, Charley O'Donnell, who later became Poet Laureate of Indiana and president of his alma mater, Notre Dame, was a personal friend of the poet, Joyce Kilmer.

They say the big tree that shades Our Lady's niche "a tree that looks at God all day and lifts her leafy arms to pray," was the inspiration that made the patriot convert, Joyce Kilmer, famous, with his best-known poem. Kilmer volunteered in The Fighting Irish Brigade and was killed in action July 30, 1918 at the age of 32. The original flag of the Irish Brigade, carried through the civil war by General Meagher's boys was presented to Notre Dame last summer.(167)
On the right side of the Grotto steps leading to the church, is a huge stump that must have once been "the big tree that shades Our Lady's niche." If it were true that it had inspired the poem, "Trees," what a lovely story to be associated with the Grotto. Hardly a child goes through his schooling without having come in contact with Kilmer's poem:
---
Trees

I think that I shall never see
A poem lovely as a tree.
A tree whose hungry mouth is prest
Against the earth's sweet flowing breast;
A tree that looks at God all day
And lifts her leafy arms to pray;
A tree that may in summer wear
A nest of robins in her hair;
Upon whose bosom snow has lain;
Who intimately lives with rain
Poems are made by fools like me
But only God can make a tree.

-- Joyce Kilmer
Kilmer was noted for writing the poetry of the people, he mirrored their thoughts. He discovered in the most ordinary things rich and unsuspected meanings.(168)
His biographer, Robert Holliday, speaks of "Trees" and describes Kilmer as a poet:
The exquisite title poem now so universally known, made his reputation more than all the rest he had written put together. That impeccable lyric which made for immediate widespread popularity.

His song was as old as the hills, and as fresh as the morning. Precisely in this, in fact, is his remarkableness, his originality, as a contemporary poet; and in this will be, I think, his abiding quality. "Simple and direct, yet not without subtle magic," wrote Father James J. Daly, S.J., in a review of Trees and Other Poems, printed in America, his verse "seems artlessly naive, yet it possesses deep undercurrents of masculine and forceful thought; it is ethical in its seriousness, and yet as playful and light-hearted as sunlight and shadows under summer oaks."

Only the name of James Whitcomb Riley expresses in greater measure the rich gift of speaking with authentic song to the simplest hearts.
In letters sent home during the war in Europe, Kilmer wrote:
"At present, I am a poet trying to be a soldier. To tell the truth, I am not interested in writing nowadays, except in so far as writing is the expression of something beautiful. . . ." (169)
A thesis written about Kilmer in 1927 by a friend of the family, Sister Roberta Bresnan -- "Home Life as a Theme in the poetry of Joyce Kilmer" -- speaks of Kilmer:
He had a quiet way of being genuine. He loved the simplest things of life because he was himself perhaps the simplest. His poetry expressed the remedy for all this world's woes, in one small word of deep and lasting significance, the word "home." When we designate it as a place it immediately shifts to a feeling, a person, an object. It may embrace an entire country or it may be confined within the perimeter of four walls.(170)
A description of the campus -- the way Joyce may have viewed it when he was there -- was penned by a writer in an 1886 newspaper. It confirms that the tradition of praying places among the trees was as much in evidence at Notre Dame then as now.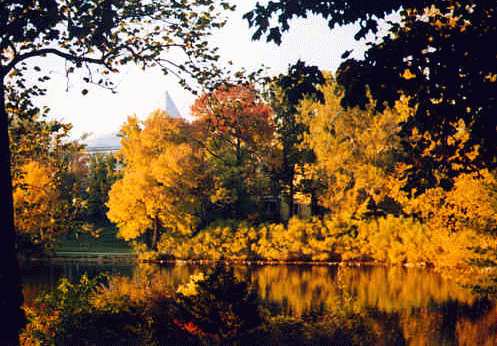 The grounds around the college are laid out in finely shaded walks. As we pass over the grounds we notice that which always finds a tender spot in the hearts of all Catholics in the great number of oratories and abodes for prayer that are to be found in secluded parts of the grounds, that students on their walks may have an opportunity of offering to heaven their prayers undisturbed and with only the sky and the trees for witness.(171)
For such a memorable poem to be associated with the Grotto, would be an honor worthy of every effort made to verify it.
---
<< back |
Notre Dame's Grotto
| next >>