A Cave of Candles / by Dorothy V. Corson
---
Chapter 4
---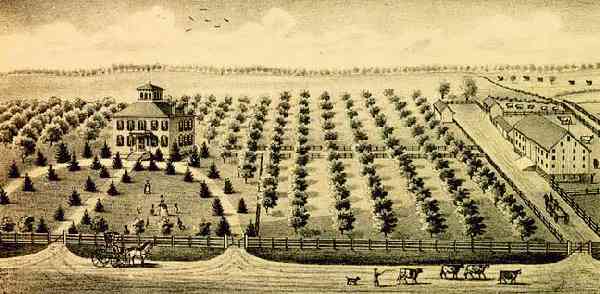 People and Events Leading Up to the Grotto
On the East side of Juniper Road, near Cleveland Road, about a mile North of the Notre Dame University is a large red brick two-story house(16) built by Alfred Talley, born in 1809, who was a printer from Chicago. According to the Historic Preservation Commission, of South Bend, IN, the house received Landmark status in June of 1975.
Excerpts from the St. Joseph County Public Library newspaper biography clipping file, under his name, and information supplied by the Historic Preservation Commission, give this account of his background:
He went to Chicago in 1835 as an associate of John Wentworth for the Chicago Weekly Democrat. In later years, he was brought to Notre Dame by Sorin to establish the Ave Maria magazine. Southern by birth, his parents were slave owners, but he himself, became resolutely opposed to it and was counted among prominent abolitionists.

Alfred Talley and his children bought 232.24 acres in Clay township from the widow of a farmer named Samuel Brooks in 1856. His wife died in 1852 shortly after the birth of their eighth child. It is believed that sometime after 1857 the house on Juniper Road was built for himself and his children. It was, and still is, a handsome two-story brick residence.

Originally, the house had 12 rooms and a cupola on the roof. The foundation was made from fieldstone and the outside brick walls are 18" thick. It was a large house for the 1860-1870 period.

In 1865, Alfred's daughter, Mary M. Talley, married Jacob Chirhart. They resided at the family home. Jacob worked the farm for the family, while his father-in-law continued working as a printer. Gradually the rest of the eight children were married and moved away from the family home.

About this time, Father Edward Sorin of Notre Dame was desirous of establishing a printing shop so that a devotional periodical could be printed. He appealed to Mr. Talley and on the 1st of May, 1865, Volume One, Number One of Ave Maria was printed and circulated. Talley conducted the publication of the Ave Maria from his home on Juniper Road. It was printed by hand press. By the time Volume Two went to press, Notre Dame had purchased a steam power press. Talley continued as foreman of the Ave Maria office until his health failed. He resided at the Juniper Road farm until his death in 1870.

In 1868, there were some legal problems with the Chirhart land. In 1869 Father William Corby, then President of Notre Dame, for reasons unknown, came into the picture. The Talley children, not in residence, Quit Claim deeded their shares of the property to William Corby. Alfred Talley willed his share and the house to his daughter, Mary Chirhart. He died November 28, 1870. Between 1869 and 1873, William Corby gave Q.C. Deeds for the rest of the property (Q.C. deeded to him previously by the other Talley children) to Jacob Chirhart and his wife Mary Talley making the property again equal to 231 acres plus.

This Chirhart land excluded a square acre that Mariah Brooks, widow of Samuel Brooks, former owners of the land, and her children deeded to Clay Township in September, 1856 for continued use as a burying ground.
This ancient small cemetery, known as the Tutt-Stuckey Cemetery, still exists on the brow of the hill, midway between Juniper and Ironwood on the South side of Cleveland Road, opposite the Castle Point apartments. The Brooks family is buried there along with many other former nearby residents.
When I first visited the cemetery I was noting the names on the gravestones, when I came upon a curious stone marked "KNOWN ONLY TO GOD." I tried to imagine who it might have been. A farm hand or vagrant passing through, or an infant no one wanted to acknowledge? Why else no name or dates?
I was alone in my wonderings until some weeks later when I was given the name of Toni Cook who was doing a survey of St. Joseph County cemeteries. She confirmed that the land it was on was once owned by the Brooks family and described a large tapered monument which was erected for Sam Brooks and his parents when he died in 1849. His father Ben died in 1836 and his mother Deborah in 1842.
When I mentioned the curious stone she supplied the answer. In June of 1985, an unidentified murder victim found behind the Howard Johnson Motel on U. S. 31 was buried under the tombstone labeled: "KNOWN ONLY TO GOD." She said that particular cemetery was chosen for the burial at the time because it is an inactive cemetery, whereas, others are still active. Mystery solved.
Other interesting stories worth telling, associated with this Landmark Talley/Chirhart home, crossed my path in the process of my research. Local legend says the 138-year-old house harbored runaway slaves who traveled the secret escape route of the underground railroad in pre-Civil War days. There are many small rooms in the basement area that could have been used for this purpose. A similar story was told to me by Father Charles Carey in relation to Notre Dame. He said there was one particular house on campus, east of the firehouse, where there is now a high-rise dorm, that was also known as a way-station for runaway slaves on their way to Cassopolis. He said he had no documented proof but did not doubt the story himself.
Father Carey was my confirming source for several stories I researched concerning the campus. He has an unerring memory for details. Having lived at Corby Hall on campus most of his adult life, he had many tales to tell of campus life.
---
Still more Links -- Gleanings of Clay Township
One day, I stumbled upon an unindexed piece of microfilm at the St. Joseph County Public Library that fascinated me. It was written in 1973, in longhand, by an elderly resident, now deceased. She called it, "Gleanings of Clay Township, St. Joseph County Indiana, For My Own Pleasure." It provided more information about Notre Dame connections.
Notre Dame, St. Mary's and the Talley House are all in Clay Township. Being a resident of the township myself, I found it especially interesting. It was a delight to read, with numerous pictures of local homes and residents, a good many of them connected in one way or another to Notre Dame. It reminded me of many trips made from town when my husband and I were in the process of building our home in Clay Township. A familiar township road sign, which is no longer there, referred to Notre Dame being within the township. It read: "From Kindergarten to College Without Leaving Home."
Besides the Talley Home, in Mrs. Post's Gleanings, she also mentions the name Samuel Byerley. Mr. Byerley was an early benefactor of Notre Dame. He lived in New York before he and his family moved to Indiana. The Bishop of Vincennes who had visited Mr. Byerley's home in New York told him a ship from France would soon be bringing three Fathers, one Brother and four Sisters from Le Havre, France bound for Sorin's mission in Indiana.
Father Sorin in a letter to France had praised him highly, but the Sisters said he had not said enough. They speak of being greeted with open arms by Mr. Byerley. How their every need was met by him "in his person and his money." At his home they saw the plan for the college and learned that Sorin was beginning its foundation with a small sum Byerley had obtained for him.
Mr. Byerley was a later source of financial aid for Notre Dame on many occasions. He moved to South Bend and bought a farm near Notre Dame so his children could go there to college.
Erma Helmen Post's Gleanings describe Samuel Byerley's son and more campus connections to Clay township. His son, Thomas Byerley, lived in Roseland and was the first son to attend Notre Dame. According to family legend Thomas hauled the first wheelbarrow of dirt when the college was built.
Tom's home in Roseland had a vacant lot beside it. He was an ardent lover of flowers and used his backyard and the empty lot as his flower garden. He put a sign in front of it and called it Roselawn. When the village decided to incorporate they began to think of what to call it. Mr. Byerley's garden, which was admired by everyone, came to mind. The Village liked the name and decided to use it for the name of their town. However there was a small town in Indiana with that name so they changed it slightly and called it Roseland. Once the town was named Roseland many other home owners planted roses. There are many who still remember the days when the town was known for its roses.
Another lovely old home in the Roseland area, now only a memory, was pictured with the words "The Pie House" written under it. In the text I found this interesting explanation and yet another connection to Notre Dame:
The Haney House was a favorite stopping place for Notre Dame Students. Back in those days students were not allowed to go into South Bend on their afternoon off, which was Thursday. Mrs. Haney's oldest daughter Kate started catering to a few students by serving them a cut of pie or cake with milk or coffee. Her popularity grew and on Thursday afternoon or on any other holiday, you would see students coming and going. It proved profitable to her and helped the family income which had been severely cut when the two grandsons, she had helped her mother and father raise, left the farm for more desired careers of their own. The Haney house was spacious and in inclement weather there was always room in the big dining room to care for the wants of the boys. The fame of the "Pie House" was known all over the United States and in foreign countries just because one ambitious woman, with a lot of Irish humor, knew how to bake good pies.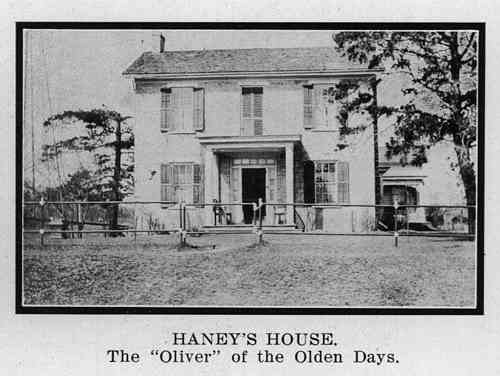 The next time I saw Father Carey, it was the first question I asked him, "Father Carey, have you ever heard of 'The Pie House?'" His eyes lit up in remembrance. "Sure do," he said, "that was the old Haney House. Used to go there every Thursday. You could get a piece of pie or cake and a glass of milk for a dime."
Erma Post's Gleanings went on to explain that it was later bought by an artist, Ludwig Blake, who made a show place of it and at one time operated a tea room in the house. At that time it was known as "Blake Gardens." The landscaping of the sunken garden area was quite unique. Juday Creek flows through it. A curved bridge crossed to a small island area where there were cozy tables for picnics. There were canoes to paddle where the creek had been diverted throughout the grounds. I'm told that the lovely formal gardens behind the house were the scene of many an eloquent wedding reception complete with hanging colored lanterns.
I often took our son there, as a youngster, to see the gardens and the goldfish in the creek behind the motel. Until now, I had not known the charming story about the house and gardens and the artist who once lived there. Mr. Blake sold the land to the Howard Johnson Motel chain but the surrounding landscape still holds the touch of his artist's hands. The gardens and creek can still be seen from the right side of Cleveland Road just west of U.S. 31.
As with many very old houses, tales of hauntings have also been attached to them. I was surprised to learn that the Talley/Chirhart home on Juniper was no exception. Again, from Gleanings:
The story is told (whether true or not) of the Talley house being haunted after the Chirharts sold it. When Jacob died and neighbors were sitting at the "wake" with the corpse, two of the sons drank too much and started wrestling. In the tussle, they bumped into the casket upsetting it and the father rolled out. From that time on the house was said to be haunted. The new tenants would not sleep upstairs as peculiar noises and door slamings [sic] were heard at night. The next tenants scoffed at the idea and routed the ghosts.

Many years later, in 1923 the Talley/Chirhart home again changed hands and acquired more local color. The new owner was said to have served home-made wine and Hungarian food to Notre Dame students and other people in his basement during prohibition and thus it became known as a "speakeasy." This practice was abruptly stopped when the owner was arrested for bootlegging.(17)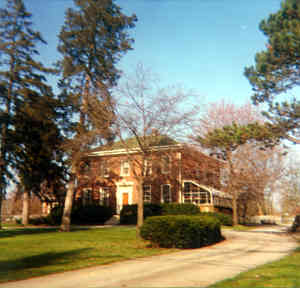 In the early 1950s, the house was bought by its last owner, Robert O'Connor. It received Landmark status in 1975. It is still in the same family. It was purchased in the 1980s by his son, P. Reiley O'Connor, and is now known as the O'Connor House.
---
The Kintz Family Enters the Picture
The south portion of the Talley/Chirhart property ended just south of the Toll Road on Juniper, the corner of it being crisscrossed by the meandering Juday creek which at that time was simply referred to as The State Ditch. Earlier yet, on an old 1863 map, it was designated as, Sheffield Creek.(18)
In 1888, the county decided the creek needed to be straightened, dredged and widened. The people who owned the land the creek passed through were to be taxed accordingly. Jacob died in 1885. Mary Talley Chirhart and her children, were disturbed at this charge and forfeited the land rather than pay the taxes. Father Thomas Walsh, then president of Notre Dame, bought the 80.10 acres containing the creek at a Sheriff's sale on May 5, 1888 for $289.99. After the customary one year waiting period, he received the deed on June 26, 1889.
On January 5, 1891 Father Walsh sold the property to Peter Kintz II and his wife Mary on a Warranty Deed for $3,200. The loan was secured with a payment of $1600 on January 5, 1891 with the remainder to be paid in four promissory notes with a 7% annual interest. The deed was paid off on December 15, 1900 at which time the University of Notre Dame released the mortgage to Peter and Mary Kintz.(19)The Kintz genealogy referred to a Kintz son who worked for the Summers family for a year to help pay the mortgage. Gabriel Summers was into real estate and farming. He owned adjacent land south of the Toll Road, now Indian Village, and West of Juniper known as Summers Woods and Oakmont Park.(20) In later years much of the Summers land was bought by Notre Dame. The land our own home is on was bought and resold by Sorin several times. An 1863 map shows that Sorin once owned the portion of land on the east side of Juniper Road now known as Indian Village.
I was to learn that many early priests, most especially Sorin, financed their religious endeavors by buying and selling land. It was a skill they undoubtedly passed on to one another. An article entitled "Stories of Two Remarkable Priests -- Benoit And Sorin," by Bishop John M. D'Arcy, explains how Father Julian Benoit founded St. Augustine Parish on what is now the grounds of the Immaculate Conception Cathedral in Fort Wayne:
In addition to the Cathedral, he bought land for churches and built churches and schools throughout the area. Yet he died penniless. How did he do it? Indeed, during his later years, Pope Pius IV, aware of his business sense, asked him this question: 'How do the priests in America make their living?' Father Benoit, from his early days in Fort Wayne, saw that money was being made in land speculation. So he would buy land, very reasonably, and later sell it for a profit. With the money he received, he would buy further land for churches and, indeed, build churches.(21)
The article goes on to mention that Father Benoit and Father Sorin were good friends. When Father Sorin, at Notre Dame, was in deep financial trouble he turned to Father Benoit for loans. Undoubtedly, this land speculation was a skill Sorin also learned and passed on, as President Walsh's purchase of sheriff's sale land and its resale to the Kintz family, at a tidy profit, indicates.
The story is told that Peter Kintz's youngest son, Ott, as a very young lad, weeded and replanted, with a hand planter, the corn that had fallen or been eaten by crows in the field where the Joyce Athletic and Convocation Center is now. The older Kintz sons worked as carpenters at Notre Dame and as the family story goes hauled stone and worked at the Grotto as part payment on the mortgage with Father Walsh. A reasonable assumption since the Grotto was being built midway in the mortgage.
This was not an uncommon practice. One man paid for his son's college education by building the spire of the church.(22) In the Scholastic I also found this entry in reference to the building of the original church:
An appeal was made to the few Catholics around, if they could or would do a little -- most of them were poor, many not very fervent. However a subscription was made: it was paid in labor.(23)
One sentence in Father Maguire's letter also mentions this practice. Speaking of the building of the Grotto he says:
The boulders were gathered from our farms and others surrounding it.
Confirmation of the above statement was passed on to me by Father Joseph Rogusz. He remembers being told by Brother Peter Claver Hosinski, (1872-1958) that he and other Holy Cross Brother Novices hauled stone for the Grotto.
Victor Couch, great grandson of Peter Kintz and still living on the family land confirmed that farmers did masonry work on foundations and carpentry in building barns and many worked at Notre Dame in the winter when they were not farming. He also remembered as a child hearing stories of the Peter Kintz children being invited to parties at the Chirharts. He said it was always a special occasion for them, since to a farmer, the Chirharts were wealthy.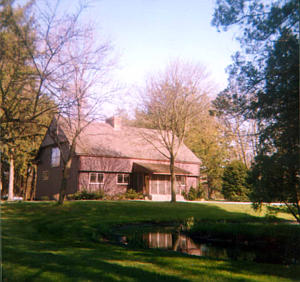 When Peter Kintz died his 80.10 acres of the original Talley/Chirhart land was passed on to his surviving eight children, each receiving 10 acres. Some time in the late 1930s, 10 acres owned by Cecelia Kintz, who was married to James Luther, were bought by Alden Davis, a Notre Dame Professor, one of her boarders. He purchased the old Summers barn and moved it from the Indian Village area to its present site south of the old Talley/Chirhart home, on the creek at the corner of Juniper Road and Kintz Drive. It was remodeled into the picturesque dark brown rustic homestead that now graces the winding path of Juday Creek. As late as the early 1950s sheep could be seen grazing on his grounds. As the story goes, he eliminated lawn mowing by using them to keep the grass clipped. The present owners, William J. and Linda Conyers, have added their own charming touches to the Conyers Cottage. An arched Monet bridge constructed by William J. and his brother Father Richard J. Conyers, C.S.C., now graces their water gardens.
The six acres at the east end of Kintz Drive was the parcel bought by my brother from Elmer Kintz, a grandson of Peter Kintz. Elmer Kintz, the husband of Mary, who graciously shared their genealogy with me, was also connected with Notre Dame most of his life. He was the superintendent of the building of the Joyce Athletic & Convocation Center as well as many other buildings on campus, being among just a fraction of the later descendants of the Kintz family and other local families, who worked and went to school at Notre Dame, from minims on up. Mary Kintz also worked on the campus.
Sister Cecile Marie Luther former teacher and Sister Helen Therese Matras, Holy Cross Sisters at St. Mary's College convent, are both descended from this same Peter Kintz and both told the same story. Sister Cecile Marie recalled the many times she has gone to the Grotto and said the same prayer: "Dear Lord up above, do you remember when my Grandfather Peter Kintz brought huge big boulders from his farm to build this Grotto so that Our Lady could be honored on this spot? Blessed Mother be sure to bless Peter Kintz and all his descendants."
Sister Helen Therese's grandmother, Mary J. Lacose, also a descendant of Peter Kintz, married Maglorias Madra (Merit Metras). They were one of the first couples to be married in the Log Chapel on September 29, 1856. She said the story has been passed on in the family that her grandfather was the first lay professor hired by Father Sorin to teach French at Notre Dame.(24)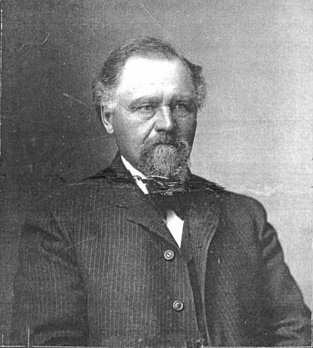 In those days one found one's husband or wife close to home and that is why many South Bend families are interrelated. In one case, a brother and sister married a sister and brother which must complicate a genealogical search.
According to stories passed down in the Kintz family, part of the payment of the mortgage on the Kintz land was said to have been paid by transporting rocks to the Grotto and assisting in building it. However, no payment of money was recorded for whatever rock might have been hauled there, perhaps because the mortgage was being paid partially in labor. Nor are there any University records of payment of the mortgage by cash or barter still in existence to verify this family story.
Whereas, in the 1896 ledger, there was one mention of a payment of $26.35 for stone brought to the campus by the contractor, Gill. Two other unnamed entries were paid $5.90, and $51.60 for 8 3/5 cords of stone at $6.00 a cord. It is possible these two unnamed entries might have been brought by the Kintz family. Stone was also brought on a stone boat by O. P. Stuckey who was paid $13.66. Stone was measured like wood then. A pile of wood 4 feet wide by 4 feet high by 8 feet long was a cord.
O. P. Stuckey's home and barn are still standing beyond Francis Branch Library and north of the Greek Orthodox Church on Ironwood Rd. The old Stuckey School stood on the Northwest corner of Ironwood and Douglas. It was surrounded by a fieldstone wall, all of which has long since disappeared. In 1890, O. P. Stuckey and his team of horses were killed, struck by lightning in a field on his farm. However, he had a granddaughter named June Turnock. She became June McCauslin and was the Financial Aid Director at the Notre Dame campus for 18 years. She also passed on another family story. She said her Grandfather Turnock plastered the Dome.
There are two descendants of the original Peter Kintz still living on Kintz Drive. Victor Couch whose Grandmother, Victoria Kintz, married a Louis Gooley who owned the land known as Arlington Heights, north of Cleveland and West of Ironwood. Louis Gooley donated not only a stained glass window for the church but also donated for the bell as did the Chirhart family. Another member of the Gooley family was also said to have hauled the clapper for the bell to Notre Dame in his mule cart. John Norton whose mother was a daughter to another Kintz family member also still lives on the original Talley/Chirhart/Kintz land.
No further doors opened to confirm the Kintz family's "passed on" stories regarding the Grotto, but I'm sure, oral history in the form of numerous family remembrances does give credence to them. Especially since I have run into similar stories from several families who claimed their ancestors helped hoist the statue to the Dome. As many farmers of the day must have done, joined forces, in assisting their neighbor, Notre Dame, with tasks that required a lot of men and horse power.
---
<< back |
A Cave of Candles
| next >>