A Cave of Candles / by Dorothy V. Corson
---
Chapter 10
---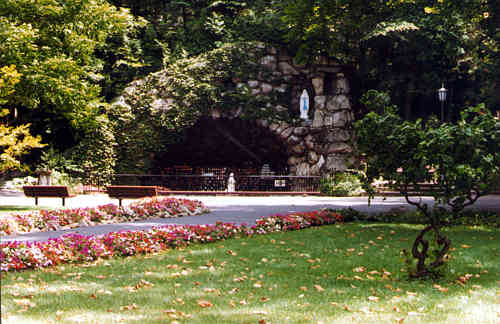 A Visit with Father Hesburgh
A curator I contacted at Snite Museum, in connection with locating the Snite relics, suggested that I talk to Father Theodore M. Hesburgh, C.S.C., President Emeritus of Notre Dame. He explained that with his long tenure he would likely be the best source to check out any unanswered Grotto questions. I had thought of him, earlier, but decided to wait until I was at the end of my search.
Now, I began to wonder if perhaps this nudge was meant to send me down another path of interest earlier than I had expected. I decided to act upon it immediately before the notion cooled, having found that sometimes impromptu encounters turn out better than planned appointments. I again felt the uneasiness of an approaching unknown. However, the timing seemed right. I steeled myself and decided, again, if it were meant to be, I'd be able to arrange an on-the-spot visit, and if not, I'd try again later.
Father Hesburgh's, Administrative Assistant and Executive Secretary, Melanie Chapleau, said she thought she could arrange it if I'd come back in an hour. In the meantime, she said she would see how his appointments were shaping up. His office, tucked into an area on the 13th floor of the library stacks, was almost indiscernible. One might easily walk by without noticing it. I checked out sources on another floor in the hour intervening and then returned to find he was available and would see me in a few minutes. "Would 15 or 20 minutes be enough to cover your questions," Melanie asked. I assured her it would, thankful for whatever time he might have available.
Father Hesburgh rounded a corner a few minutes later, shook my hand and asked, "Haven't we met before?" I was surprised at his question as we had indeed met briefly almost 15 years before, but I'd hardly have expected him to remember it. "Just once," I said, "it was the evening before Father John Cavanaugh's death." I told him I had just left his bedside at Holy Cross House after a brief visit and was awaiting the elevator when he walked out of it and we exchanged a brief greeting. "I remember," he said, "and Father Joyce was with me." Amazed at his memory, he put me completely at ease, as he directed me to a comfortable sofa in his large tastefully decorated reception room.
Having been briefed about my inquiry, he began our conversation with the admission that he was sorry to say that he knew very little about the history of the Notre Dame Grotto. That I would probably know more about it than he did. He told me he had a deep devotion to Our Lady and had visited shrines to her all over the world, but other than his comforting regular visits to the Grotto when he was on campus, as he is doing in the photograph below, he didn't think he'd be of much help.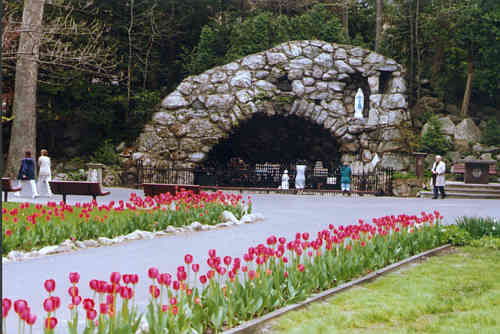 I went down my list of questions I wanted to ask him, receiving, as he had pointed out, very little additional information. Then I came to my last remaining mysteries, the three favors granted plaques still attached to the Grotto. He said he doubted I'd ever find anything out about them and went on to tell me an experience of his own. He said he had left a plaque on a mountain top in Chile and nobody but himself and the young couple with him, who renewed their vows there, would know about it. "Come to think of it," he said, "it wasn't in my books either." I asked him if he'd put it there himself and he told me he hadn't, that a workman had very graciously taken care of it for him. "Then, he would have known about it, wouldn't he?" I said, "and now I know about it too." We both grinned at his acknowledgment.
I went on to explain my hope that such family remembrances as placing plaques at the Notre Dame Grotto would be proudly passed on through the generations as so many stories of campus lore have survived by a similar means. He agreed that it was a possibility and hoped I'd follow through and put my research in book form. I told him I had no literary ambitions and knew nothing about writing a book, but he brushed my misgivings aside and assured me I would be able to find help when the time came.
It reminded me of a conversation Edward Fischer had with Sister Madeleva at Saint Mary's which he recounted in his book, "Notre Dame Remembered."(81)
When I told Sister Madeleva that I was glad she was getting Marion (McCandless) to write things down, she said, 'I have been badgering her for a long time to write her memories of the alumnae. This morning I asked her if she had heard the excellent lecture last night and she said, 'No! I haven't the time. I am working on that book you told me to write!'

'Her excuse has been that she doesn't know how to write a book and seventy is too late to learn. I keep telling her you learn to write a book by writing it.'

Marion McCandless went on to write that book she didn't know how to write. It was called Family Portraits.(82)
When we sat down he told me of a telephone interview he was expecting so that I would understand if he was called away suddenly. Until then, he said he was thoroughly enjoying our exchange of memories. About twenty minutes later, I concluded our conversation by telling him the story behind the unusual egg-sized Lourdes medallion I was wearing. It had been given to me by a mutual friend, Brother Cosmas, who assisted the priests at Sacred Heart Church, and who was celebrating his 99th birthday that very day. "I'm glad you reminded me," he said, "I want to be sure and get in touch with him today."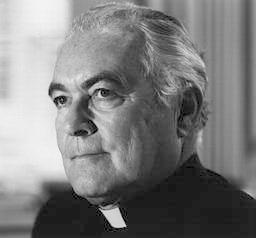 He was examining the medallion in his hand as the telephone rang in the next room. As we both rose to leave he said, "I'll bless it for you." He gripped my hand again in parting and encouraged me to keep up the good work, that it was definitely a worthwhile project. I have heard it said, "When Our Lady gets a hold on you she never lets you go." It has certainly applied to my Grotto research. She has taken me places I would never have had the courage to go without the inspiration of the Grotto.
As I left his office, I paused to thank Melanie for arranging the appointment. A postcard sized nighttime snow scene of the Notre Dame Grotto affixed to the counter above her desk caught my eye. It reminded me so much of my first visit to the St. Stan's Grotto. Melanie turned it over to reveal its origin. It had come from the Campus Ministry Office. I stopped there later and received the last copy they had, tucked away in the corner of a desk. It had been circulated three years before as a prayer card, so it was most unusual that this one was still there.
I left for home shortly afterward, convinced I must stop by Holy Cross House ahead of schedule, to wish Brother Cosmas a Happy Birthday and relate my visit with Father Hesburgh to him. I didn't want to pass up the opportunity to add my good wishes to his special day. It was Brother Cosmas and Brother Edward, who assisted the infirm priests at Holy Cross House in saying mass, who had adopted me in friendship during Father Jan's last days on earth.
Brother Cosmas had been a bit vague for the past several months and was gradually declining. He was in a wheelchair now most of the time. Still, he always knew me when I greeted him, recognizing the Our Lady medallion from Lourdes even before he knew who I was. This time he was brighter than usual dressed in an unaccustomed black priest's suit. It surprised me as I'd never seen him before without his full skirted cassock.
I leaned over his wheelchair with my medallion swinging in front of him. He grinned from ear to ear and beamed when I told him that Father Hesburgh had blessed our medallion, leaned over, took it in his hand and kissed it. And he beamed again when I told him, "If Father Hesburgh comes to see you, tell him I beat him to it."
A priest sitting at a table a little ways from us looked up with tears in his eyes as he witnessed Brother Cosmas' obvious joy at being remembered by Father Ted. It was another inner urging I was most glad I had followed. Brother Cosmas went to meet his maker, and his good buddy, Brother Edward, barely two months past his 99th birthday.
He had told me he purchased the medallion in 1958 at the Lourdes Centenary in France. It is simulated silver and gold with an image of Our Lady on the front and a scene of the Grotto on the back. It was in his trunk until he passed it on to me in 1975. Brother Edward added the gold chain. It has become a very special link with the past in my life, a beautiful remembrance of two very special Holy Cross Brothers I'll long remember.
They presented it to me at a Holy Cross House Christmas party the year Father Jan died, "because I had a thing about Grottoes and they knew I'd revere it." When I told them I couldn't accept a gift from them, they both assured me this was special, a perpetual gift. I was warmly pleased when I opened the small box. I think of it now as coming from all my priest and Brother friends at Holy Cross House and I wear it only on my visits to the campus or the convent . . . or as I've often told them, when I want good things to happen.
During my weekly visits to Holy Cross House over the years, I always transported Brother Cosmas back to Sacred Heart for the 5:00 o'clock Mass. One day he leaned over as I opened the door for him and said, "How am I going to repay you for your kindnesses." "You don't have to," I told him, "it's my pleasure." To which he replied, "Then I'll pay you in prayers." I assured him that nobody could get too many of those and patted his shoulder in parting.
Only recently, I learned of his daily devotion to the Grotto and its surroundings. He was a familiar sight to many who observed him as he served the priests during Mass at Sacred Heart Church and mingled with the visitors at the Grotto. His quiet example of faith and fidelity was a silent influence on countless people who crossed his path daily. Though both Brother Cosmas and Brother Edward are gone now, they will always be with me in memory, most especially, whenever I wear the gift of their Lourdes Medallion.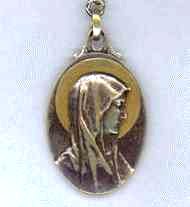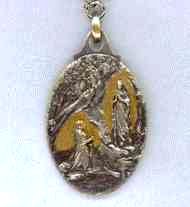 * * * * * * * * * *
When Father Hesburgh retired in 1987 students planted a tree for him at one of his favorite places on campus, the Grotto. A tree for Father Joyce is also there along with several other trees on the Grotto lawn given as memorial gifts. This practice started in the late 1970s or early 1980s. Father Hesburgh's tree was given "with utmost admiration" by the Class of 1990. A distinctive tree for a man of distinction. Like the legendary sycamore on the Grotto lawn, it has an unusual shape and name. Because of its unique, contorted, corkscrew branches, it has been dubbed the "Harry Lauder Walking Stick Tree". It is the small tree to the right of the path pictured at the head of this chapter. It was named after a well known actor who died in 1950. He always performed on stage carrying a crooked walking stick.
Memorial gifts have also been given for the permanent redwood benches placed throughout the campus. The benches began appearing in the 1990s, during preparations for the 1992 Sesquicentennial. The plaques mounted on the benches at the Grotto represent memorial gifts given for those who had a special fondness for the Grotto and its peaceful setting.
Warmed by my visit with Father Hesburgh, I left with renewed energy confident that another breakthrough might be just around the corner.
---