A Cave of Candles / by Dorothy V. Corson
---
Chapter 16a
---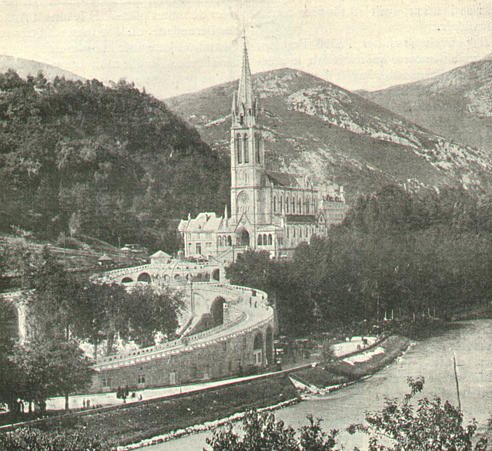 ---
The Song of Bernadette Movie
I had additional history books on Saint Mary's, which had not been available at the convent library, to return to my friend, Bob Hohl, at the Saint Mary's Cushwa-Leighton library. I took with me copies I'd made of the illustrated Lourdes book to show him the pictorial confirmation of the authentic Lourdes statue Mother Angela had purchased from the French sculptor taking along my photographs of the Lourdes Hall statues for comparison.
As always, he enjoyed the new evidence I shared with him and applauded my efforts. His words in themselves were especially inspiring. He said so many coincidental encounters were proof that "Providence smiles on sincere searching and encourages good energies." It expressed so well that sense of inner direction I have been experiencing from the first day of my research that I have included it in the beginning of this documentation.
I told him I was a firm believer in the premise that chance favors a prepared mind, and it was that theory that had recently prompted my decision to read everything I could about Bernadette. That I had just finished Werfel's, The Song of Bernadette and the earliest book written about her, in 1875, by Henri Lasserre. He agreed the earliest book would undoubtedly be the most genuine and well worth the reading.
As we concluded our conversation and I turned to leave, I was surprised to hear him say, "Just a minute, Dorothy, our conversation has brought something else to mind." I sat down again as he typed something into the computer database. "Hmm," he said, smiling broadly, "I thought I'd seen this entry before. In our college archives we have the script, with photographs, of the 1943 movie The Song of Bernadette."
He grinned at the look of surprise on my face as I asked him how in the world it came into their possession. "Looks like the screenwriter sent it to one of the Sisters at Saint Mary's," he said. "There's no further explanation here but you can take a look at it in the Saint Mary's College Archives on the lower floor. It also indicates that the scriptwriter was born in South Bend."
What a mystifying coincidence!
I immediately sensed a connection. Would he have known about the Notre Dame Grotto? Loving a mystery, this was another one I just couldn't pass up. Somehow, I was going to find out all I could about its presence in the Saint Mary's Archives.
Sharing this additional information with Sister Rosaleen, the archivist, and Sister Monica at the College Archives was a delight. They were both as curious as I was about The Song of Bernadette script being in their hands. Sister Rosaleen was aware of it but hadn't paid much attention to it before. Unfortunately she had no additional information to offer.
She found it for me and I sat down at a nearby table to take a closer leisurely look at it. As noted, there were twelve glossy photographs of the actors taken on location. The script was inscribed: "For Sister Evangelista: With all good wishes from a South Bend boy." It was signed, George Seaton. The cover page read, Franz Werfel's The Song of Bernadette, Screenplay by George Seaton. In the lower right hand corner were the words: "Revised Final, March 8, 1943.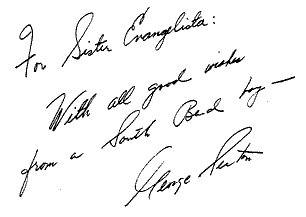 As I picked it up to return it to Sister Rosaleen a piece of paper fluttered to the floor. It must have clung to the inside cover where I hadn't noticed it. When I picked it up, I was surprised to find it was a handwritten letter to Sister Evangelista from the scriptwriter, George Seaton. Someone had apparently cut off the address portion at the top, unwittingly, taking with it part of the words on the reverse side of it.
This was what it said:
I wish I were one of those terribly clever people who, when they write their autobiographies, always say, when I was fifteen months old I distinctly remember my Aunt Fanny saying to me, etc. If I had such a prodigious memory I could honestly say that I remembered you -- for I gather from my sister Ruth that you occasionally visited our home in South Bend when I . . . [the next two or three lines are missing].

Still I feel as if I'd known you all my life because I've heard my sister mention you so many, many times.

I can't tell you how proud I am to know that you asked for a script of 'Bernadette' -- I do hope you enjoy reading it as much as I enjoyed writing it.

Respectfully yours,

George Seaton.
It was so closely related to my Grotto research, and such a mystifying coincidence, that it was more than enough to fuel another side search. The very fact that the scriptwriter was born in South Bend, and probably everyone else, including myself, had not known it, interested me even more.
Who was this George Seaton and could I prove he had been born in South Bend? Obviously, there was some connection between his sister and Sister Evangelista, but what was it? And could it be possible that he knew about the Notre Dame Grotto and that knowledge might have factored into his writing the script of The Song of Bernadette? Whether he knew about the campus Grotto when he wrote the script now became my next objective.
Bob Hohl was again of help. He suggested several sources that might have information: Who Was Who, Film Goers Companion, and Film Encyclopedia. All had information about him and all of it impressed me. George Seaton was a screenwriter, director and producer whose 40 year Hollywood career included winning two Oscars. He was three times president of the Motion Picture Academy of Arts and Sciences, president of the Screen Writers Guild, and vice president of the Screen Directors Guild. He also served as vice president of the Motion Picture Relief Fund.
He won an Academy Award for the screenplay, Miracle On 34th Street, in 1947 and again for his adaptation of Clifford Odet"s play, The Country Girl in 1952 which he also directed and which brought an Oscar for best performance by an actress to Grace Kelly. Among countless other movies, including, The Song of Bernadette, he wrote and directed Airport the biggest money making movie for Universal Pictures until Jaws. In addition to a number of other awards, he was also the recipient of the Jean Hersholt humanitarian award and was a trustee of Colonial Williamsburg.(191)
Miracle On 34th Street has the distinction, along with Capra's, It's A Wonderful Life, of becoming classic movies that are rerun every Christmas. It is said that we should spend our life on something that lives after us. Capra and Seaton had certainly accomplished that goal.
I was surprised to learn that no one, including myself, seemed to know that such a noted Hollywood personage was born in South Bend. A simple fact to prove, or so I thought. It was easier said then done.
I contacted, Dr. George Plain head of the Health Department who checked all his records for that name and birth date but found nothing. On the other end, I could find no one at Saint Mary's who knew Sister Evangelista who had ever heard her mention his name, his sister's name, or the movie itself. They could recall only that she had friends in Hollywood -- the father of two sisters in her class was a Hollywood producer -- and he regularly sent movies for their Friday movie nights at the college. There seemed to be no connection between these two men and Sister Evangelista. There were also no records of a Ruth Seaton being a student where Sister Evangelista taught school. However, some records from way back were not available.
Stymied, I put this latest mystery aside, temporarily, and only every now and then some insight would enlighten me. I continued to try different angles finding every avenue winding up in a dead end. Knowing the date of his death, July 28, 1979, I grappled for some way to find an obituary. Weeks went by, with my latest curious mystery on hold. Then happily, a chance encounter with a librarian friend, Mary Waterson, at the St. Joseph County Public Library History Room, produced a suggestion I hadn't thought of. I brought up the subject of how to locate George Seaton's obituary.
She told me that if he was well known his obituary might have been in the New York Times. She suggested I check the NYT index in their reference department. If it was there it would give the date it appeared in the NYT and they would have it in their History Room on microfilm. Beyond that suggestion, she said, she doubted that she could be of any help as it was the only other paper besides local ones they had on microfilm.
Fortunately, his obituary was in the New York Times and I was able to obtain a copy of it. The ball began rolling again. I had been wondering if the reason I hadn't been able to locate his birth certificate might be because he had changed his name as many people in the film business had done. His obituary confirmed this theory. He moved from South Bend to Detroit as a child and as a young man he auditioned for Jesse Bonstelle's drama school. She hired him, instead, for her stock company at $15 a week. The next line was what I'd been hoping to find; "George Stenius, would-be student, became George Seaton, paid actor."
With something new to go on, I made a return call to Dr. George Plain. Fifteen minutes later he returned my call. He had found it! The George Stenius birth certificate revealed he was the youngest of three children. It also indicated his father was 40 and his mother 39 when he was born, so his sister Ruth could have been several years older. His father was listed as working for the Oliver Hotel.
I asked Dr. Plain if he thought it might be a shortened Polish name. "Never saw that done to a Swedish name," he said. He chuckled over the phone at my puzzlement and then explained that the birth certificate listed both parents as immigrating from Stockholm, Sweden. I asked him if they were Catholic. "It's possible but not likely," he said, "however, when I lived in Minnesota, they did have a church there called the St. Olaf's Catholic Church."
This information led to the city directory which listed the family as living on William Street in 1911 and 1912. Records at the convent, revealed that Sister Evangelista had been a teacher at St. Joseph Academy during those years. Being close by, it was the most likely place his older sister would have gone to school at the time. Although student records did not go back that far, the evidence thus far suggests that Sister Evangelista was her teacher. That's how they met, and they kept in touch when the family moved to Detroit, a not uncommon practice for a separated student and teacher.
I wrote to the All Saints Parish Church in Beverly Hills listed as having conducted his funeral service, hoping to find some member of his family still alive. I received a beautiful reply which confirmed the service but they had no records of family then or now to be of further help. However, the letterhead indicated it was an Episcopal Church, which did prove he was not Catholic.
I thought of Interlibrary loan as a source for either a Detroit or Beverly Hills newspaper obituary and contacted another librarian friend, Brenda Loving, whose son is a recent Notre Dame law graduate. She had gotten me Interlibrary Loan books for years. She was as interested as I was and said she, too, loved a mystery. Yes, she said, she could check it out with both libraries and also check her countrywide computer database to see if any books had been written about this man.
The next day she called to say she had sent letters to both libraries and had also ordered a book about him through interlibrary loan from the Brigham Young University Library. She said she would give me a call when it came in. Within a week she let me know that the ordered book had arrived from Utah, only it wasn't a book. She said she was perplexed to find it was a roll of microfilm instead. I had anticipated curling up with a book and reading about him so microfilm didn't sound very interesting. Curious, I picked it up from her, took it up to the microfilm room and in bringing it up on the screen got a most welcome surprise.
---
An Oral History on Seaton
At the top of the screen was this heading, New York Times Oral History Program.(192) The last thing I would have expected to find and the perfect way to get his background had dropped in my lap. It was dated, 1977, so I felt doubly lucky because he died two years later in 1979. In it, were the answers to most of the questions I had about the background of the movie, the script, and how it wound up in the Saint Mary's College Archives.
His interviewer, David Cherichetti, did a masterful job of asking the very questions I would have wanted to ask had I interviewed him myself. The only one left unanswered was his possible link to the Notre Dame Grotto in connection with The Song of Bernadette film. Short of talking to a surviving member of his family, I couldn't have asked for anything more. I found his life story and the inside look at filming fascinating. It would be most helpful, I'm sure, to anyone planning a film career.
As mentioned on his birth certificate, his family were Swedish from Stockholm. His father was a rather famous chef. He followed Oscar at the Waldorf many years before George was born. At the time he was born, in South Bend, IN, his father was running the Oliver Hotel. His mother's father was also a very famous critic in Stockholm.
When George was about two years old they moved to Detroit. This would explain his reference to not remembering Sister Evangelista. He was too young at the time to remember her visits to their South Bend home. In Detroit, his father ran a bakery and a commissary. He also started something there that became a big thing, the idea that drugstores that used to sell only Cokes and ice cream could become lunch counters. His father had quite a few drugstores where he brought gallons of soup in the mornings and cut meat so that they could make their own sandwiches. He described his father as a dear man who worked seven days a week, ten, twelve hours a day.
In skimming this oral history, I learned that George Seaton was "one of the most consistently successful writer-directors in the history of Hollywood." He got his start in Detroit acting in stock companies and on radio where he was the original Lone Ranger. Quite a distinction for a "South Bend Boy," and apparently nothing has ever been written locally about him.
He said his mother had no objections to his working in the theatre but his father was dead set against it. One day his father asked him, "Look will you do me one favor, all I ask is that you try something else. If you don't like it, then go back to the theatre." Seaton said he thought it was only fair to accede to that wish so he went down and got a job in a brokerage house in Detroit. He was just a runner, dashing back and forth. He started on a Wednesday. Thursday was Black Thursday when the Market fell apart, and the president of the company jumped out of the window. On Friday, he was relieved of his position as were the others. To which he said his father said: "If you can destroy the financial system of the United States in one day, I think you ought to go back to the theatre." And so he went back into the theatre.
He speaks of going to New York and being broke most of the time and how he put wax in the cavities in his teeth because he couldn't afford to go to a dentist. He also typed menus for a little tea room and got paid off in spaghetti. ("I cooked spaghetti so many different ways!")
About his name change, he explained that his mother was quite worried about whether he had a job. He said he had a habit of hanging around at intermission during a play, picking up a program dropped in the lobby, and then sauntering back in. No one ever stopped him and in this way he was able to see about every second and third act of every play. One day he noticed the name "George Spelvin" on a program. He said they always put George Spelvin for the second character if somebody doubled in a part.
To relieve his mother's mind he sent her a program and told her not to worry about him that he was working in this play. That he had changed his name to George Spelvin. One day he received a letter from her and a clipping from a Detroit newspaper. A road company was playing there and George Spelvin was in the cast. She said, "Either you were in Detroit last week and didn't call, or somebody else is using your name." When he wrote back, he told her that it was true, someone else was using the name, and he would have to change his.
He chose the name Seaton because Stenius was a very hard name to pronounce. He was writing pulp fiction at the time and got a rejection notice under the name of Stenius so he tore off the title page and sent the story in with "George Seaton" on it. He chose the name because he had gone to see Philip Barry's Holiday and the family name in the play was Seton. He also had a belt buckle with the initials G.S. so he didn't want to change his initials. With the new name his story was accepted so he felt it was a talisman and he would keep the name. He put the "a" in the name Seton because he didn't want to be a complete thief. No wonder I had such a time finding his South Bend birth certificate.
Shortly afterward he went to Hollywood under personal contract to Irving Thalberg who wanted two young people to train as scriptwriters. Later he was under contract to Bill Perlberg making mostly comedies which he was getting tired of. After yet another one, he told Perlberg, "I'll do it under one condition, that if you ever get something serious to do, I hope I get a crack at it." Perlberg gave him his word, if he got anything serious he'd let him do it. Many years and many comedies went by before he was to get his chance.
I couldn't believe my good fortune in finding this oral history interview which contained the answers to most of the questions I had about the background of the movie, the script, and how it wound up in the Saint Mary's College Archives. Even his sister Ruth factored into his Hollywood experience, undoubtedly recommended by her brother. He said his sister was teaching English to foreign-born in public schools in Detroit. She had a great knack for it. When Ingrid Bergman came to this country his sister became her coach, taught her English, and "she's been with her ever since. Anytime Ingrid does a play or a film, my sister is with her, not just for the language, but for the interpretation of the part."
Later in an autobiography by Ingrid Bergman, Ingrid Bergman, My Story,(193) I found this mention of Ruth Roberts. Ingrid is speaking of her first arrival in the United States from Sweden. "It was strange that within those first few weeks I'd met the women who were to become three of the main pillars of my life: Kay Brown, Irene Selznick, and Ruth Roberts." Of those three women, Ruth Roberts name comes up most often. In the index forty some entries are noted of personal letters sent to Ruth by Ingrid. All of which suggested that his sister Ruth, who would have been about 11 year old when they left South Bend, must have kept in touch with her favorite teacher, Sister Evangelista, throughout her life, as she herself did later with Ingrid Bergman.
Perhaps in hearing of Ruth's and George's Hollywood activities, Sister Evangelista learned of the movie, The Song of Bernadette, being filmed and requested a copy of it. Ruth undoubtedly passed the request on to her brother and he went all out with it. The script was handsomely bound in leather, inscribed in gold on the cover, and as mentioned earlier, contained not only a personal inscription, but also a personal handwritten letter from George Seaton.
---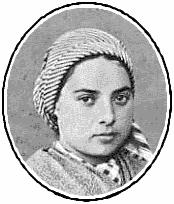 Filming The Song of Bernadette
Gradually I was getting down to the most interesting part of the oral interview, the background of the filming of The Song of Bernadette, and the Lourdes Grotto experience. The deeper I got into the oral history the more I felt blessed at having chanced upon this perfect answer to my wonderings. My main focus now was finding a connection in his past with the Notre Dame Grotto to see if it might have influenced his eventually writing the Bernadette script?
Another surprise was yet to come. The oral history progressed through the background of a number of his films. Learning the background on A Country Girl and Miracle On 34th Street was a delight and more than I could in good conscience take the time to relate in this narrative. However, for anyone who may be interested in more detail on his film background, the oral history is available on microfilm through Interlibrary Loan from the Brigham Young University Library.
George goes on to describe how Bill Perlberg acted upon his promise to allow him to script a more serious film. He related to his interviewer that a book by Franz Werfel came along called The Song of Bernadette. He said he read it and raced into Perlberg's office. He told him that this was what he wanted to do and that he was sure it could be a successful film. Perlberg read it and agreed and he went in to Zanuck. When they bought the property Bill Perlberg told Zanuck he wanted Seaton to write it. Zanuck, said, "You're out of your mind. He's nothing but a gag writer. He's done all these musicals. We'll have to get someone like Ben Hecht." Seaton said he felt blessed because Perlberg told Zanuck, "Unless George does it, I will not produce it. I promised him and I'm going to stick by my word." They wanted Perlberg to produce it, so Zanuck agreed.
Seaton and Werfel were both living in Beverly Hills at the time and he had long talks with him before he started to write. He said he felt Werfel had great confidence in him and that it was a happy association. When he did a sequence, he would go over and read it to him. He said he himself spoke very little German and Werfel's English was not that good, but they managed to get along rather well.
This totally Catholic story was written by Werfel who was Jewish and the screen play was written by George Seaton who was Swedish and non-Catholic. Interestingly, a 1958 Religious Bulletin published by the University of Notre Dame which passed through my hands recently made this comment: "Indeed, the best books on Lourdes have been written by non-Catholics." It is also interesting to note that my father, who built the St. Stan's Grotto -- which started my wonderings and wanderings -- was non-Catholic, as was the man who had the contract to build the Notre Dame Grotto.
Although George Seaton did not explain his own reasons for wanting to do the script, other than the chance way it came about, he did tell this poignant story related to him by Werfel himself. He said Werfel told him that when he was escaping from Germany through the woods in France, he had the manuscript of another novel with him which he had just finished. He knew if they ever got caught and the German's found his manuscript, they would know who he was and he would be shot. So, one night he dug a hole in the ground in the forest and burned his manuscript page by page. When the town of Lourdes took him in, he vowed if he lived he would sing, The Song of Bernadette. When he was safely out of danger, he wrote the book.
Seaton said that since Werfel was reporting true events within the past nine decades, he could not draw upon his imagination, but followed rather closely the carefully investigated account of Saint Bernadette, in Henri Lasserre's, Our Lady of Lourdes, which was also written in fulfillment of a vow. Seaton said it was a wonderful experience to work with this man.
He also related how he fought to have the movie filmed objectively, strictly from Bernadette's point of view. He went on to explain:
Anytime you put a camera anyplace, it has to be somebody's point of view. By placing the camera behind Bernadette, with Bernadette in the foreground and the virgin in the niche, it becomes somebody else's point of view. Somebody seeing both the Virgin and Bernadette at the same time. And you cannot say that anybody saw the Virgin except Bernadette. It might have been a delusion on her part or it might have been real, but I told them 'we have to keep it this way all through the picture. You can't take the position that she does see it because your picture goes right out the window.'
Seaton said Zanuck argued this point with him for a long time. But he won the argument and Zanuck finally agreed. "So you never see a shot of Bernadette in the foreground. It's always her eyes and what she sees; but did she see it, or didn't she see it? That's another thing."
When the interviewer asked Seaton if in his own mind he thought she saw the Virgin, Seaton told him he'd have to take the 5th on that. He said after the picture was finished he looked at it and told Zanuck that the critics would tear them apart, because although they leave it up to the audience, they also show all those bits of evidence. He told Zanuck that what the picture needed was a foreward to take the steam out of the critics. Zanuck and Perlberg agreed and Seaton said he wrote a foreward and credited it to a fifteenth century monk. It said: 'To those who believe in God, no explanation is necessary, to those who do not believe in God, no explanation is possible.'
When the interviewer comments, "But it was really you?" Seaton replies, "Well it worked."
When asked about locations Seaton said:
The director flew his own plane and it was something you only did once with him. We'd be looking locally for a grotto and he'd be flying at 5,000 feet and he'd look down and say, 'That looks possible,' and he'd go rrrrrrrump and your stomach would be left up at 5,000 feet. He said finally they decided to create a grotto on the back lot. He said they also built the whole village, the Bernadette set, which stayed up for years and they changed it to this and they changed it to that, and now it's Century City.
Seaton explained that Jennifer Jones was chosen to play Bernadette because it was the first thing she had ever done and the part needed someone who had a earthy peasant quality about her. He also explained that the Virgin was not matted in, she was actually standing in the niche. He said it was very tastefully done. When the cameraman got close, it wasn't sharp, he diffused it. It had a wonderful ethereal quality so that very few knew who played the Virgin. It was Linda Darnell.
**********
As noted earlier, it is said no deed done in Our Lady's honor goes unrewarded. After Seaton wrote The Song of Bernadette his career blossomed. He went on to many successful films including academy award winning Miracle On 34th Street and Country Girl. He said Miracle On 34th Street was one of the joys of his life. It has now become a classic rerun every year. He wrote the original screenplay. He said that in it he took the same attitude as with The Song of Bernadette: "you don't say that he is Santa Claus, you just present the facts and let the audience make up its own mind."
About Miracle On 34th Street, he said:
The interesting thing about it was that in the film Santa Claus sends customers to other stores. Well, ever since then, they have had at Macy's a Kristeen Kringle who is a comparative shopper. And if she says they haven't got it at Macy's she'll tell you where to go. Gimbels have also done it. They've become more friendly and cooperative, whereas, before the movie they were very competitive. Neiman Marcus in Dallas did the same thing.
Seaton eventually became a writer/director/producer. He said that he believed that a writer/director is the ideal combination, because you've got the script so clearly in your mind you don't even have to look at it. The writer/director knows exactly what he wants the character to be; he doesn't have to say, "Well, what is this next scene?" When he first did both he said there were only the two of them, John Huston and himself and now (1977) there were 115 registered.
When this interview was conducted in 1977, he expressed his opinion about "explicit movies of today." I wonder what he would have said about films in the 1990s.
"To me, taste is important. There's a vast difference between the explicit movie of today and the way Lubitsch handled it. Lubitsch could do a lot more with a closed door and a keyhole. He left the unseen action to the audience's imagination. If you allow an audience to use its imagination, they can imagine much more than what you show them. It's the indirection, the subtlety that gives it artistry."
I found these inside views of the movies most interesting and I repeat them here, even though some of them are not directly related to the Grotto story, because they are a behind the scenes look at the film industry not usually available to the public.
These selected paraphrased excerpts are just a small portion of the extensive oral histories of a number of Hollywood notables available to interested film students. They were compiled by the American Film Institute, Louis B. Mayer Library, Beverly Hills, California.
Seaton, having left South Bend for Detroit at the age of two, at first, seemed to rule out any possibility of a connection between the Bernadette script and the Notre Dame Grotto. That is until I found this last concluding surprise in Seaton's oral history.
He was speaking of his older brother, Arthur:
My brother graduated from the University of Notre Dame. As Dr. Arthur Stenius he was head of the Audio Visual Department at Wayne State University in Detroit for 10 years until his death in 1955. During that time he made many advancements in film and was considered a pioneer in the audio-visual field.
I had finally found my possible link between Seaton's Bernadette script and the Notre Dame Grotto. Whether or not it factored into his doing the script it seems probable he would have known about it. He was 17 when his brother graduated from Notre Dame and still living at home. Undoubtedly, he was there for that occasion, and no doubt other times as well, and viewed the special places on campus, possibly even during football weekends.
Could he have missed seeing the Notre Dame Grotto? I doubt it. There may also have been a subliminal memory connection to it during the writing of the Bernadette script that even he might not have been aware of. I did learn that after his death his wife became mayor of Beverly Hills, CA. A letter to the City of Beverly Hills brought a reply and the possibility of a telephone number forthcoming.
Almost a year went by, I'd about given up hearing from them when I received another letter with the message:
Unfortunately the one and only contact I can find has lost the piece of paper with the phone number of the possible lead to the Seaton family. This lady used to bump into the contact occasionally in a local market but has not seen her for awhile. Your name, address and letters have been forwarded to the resident who may be able to get any information for you. I'm doing this because I am retiring the end of May and wanted to give it every possible chance to make the connection.
What a lovely surprise to find such warmth and responsiveness from a stranger on the other end of a postage stamp. I wrote Jean Ushijima a last note of appreciation and now must wait for fate to take a hand in winging that telephone number to me. Whether or not that happens, I can always go on hoping that, in time, somewhere along the way, I may locate a surviving family member who might be able confirm this interesting connection.
Although only God knows for sure, I'd like to believe Seaton knew about the Grotto. So many extraordinary coincidences landing in my lap throughout my search for him seem to point in that direction.
**********
Another interesting coincidental postscript to Seaton's part in this story surfaced as I was editing this portion of my story. It was such a timely ending that I would feel remiss in not including it.
I picked up the Chicago Tribune a few days ago, more than a year after winding up this segment on George Seaton, and found in it a movie review on the remake of Miracle on 34th Street. I read it with pleasure having heard nothing about this new release. It was warmly reviewed and a definite compliment to George Seaton that his movie had not only survived as a black and white classic seen every Christmas on television but has now been remade in color. And this new version, coincidentally displays the talents of another "South Bend Boy." Doug Kraner, a production designer on the film, who had a hand in the colorful and exquisite Christmas time decorations, is a native of South Bend.
This film also has the distinction of being the only movie I have ever heard of that guarantees your money back if you don't like it. Twentieth Century Fox obviously has great faith in the premise of Seaton's 1947 version of faith, hope and goodness -- "that Christmas isn't just Christmas, it's a frame of mind. It's having the faith to go on believing when common sense tells you not to."
In 1999 Seaton's Miracle on 34th Street also became the subject of Macy's "Old fashioned Christmas" window displays for the Holidays. Every window was filled with the original, animated, characters depicting memorable scenes from the 1947 movie classic. It was described as 800 hours of perpetual motion, designed to give pleasure to holiday shoppers throughout the Christmas season. Undoubtedly, if Seaton were alive to see it, such a beautiful window display celebrating his movie classic would just be more proof that miracles are still happening on 34th Street.
Pondering all these significant coincidences and timely postscripts planted in my path -- and seemingly destined to be included in this journal -- has reminded me of another to add to this chapter on George Seaton's The Song of Bernadette movie.
It arrived in my Notre Dame Post Office box in 1995 in response to a request for Grotto Stories to commemorate the 1996 centenary of the Grotto. This touching story of the writer's vision of her own experience with the "Lady dressed in Light" at the Notre Dame Grotto, and the photograph she included with her letter, are now in the University of Notre Dame Archives. Preserved in a special file for all the original Grotto Stories sent in at the time, and for those that are still arriving.
Her letter and photograph also appeared in Grotto Stories: From the Heart of Notre Dame compiled and published by Mary Pat Dowing in 1996. It's a story that seems tailor-made for this chapter because the writer not only shared a moving experience of her own vision of "Our Lady" associated with the Notre Dame Grotto but she also shares the name of the actress who played the part of Bernadette in the Song of Bernadette film. It's a personal story that will speak for itself:
No story to enlighten; no miracle to be told. Yet a picture embedded into my mind and soul and heart. That picture became a photo. That photo became my personal icon.

In Henri J. M. Nouwen's book Behold the beauty of the Lord: Praying with Icons, he says, "During a hard period of my life in which verbal prayer had become nearly impossible and during which mental and emotional fatigue had made me the easy victim of feelings of despair and fear, this icon became the beginning of my healing. As I sat for long hours in front of Rublev's Trinity, I noticed how gradually my gaze became prayer. This silent prayer slowly made my inner restlessness melt away and lifted me up into the circle of love, a circle that couldn't be broken by the powers of the world. Even as I moved away from the icon and became involved in the many tasks of everyday life, I felt as if I did not have to leave the holy place I had found and could dwell there wherever I went. I knew that the house of love I had entered has no boundaries and embraces everyone who wants to dwell there."

Now, 13 years since graduating from ND, far from the Grotto, I pull out my photo of the statue of Mary, look at it, and it brings me back to the Grotto, to Mary Jo, to within, to beyond, to a place no longer defined -- my icon. I gave the photo as gifts to most of my fellow Badinites and my boyfriend from Sorin. Years later, when I graduated from dental school, I heard that my close friend, Mary Jo Maheney, was in a coma from a car wreck. All I had was memories of her smile, our pizza and coke runs at 11 p.m. and her spirit. Five years later, she died. During that time, I would write not knowing if she could hear her mother's words. I often think of Mrs. Maheney. What to do or say? Send the photo. The Grotto became alive with color and passion because once I shared with Mary Jo her love for Notre Dame. "In the world you will have trouble. But be brave: I have conquered the world." JN Bible

-- Jennifer Jones, Class of 1982, Seattle, Washington.
Jennifer Jones is also the name of the actress who won an Academy Award for her performance in The Song of Bernadette, the 1943 movie based on the experiences of Bernadette Soubirous at the Lourdes Grotto in France. It was her first movie. The film also won best cinema photography, best interior decorations and best score. George Seaton's script was nominated for best screenplay.
The Song of Bernadette is now finding a new and appreciative audience as a black-and-white classic often replayed on television. The Miracle of Lourdes lives on in the hearts of those who believe in it.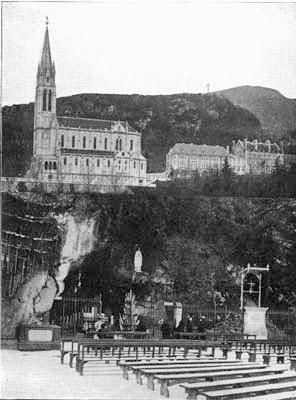 ---
<< back |
A Cave of Candles
| next >>