Notre Dame's Grotto / by Dorothy V. Corson
---
The Keystone
There is a wedge-shaped stone at the top of the arch of the Grotto that holds the other stones in place -- it's called a keystone -- something on which all the things associated with it depend. In a similar way, one single event in my life -- something on which all my research depended -- inspired me to write: A Cave of Candles: The Story Behind the Notre Dame Grotto.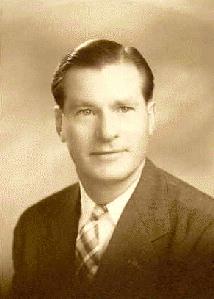 In 1961-62, my father, a semi-retired masonry contractor, was engaged by Rev. Sigmund Jankowski, C.S.C.; pastor of the St. Stanislaus Church in South Bend; to build a replica of the Notre Dame Grotto for his parish church of 22 years. He died at the age of 68 of a sudden coronary occlusion within a year of its completion. It was the last thing he worked on before his death.
Less than two months after his funeral, my brother, who also worked on the grotto, took me to see it. We were both still feeling the effects of our loss. I did not know what a grotto was nor had I ever seen one before. It was a crisp February evening; friendly snowflakes were frosting the evergreens, falling gently, like feathers drifting down. The semi-darkness was bathed in luminous moonlight. Upon my first glimpse of the grotto, I felt that fleeting moment to be frozen in timelessness, as though I had stepped into the tranquility of a nighttime snow scene on a glittering Christmas greeting card.
The beauty of that night -- forever etched in my fond memories -- softened the sadness I felt casting a spell of enchantment over a memory that would linger lovingly in my mind whenever I thought of my father. At that moment of inspiration, a wish was planted in my heart that one day a plaque might be placed at the grotto to commemorate it.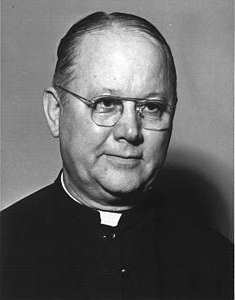 Seven years later, through an extraordinary chance encounter with a stranger, I met Father Jankowski and a large plaque was placed at the grotto commemorating all those who took part in it. Within days of its placement there, Father Jan suffered a debilitating heart attack. From the St. Joseph Hospital, where he had once been chaplain, he was sent to Holy Cross House, the retirement home for priests on the Notre Dame campus. I visited him there weekly until his death three years later on October 7, 1975, Feast Day of Our Lady of the Rosary.
The warmth of our shared friendship endured even beyond Father Jan's death, cementing an ongoing 23 year friendship with both the retired priests and brothers at Notre Dame and the retired Sisters at St. Mary's campus -- friendships that continue to this day.
Suffice to say, the wish planted in 1964 and granted in 1972 -- the plaque at the grotto at St. Stanislaus Church -- inspired a second wish to know more about the story behind the Notre Dame Grotto. However, it took many more years, 27 to be exact, from my first glimpse of it, for the stage to be set for that second wish to be granted -- in the form of this documentation completed on the eve of its 100th Anniversary.
-- Dorothy V. Corson
August 5, 1995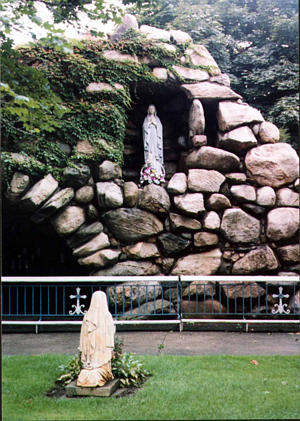 Note: The above personal experience was excerpted from a story entitled, "Always Have a Dream," which I presented to Father Jan on May 7, 1972 to commemorate our placing the plaque at St. Stan's Grotto. When he died in 1975. I wrote a second story entitled, "Friendship is a Chain of Gold," covering his remaining three years spent in retirement at Holy Cross House.(262)
During my research, I discovered Father Jankowski's name in the 1922 Dome yearbook. I did not know he graduated, Maxima Cum Laude, with highest honors. The words under his picture described, so well, the Father Jan I knew: "'Jan' has simply smiled his way into the hearts of his associates. 'If you want to be smiled at, smile!' says he, and somehow or other his policy has produced results."
Finding that description of him years after his death reminded me of a little worn wooden plaque of his that he gave to me as a keepsake before he died. "Stay young at heart," he said as he handed it to me. On it were the words: "If you meet a man without a smile, give him one of yours."
---
This research has been recorded in remembrance of all those, past and present, who have put their hands and their hearts into the building and perpetuation of the Notre Dame Grotto. It is their presence in spirit, and the homage of countless visitors, that has hallowed its humble rocks and weathered stone. May a fragrance of their loving inspiration and that of every wayfarer who has ever gazed at this humble wayside shrine in wonder and prayer linger forever at the Notre Dame Grotto.
---
<< back |
Notre Dame's Grotto
| next >>