All Publications
2019
529. Bidirectional Halide Ion Exchange in Paired Lead Halide Perovskite Films with Thermal Activation Tor Elmelund, Rebecca A. Scheidt, Brian Seger, Prashant V. Kamat ACS Energy Lett. 2019, 4, XXX, 1961-1969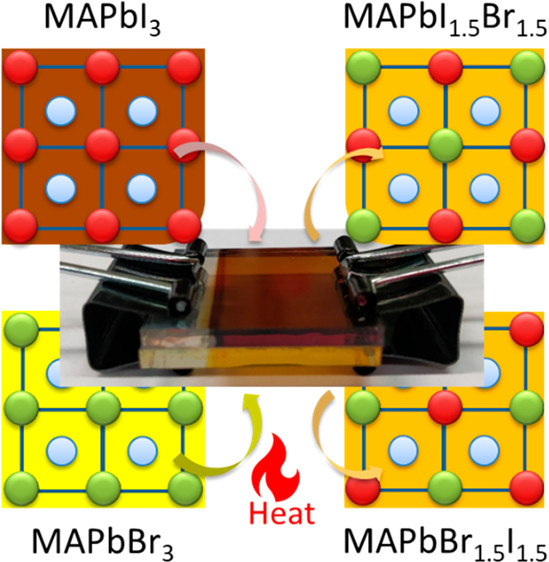 MAPbBr3 and MAPbI3 films cast onto glass slides and physically paired together undergo halide exchange to form mixed halide films. The change in halide composition in these two ∼130 nm thick films occurs concurrently with Br– diffusing toward the MAPbI3 film and I– diffusing toward the MAPbBr3 film. The diffusion of these halide species, which is tracked through changes in the absorption, offers a direct measurement of thermally activated halide diffusion in perovskite films. The increase in the rate constant of halide diffusion with increasing temperature (from 8.3 × 10–6 s–1 at 23 °C to 3.7 × 10–4 s–1 at 140 °C) follows an Arrhenius relationship with activation energy of 51 kJ/mol. The thermally activated halide exchange shows the challenges of employing layers of different metal halide perovskites in stable tandem solar cells.


528. Electrochemical Hole Injection Selectively Expels Iodide from Mixed Halide Perovskite Films Gergely F. Samu, Ádám Balog, Filippo De Angelis, Daniele Meggiolaro, Prashant V. Kamat, and Csaba Janáky J. Am. Chem. Soc. 2019, 141, 27, 10812-10820

Halide ion mobility in metal halide perovskites remains an intriguing phenomenon, influencing their optical and photovoltaic properties. Selective injection of holes through electrochemical anodic bias has allowed us to probe the effect of hole trapping at iodide (0.9 V) and bromide (1.15 V) in mixed halide perovskite (CH3NH3PbBr1.5I1.5) films. Upon trapping holes at the iodide site, the iodide gradually gets expelled from the mixed halide film (as iodine and/or triiodide ion), leaving behind re-formed CH3NH3PbBr3 domains. The weakening of the Pb–I bond following the hole trapping (oxidation of the iodide site) and its expulsion from the lattice in the form of iodine provided further insight into the photoinduced segregation of halide ions in mixed halide perovskite films. Transient absorption spectroscopy revealed that the iodide expulsion process leaves a defect-rich perovskite lattice behind as charge carrier recombination in the re-formed lattice is greatly accelerated. The selective mobility of iodide species provides insight into the photoinduced phase segregation and its implication in the stable operation of perovskite solar cells.
527. Tracking Transformative Transitions: From CsPbBr3 Nanocrystals to Bulk Perovskite Films Rebecca A. Scheidt, Corey Atwell, and Prashant V. Kamat ACS Materials Letters 2019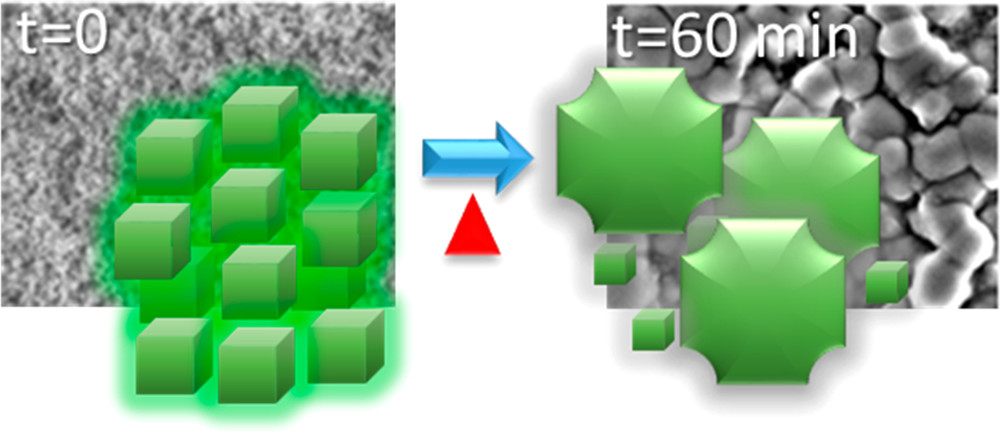 The control of grain size and surface properties is an important parameter in controlling the optoelectronic and photovoltaic properties of metal halide perovskites. When CsPbBr3 nanocrystal (∼10 nm in diameter) films were annealed at 100–125 °C, they grow in size to produce ∼400 nm diameter crystallites while transforming into bulk perovskite films. Characteristic changes in the optical properties were noted when such transformation occurred from nanocrystals into bulk. By tracking absorbance and emission spectra and morphological changes of CsPbBr3 films at different annealing times and temperature, we were able to establish the mechanism of particle growth. The presence of nanocrystals and larger crystals during the intermediate annealing steps and narrowing size distribution confirmed the Ostwald ripening mechanism for the crystal growth. The energy of activation of crystal growth as determined from the temperature dependent optical properties was estimated to be 75 kcal/mol.
526. Ag(I)-Thiolate-Protected Silver Nanoclusters for Solar Cells: Electrochemical and Spectroscopic Look into the Photoelectrode/Electrolyte Interface Muhammad A. Abbas, Seog Joon Yoon, Hahkjoon Kim, Junghyun Lee, Prashant V. Kamat, and Jin Ho Bang ACS Appl. Mater. Interfaces 2019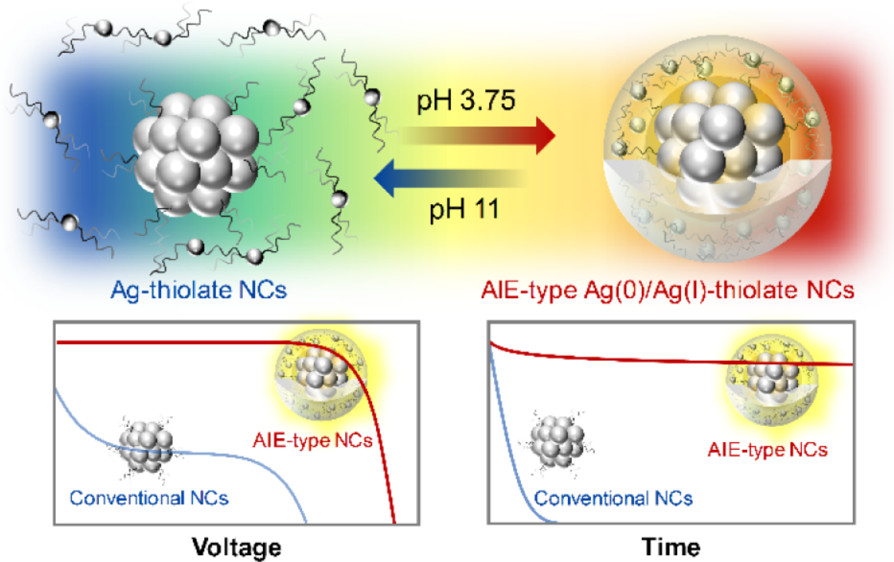 Intrinsic low stability and short excited lifetimes associated with Ag nanoclusters (NCs) are major hurdles that have prevented the full utilization of the many advantages of Ag NCs over their longtime contender, Au NCs, in light energy conversion systems. In this report, we diagnosed the problems of conventional thiolated Ag NCs used for solar cell applications and developed a new synthesis route to form aggregation-induced emission (AIE)-type Ag NCs that can significantly overcome these limitations. A series of Ag(0)/Ag(I)-thiolate core/shell-structured NCs with different core sizes were explored for photoelectrodes, and the nature of the two important interfacial events occurring in Ag NC-sensitized solar cells (photoinduced electron transfer and charge recombination) were unveiled by in-depth spectroscopic and electrochemical analyses. This work reveals that the subtle interplay between the light absorbing capability, charge separation dynamics, and charge recombination kinetics in the photoelectrode dictates the solar cell performance. In addition, we demonstrate significant improvement in the photocurrent stability and light conversion efficiency that have not been achieved previously. Our comprehensive understanding of the critical parameters that limit the light conversion efficiency lays a foundation on which new principles for designing Ag NCs for efficient light energy conversion can be built.
525. Tuning the Excited-State Dynamics of CuI Films with Electrochemical Bias Gergely F. Samu, Rebecca A. Scheidt, Ádám Balog, Csaba Janáky, and Prashant V. Kamat ACS Energy Lett. 2019, 4, pp 702–708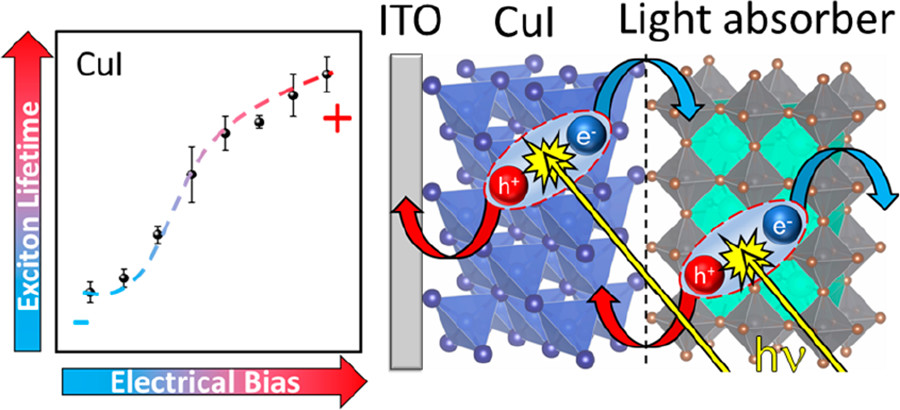 Owing to its high hole conductivity and ease of preparation, CuI was among the first inorganic hole-transporting materials that were introduced early on in metal halide perovskite solar cells, but its full potential as a semiconductor material is still to be realized. We have now performed ultrafast spectroelectrochemical experiments on ITO/CuI electrodes to show the effect of applied bias on the excited-state dynamics in CuI. Under operating conditions, the recombination of excitons is dependent on the applied bias, and it can be accelerated by decreasing the potential from +0.6 to −0.1 V vs Ag/AgCl. Prebiasing experiments show the persistent and reversible "memory" effect of electrochemical bias on charge carrier lifetimes. The excitation of CuI in a CuI/CsPbBr3 film provides synergy between both CuI and CsPbBr3 in dictating the charge separation and recombination.
524. Influence of Plasmonic CuxS Interfacing Layer on Photovoltaic Performance of CIZS Quantum Dot Sensitized Solar Cells Senthilkumar Muthu, Gary Zaiats, Moorthy Babu Sridharan and Prashant V. Kamat J. Electrochem. Soc. 2019 volume 166, issue 5, H3133-H3137.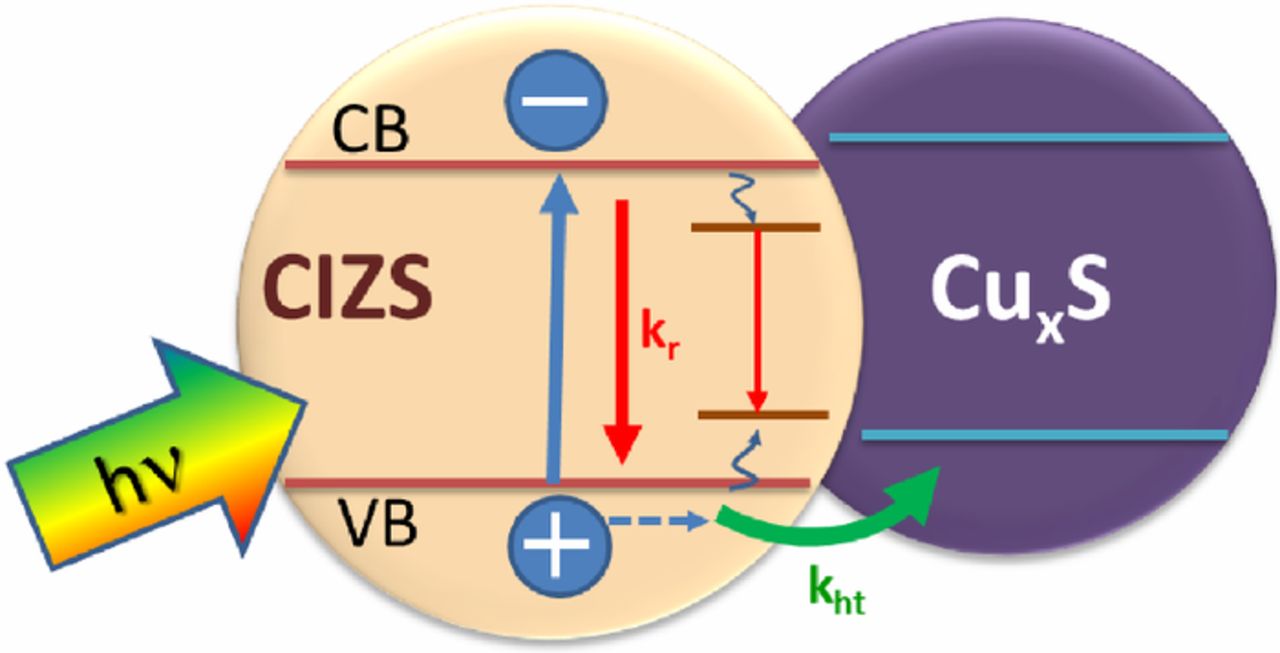 Charge transfer at the semiconductor/electrolyte interface is an important process that dictates the efficiency of quantum dots solar cells. Hole transfer kinetics remains a sluggish reaction for metal chalcogenide electrodes. In this work we examine the beneficial effect of CuxS nanoparticles on the photoelectrochemical performance of Cu-In-Zn-S (CIZS) quantum dots sensitized solar cells as they promote hole transfer to the S2−/Sn2− redox couple. CuxS nanoparticles if deposited without a protecting layer undergo compositional transformation in sulfur rich electrolytes. Addition of a protecting ZnS layer improves the stability and efficiency of the resulting solar cells. Establishing the hole transport property of CuxS in solar cell offers new ways to improve photovoltaic performance of QDSSC.
523. Optoelectronic Properties of CuI Photoelectrodes Ádám Balog, Gergely F. Samu , Prashant V. Kamat , and Csaba Janáky J. Phys. Chem. Lett. 2019, 10 (2), pp 259–264.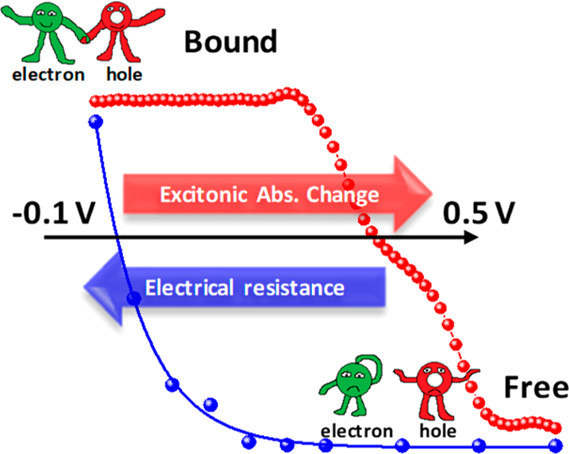 Detailed mechanistic understanding of the optoelectronic features is a key factor in designing efficient and stable photoelectrodes. In situ spectroelectrochemical methods were employed to scrutinize the effect of trap states on the optical and electronic properties of CuI photoelectrodes and to assess their stability against (photo)electrochemical corrosion. The excitonic band in the absorption spectrum and the Raman spectral features were directly influenced by the applied bias potential. These spectral changes exhibit a good correlation with the alterations observed in the charge-transfer resistance. Interestingly, the population and depopulation of the trap states, which are responsible for the changes in both the optical and electronic properties, occur in a different potential/energy regime. Although cathodic photocorrosion of CuI is thermodynamically favored, this process is kinetically hindered, thus providing good stability in photoelectrochemical operation.
2018
522. Glutathione-capped gold nanoclusters: photoinduced energy transfer and singlet oxygen generation Christian Talavera, Prashant V Kamat J. Chem. Sci. (2018) 130: 143.
521. Interfacial Charge Transfer between Excited CsPbBr3 Nanocrystals and TiO2: Charge Injection versus Photodegradation Rebecca A. Scheidt, Elisabeth Kerns, and Prashant V. Kamat J. Phys. Chem. Lett. 2018, 9, 20, 5962-5969
520. Mixed Halide Perovskite Solar Cells. Consequence of Iodide Treatment on Phase Segregation Recovery R. Geetha Balakrishna, Steven M. Kobosko, and Prashant V. Kamat ACS Energy Lett. 2018, 3, 9, 2267-2272
519. Hierarchical Arrays of Cesium Lead Halide Perovskite Nanocrystals through Electrophoretic Deposition Vikash Kumar Ravi, Rebecca A. Scheidt, Jeffrey DuBose, and Prashant V. Kamat J. Am. Chem. Soc. 2018, 140, 28, 8887-8894
518. Electrodeposition of Hole-Transport Layer on Methylammonium Lead Iodide Film: A Strategy To Assemble Perovskite Solar Cells Gergely F. Samu, Rebecca A. Scheidt, Gary Zaiats, Prashant V. Kamat, and Csaba Janáky Chem. Mater. 2018, 30, 13, 4202-4206
517. Indium-Rich AgInS2–ZnS Quantum Dots—Ag-/Zn-Dependent Photophysics and Photovoltaics Steven M. Kobosko and Prashant V. Kamat J. Phys. Chem. C 2018, 122, 26, 14336-14344
516. To Exchange or Not to Exchange. Suppressing Anion Exchange in Cesium Lead Halide Perovskites with PbSO4–Oleate Capping Vikash Kumar Ravi, Rebecca A. Scheidt, Angshuman Nag, Masaru Kuno, and Prashant V. Kamat ACS Energy Lett. 2018, 3, 4, 1049-1055
515. Thiolated Gold Nanoclusters for Light Energy Conversion (Review) Muhammad A. Abbas, Prashant V. Kamat, and Jin Ho Bang ACS Energy Lett. 2018, 3, 4, 840-854
514. Probing Interfacial Electrochemistry on a Co3O4 Water Oxidation Catalyst Using Lab-Based Ambient Pressure X-ray Photoelectron Spectroscopy Xueqiang Zhang, Yong-Siou Chen, Prashant V. Kamat, and Sylwia Ptasinska J. Phys. Chem. C 2018, 122, 25, 13894-13901
513. A quantitative and spatially resolved analysis of the performance-bottleneck in high efficiency, planar hybrid perovskite solar cells Sergiu Draguta, Jeffrey A. Christians, Yurii V. Morozov, Anselme Mucunzi, Joseph S. Manser, Prashant V. Kamat, Joseph M. Luther and Masaru Kuno Energy Environ. Sci. 2018, 11, 960-969
512. Electrochemistry and Spectroelectrochemistry of Lead Halide Perovskite Films: Materials Science Aspects and Boundary Conditions Gergely F. Samu, Rebecca A. Scheidt, Prashant V. Kamat, and Csaba Janáky Chem. Mater. 2018, 30, 3, 561-569
511. Modulation of Charge Recombination in CsPbBr3 Perovskite Films with Electrochemical Bias Rebecca A. Scheidt, Gergely F. Samu, Csaba Janáky, and Prashant V. Kamat J. Am. Chem. Soc. 2018, 140, 1, 86-89
510. Ligand Assisted Transformation of Cubic CsPbBr3 Nanocrystals into Two-Dimensional CsPb2Br5 Nanosheets Subila K. Balakrishnan and Prashant V. Kamat Chem. Mater. 2018, 30, 1, 74-78
2017