All Publications
2023
570. Photoinduced electron transfer across the polymer-capped CsPbBr3 interface in a polar medium Anthony Kipkorir, Xiuyu Jin, Haifeng Gao and Prashant V. Kamat J. Chem. Phys. 2023, 158, 14, 144702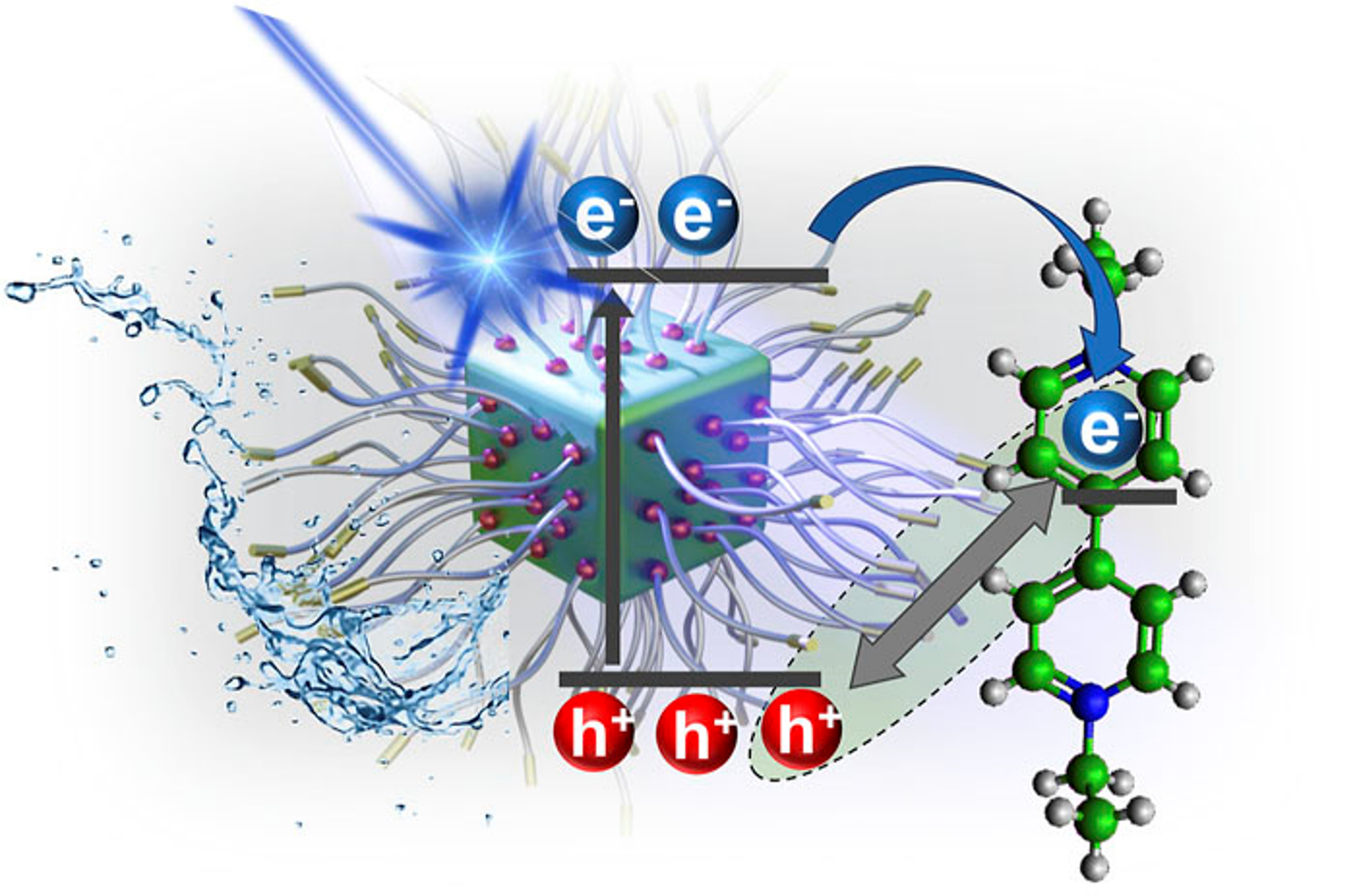 In-situ polymer capping of cesium lead bromide (CsPbBr3) nanocrystals with polymethyl acrylate is an effective approach to improve the colloidal stability in the polar medium and thus extends their use in photocatalysis. The photoinduced electron transfer properties of polymethyl acrylate (PMA)-capped CsPbBr3 nanocrystals have been probed using surface-bound viologen molecules with different alkyl chains as electron acceptors. The apparent association constant (Kapp) obtained for the binding of viologen molecules with PMA-capped CsPbBr3 was 2.3 × 107 M-1, which is an order of magnitude greater than that obtained with oleic acid/oleylamine-capped CsPbBr3. Although the length of the alkyl chain of the viologen molecule did not show any impact on the electron transfer rate constant, it influenced the charge separation efficiency and net electron transfer quantum yield. Viologen moieties with a shorter alkyl chain length exhibited a charge separation efficiency of 72% compared with 50% for the longer chain alkyl chain length viologens. Implications of polymer-capped CsPbBr3 perovskite nanocrystals for carrying out photocatalytic reduction in the polar medium are discussed.



569. How Pendant Groups Dictate Energy and Electron Transfer in Perovskite–Rhodamine Light Harvesting Assemblies Jeffrey T. DuBose and Prashant V. Kamat J. Am. Chem. Soc. 2023, 145, 8, 4601-4612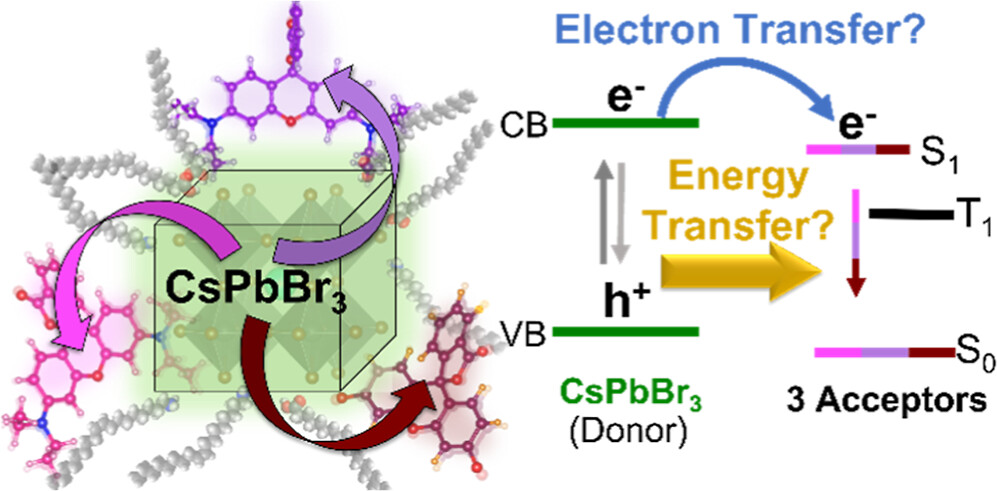 Energy and electron transfer processes allow for efficient manipulation of excited states within light harvesting assemblies for photocatalytic and optoelectronic applications. We have now successfully probed the influence of acceptor pendant group functionalization on the energy and electron transfer between CsPbBr3 perovskite nanocrystals and three rhodamine-based acceptor molecules. The three acceptors─rhodamine B (RhB), rhodamine isothiocyanate (RhB-NCS), and rose Bengal (RoseB)─contain an increasing degree of pendant group functionalization that affects their native excited state properties. When interacting with CsPbBr3 as an energy donor, photoluminescence excitation spectroscopy reveals that singlet energy transfer occurs with all three acceptors. However, the acceptor functionalization directly influences several key parameters that dictate the excited state interactions. For example, RoseB binds to the nanocrystal surface with an apparent association constant (Kapp = 9.4 × 106 M-1) 200 times greater than RhB (Kapp = 0.05 × 106 M-1), thus influencing the rate of energy transfer. Femtosecond transient absorption reveals the observed rate constant of singlet energy transfer (kEnT) is an order-of-magnitude greater for RoseB (kEnT = 1 × 1011 s-1) than for RhB and RhB-NCS. In addition to energy transfer, each acceptor had a subpopulation of molecules (∼30%) that underwent electron transfer as a competing pathway. Thus, the structural influence of acceptor moieties must be considered for both excited state energy and electron transfer in nanocrystal-molecular hybrids. The competition between electron and energy transfer further highlights the complexity of excited state interactions in nanocrystal-molecular complexes and the need for careful spectroscopic analysis to elucidate competitive pathways.



568. How Stable Is the 2D/3D Interface of Metal Halide Perovskite under Light and Heat? Jishnudas Chakkamalayath,  Nathaniel Hiott, and Prashant V. Kamat ACS Energy Lett. 2023, 8, 1, 169-171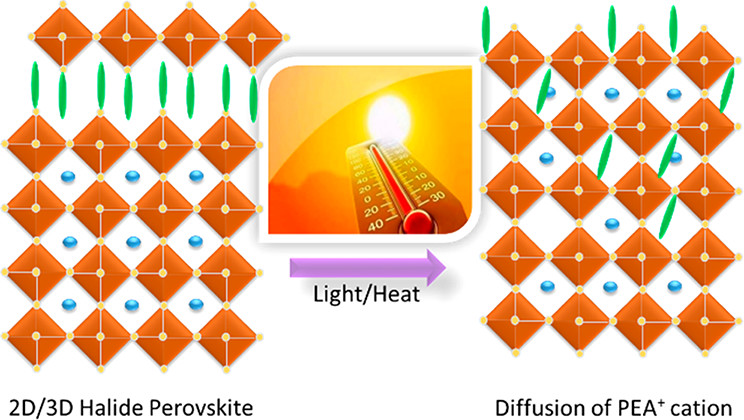 A (PEA)2PbI4 (2D) layer deposited on a MAPbI3 (3D) film undergoes a transformation upon photoirradiation and thermal treatment. The decrease in absorption and emission of the 2D layer during light and heat exposure, which shows migration of the PEA+ cation within the 3D film, points out the dynamic nature of the 2D/3D interface and intermixing of the two phases.



567. Excited State and Transient Chemistry of a Perylene Derivative (DBP). An Untold Story Jishnudas Chakkamalayath,  Gábor Szabó, Jeffrey T. DuBose, and Prashant V. Kamat J. Phys. Chem. A 2023, 127, 1, 99-106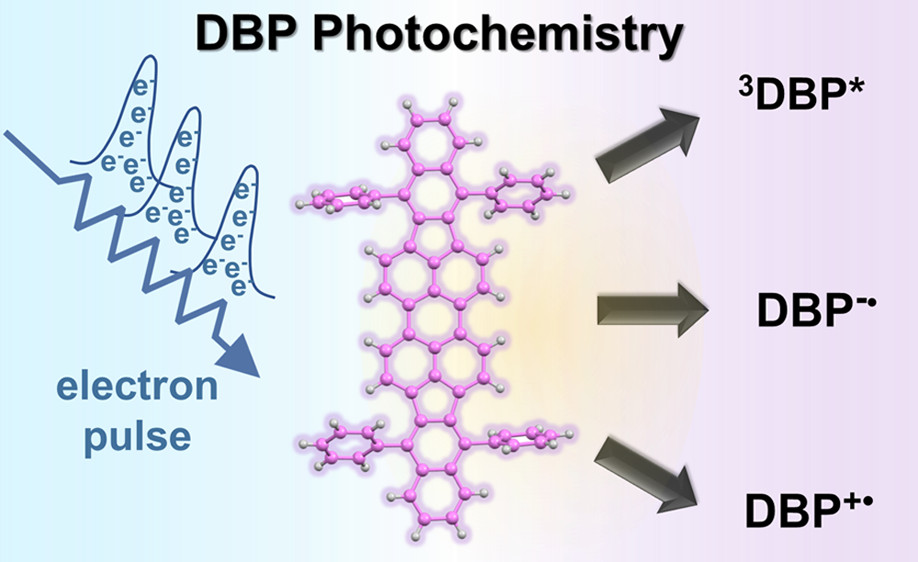 Transient chemistry of sensitizing dyes is important to obtain insights into the photochemical conversion processes of light harvesting assemblies. We have now employed transient absorption spectroscopy (pulsed laser and pulse radiolysis) to characterize the excited state and radical intermediates of a perylene derivative, (5,10,15,20-Tetraphenylbisbenz[5,6]indeno[1,2,3-cd:1′,2′,3′-lm]perylene (DBP). The distinguishable transient absorption features for the singlet and triplet excited states and radical anion and radical cation provide spectral fingerprints to identify the reaction intermediates in photochemical energy and electron transfer processes of composite systems involving DBP. For example, identifying these transients in the energy transfer processes of the rubrene–DBP system would aid in establishing their role as annihilator-emitter for triplet–triplet annihilation up-conversion (TTA-UC). The transient characterization thus serves as an important mechanistic fingerprint for elucidating mechanistic details of systems employing DBP in optoelectronic applications.



2022
566. Enhanced Charge Carrier Separation in WO3/BiVO4 Photoanodes Achieved via Light Absorption in the BiVO4 Layer Ivan Grigioni, Annalisa Polo, Maria Vittoria Dozzi, Kevin G. Stamplecoskie, Danilo H. Jara, Prashant V. Kamat, and Elena Selli ACS Appl. Energy Mater. 2022, 5, 11, 13142-13148
565. Phase Segregation and Sequential Expulsion of Iodide and Bromide in Photoirradiated Ruddlesden–Popper 2D Perovskite Films Preethi Susan Mathew, Gábor Szabó, Masaru Kuno, and Prashant V. Kamat ACS Energy Lett. 2022, 7, 11, 3982–3988
564. Excited-State Transient Chemistry of Rubrene: A Whole Story Jeffrey T. DuBose, Gábor Szabó, Jishnudas Chakkamalayath, and Prashant V. Kamat J. Phys. Chem. A. 2022, 126, 40, 11907–11914
563. Metal Cocatalyst Dictates Electron Transfer in Ag-Decorated MoS2 Nanosheets Bo-An Chen, Sylwia Ptasinska, and Prashant V. Kamat J. Phys. Chem. C. 2022, 126, 29, 11907–11914
562. Energy Versus Electron Transfer: Managing Excited-State Interactions in Perovskite Nanocrystal–Molecular Hybrids (Focus Review) Jeffrey T. DuBose and Prashant V. Kamat Chem. Rev. 2022, 122, 15, 12475–12494
561. Hole Trapping in Halide Perovskites Induces Phase Segregation (Review) Jeffrey T. DuBose and Prashant V. Kamat Acc. Mater. Res. 2022, 3, 7, 761–771
560. Efficacy of Perovskite Photocatalysis: Challenges to Overcome (Perspective) Jeffrey T. DuBose and Prashant V. Kamat ACS Energy Lett. 2022, 7, 6, 1994–2011
559. Managing photoinduced electron transfer in AgInS2–CdS heterostructures Anthony Kipkorir and Prashant V. Kamat J. Chem. Phys. 156, 174703 (2022)
558. Photoinduced Transformation of Cs2Au2Br6 into CsPbBr3 Nanocrystals Jishnudas Chakkamalayath, Gregory V. Hartland, and Prashant V. Kamat J. Phys. Chem. Lett. 2022, 13, 13, 2921–2927
557. Do Sacrificial Donors Donate H2 in Photocatalysis? (Viewpoint) Federica Costantino and Prashant V. Kamat ACS Energy Lett. 2022, 7, 1, 242–246
556. Transformation of Perovskite Nanoplatelets to Large Nanostructures Driven by Solvent Polarity Jeffrey T. DuBose, Andrew Christy, Jishnudas Chakkamalayath, and Prashant V. Kamat ACS Materials Lett. 2022, 4, XXX, 93–101
2021