All Publications
2020
542. How Chloride Suppresses Photoinduced Phase Segregation in Mixed Halide Perovskites Junsang Cho and Prashant V. Kamat Chem. Mater. 2020, XXXX, XXX, XXX-XXX.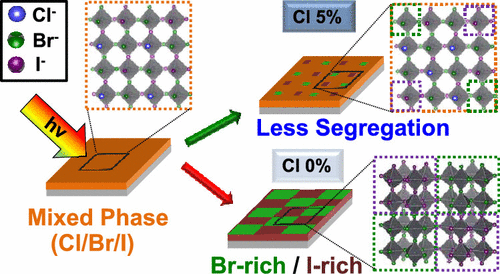 Halide ion mobility in metal halide perovskites plays an important role in dictating the overall device performance and long-term stability of perovskite solar cells. Alloying with chloride (Cl), which is known to stabilize the perovskite solar cells, has now been found to suppress the photoinduced halide ion segregation in mixed halide (Br/I) perovskites. By varying the chloride concentration of 1–10% (as part of the halide composition), we have probed both photoinduced segregation and dark recovery kinetics at different temperatures. When we increased the concentration of Cl from 0 to 5%, we observed a decrease in the rate constant of segregation by a factor of ∼5 and a decrease in the fraction of halide segregation from 45 to 20%. The activation energy for photoinduced halide segregation increases (∼4 kJ/mol) upon the introduction of chloride into the mixed halide film, reflecting an increased energetic barrier for halide ion migration.


541. Surface Chemistry Matters. How Ligands Influence Excited State Interactions between CsPbBr3 and Methyl Viologen Jeffrey T. DuBose and Prashant V. Kamat J. Phys. Chem. C 2020, XXXX, XXX, XXX-XXX.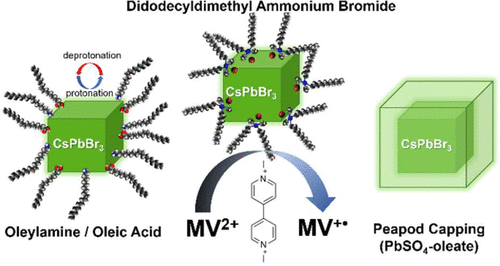 The photocatalytic properties of cesium lead bromide (CsPbBr3) perovskite nanocrystals make them attractive for designing light harvesting assemblies. Often ignored, the surface chemistry can dictate the excited state interactions of these semiconductor nanocrystals with charge-shuttling redox molecules. We have now explored the impact of CsPbBr3 nanocrystal surface modification on the excited state interactions with methyl viologen (MV2+) for three different ligand environments: prototypical oleic acid/oleylamine (OA/OAm) ligands, PbSO4-oleate capping, and didodecyldimethylammonium bromide (DDAB) ligands. Native OA/OAm ligands and PbSO4-oleate capping exhibit the strongest complexation with MV2+, whereas the bulky DDAB ligand environment shows an order of magnitude weaker complexation. The electron transfer rate constants as measured from transient absorption spectroscopy vary in the range of 1.2–3.6 × 1011 s–1 for different ligand environments. For DDAB-CsPbBr3 NCs, the efficiency of electron transfer (Φet) is 73%. Despite a protective capping layer, PbSO4-oleate capped CsPbBr3 maintains a redox-active surface which is viable for photocatalytic applications. These results highlight the impact of surface chemistry on excited state interactions of CsPbBr3 NCs and photocatalytic applications.


540. Iodine (I) Expulsion at Photoirradiated Mixed Halide Perovskite Interface. Should I Stay or Should I Go? Preethi Susan Mathew, Gergely F. Samu, Csaba Janáky, and Prashant V. Kamat ACS Energy Lett. 2020, 5, XXX, 1872-1880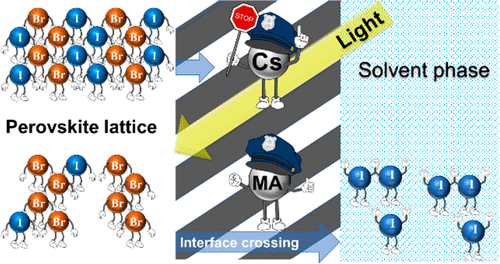 Visible light irradiation of a mixed halide perovskite film in contact with a solvent (dichloromethane, DCM) in which the film otherwise is stable leads to selective expulsion of iodide (I) from the film with a concurrent shift in the band edge to lower wavelengths. We have now employed mixed halide perovskites to uncover the influence of A-site cation [methylammonium (MA) and cesium (Cs)] on the mobility of iodide ions under photoirradiation. In the absence of solvent contact, the mixed halide perovskite films undergo photoinduced segregation with a rate constant that decreases with increasing Cs content. Interestingly, the iodide expulsion rate in DCM is strongly dependent on the rate of photoinduced segregation. At Cs atomic concentrations greater than 50%, the films become stable as the iodide expulsion is largely suppressed. The role of the A-site cation in dictating the mobility of halide ions is discussed.


539. Suppressed Halide Ion Migration in 2D Lead Halide Perovskites Junsang Cho, Jeffrey T. DuBose, An Ngoc Thien Le, and Prashant V. Kamat ACS Materials Lett. 2020, 2, 6, 565–570.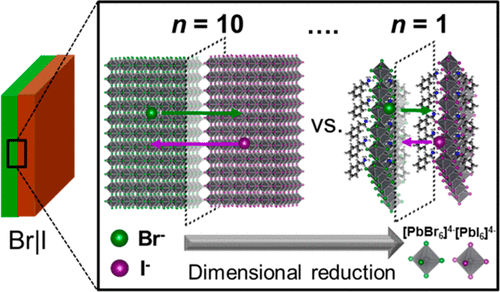 Two-dimensional (2D) lead halide perovskites represent an emerging class of materials given their tunable optoelectronic properties and long-term stability in perovskite solar cells. In order to assess the halide ion mobility, we have tracked the changes in the bromide and iodide composition in physically paired 2D lead halide perovskite films of different layer numbers (n = 10–1). These low-dimensional perovskites suppressed halide ion migration as a result of their intercalated spacer ligands and their strong van der Waals interactions. The rate constants for halide exchange of low dimensionality perovskites follow the Arrhenius relationship with thermal activation energy ranging from 58 kJ/mol (n = 10) to 72 kJ/mol (n = 1). The suppression of halide ion mobility (and diffusion coefficient) with modulating perovskite layer number (n) provides further insight into the role of 2D perovskites in improving the performance of photovoltaic devices.


538. Charge Carrier Recombination Dynamics of Two-Dimensional Lead Halide Perovskites Junsang Cho, Jeffrey T. DuBose and Prashant V. Kamat J. Phys. Chem. Lett. 2020, 11, 7, 2570-2576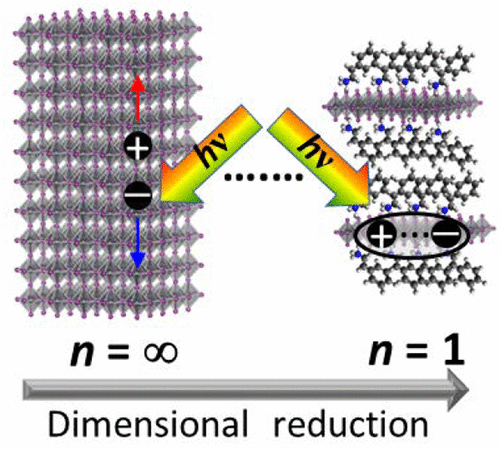 Two-dimensional (2D) lead halide perovskites with better chemical stability and tunable dimensionality offer new opportunities to design optoelectronic devices. We have probed the transient absorption behavior of 2D lead halide (bromide and iodide) perovskites of different dimensionality, prepared by varying the ratio of methylammonium:phenylethylammonium cation. With decreasing dimensionality (n = ∞ → 1), we observe a blue shift in transient absorption bleach in agreement with the trend observed with the shift in the excitonic peak. The lifetime of the charge carriers decreased with decreasing layer thickness. The dependence of charge carrier lifetime on the 2D layers as well as the halide ion composition shows the dominance of excitonic binding energy on the charge carrier recombination in 2D perovskites. The excited-state behavior of 2D perovskites discussed in this study shows the need to modulate the layer dimensionality to obtain desired optoelectronic properties.


537. Photoinduced Anion Segregation in Mixed Halide Perovskites (Review) Michael C. Brennan, Anthony Ruth, Prashant V. Kamat, and Masaru Kuno Trends in Chemistry Volume 2, Issue 4, April 2020, Pages 282-301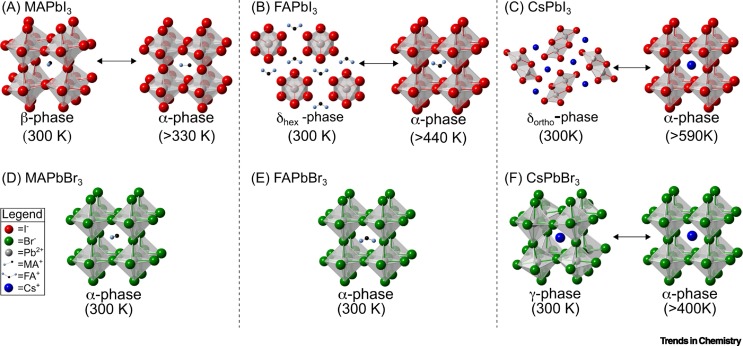 Alloyed lead halide perovskites have taken a dominant role in the quest for third-generation solar cells. This is due to optimal light-harvesting properties, which can be tuned across the visible spectrum by mixing halide (X = Cl–, Br–, and I–) anions and A+ cations (A+ = FA+, MA+, and Cs+). Durability issues related to ion movement within the perovskite lattice, however, impede large-scale commercialization. Uniformly mixed halide perovskites [e.g., APb(I1–xBrx)3] reversibly segregate into narrow bandgap I-rich and wide bandgap Br-rich domains during continuous visible illumination. Subsequent I-rich domains reduce local open circuit voltages and decrease mixed halide perovskite solar cell power conversion efficiencies. In this review, we assess the known effects of halide segregation on the structural and optical properties of mixed halide materials, discuss ongoing research to suppress the phenomenon, and provide a mechanistic overview of its underlying origins.


536. TiO2-Assisted Halide Ion Segregation in Mixed Halide Perovskite Films Jeffrey T. DuBose and Prashant V. Kamat J. Am. Chem. Soc. 2020, 142, 11, 5362–5370.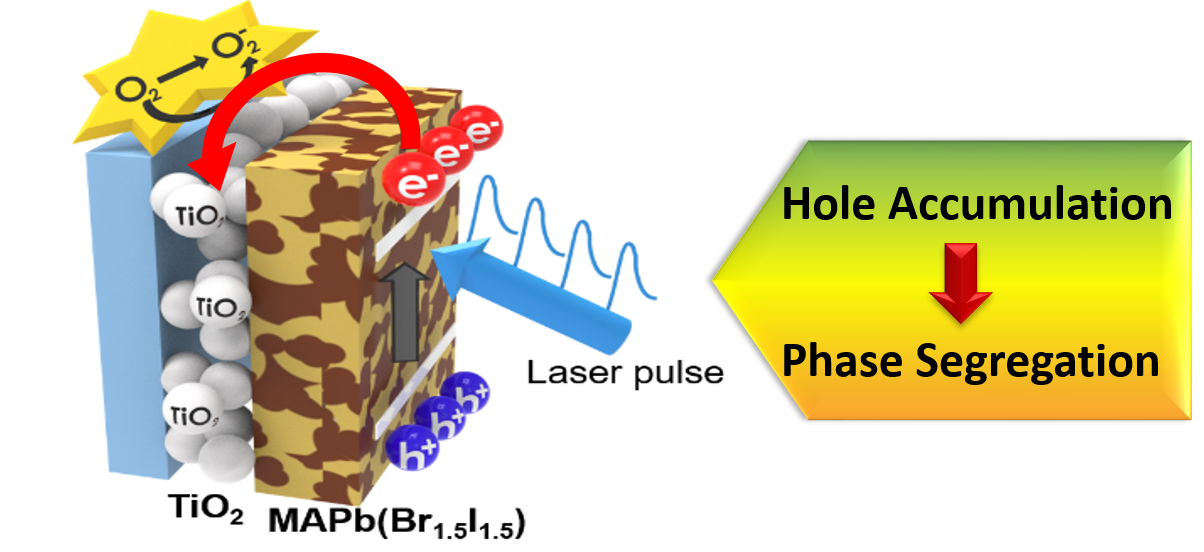 In metal halide perovskite solar cells, electron transport layers (ETLs) such as TiO2 dictate the overall photovoltaic performance. However, the same electron capture property of ETL indirectly impacts halide ion mobility as evident from the TiO2-assisted halide ion segregation in mixed halide perovskite (MHP) films under pulsed laser excitation (387 nm, 500 Hz). This segregation is only observed when deposited on an ETL such as TiO2 but not on insulating ZrO2 substrate. Injection of electrons from excited MHP into the ETL (ket = 1011 s–1) followed by scavenging of electrons by O2 causes hole accumulation in the MHP film. Localization of holes on the iodide site in the MHP induces instability causing iodide from the lattice to move away toward grain boundaries. Suppression of segregation occurs when holes are extracted by a hole transport layer (spiro-OMeTAD) deposited on the MHP, thus avoiding hole build-up. These results provide further insight into the role of holes in the phase segregation of MHPs and hole mobility in perovskite solar cells.


2019
535. Perovskite Photocatalysis. Methyl Viologen Induces Unusually Long-Lived Charge Carrier Separation in CsPbBr3 Nanocrystals Steven M. Kobosko, Jeffrey T. DuBose and Prashant V. Kamat ACS Energy Lett. 2020, 5, 1, 221–223.
534. Charge Injection from Excited Cs2AgBiBr6 Quantum Dots into Semiconductor Oxides Junsang Cho, Jeffrey T. DuBose and Prashant V. Kamat Chem. Mater. 2020, 32, 1, 510–517.
532. How Interplay between Photo and Thermal Activation Dictates Halide Ion Segregation in Mixed Halide Perovskites Tor Elmelund, Brian Seger, Masaru Kuno and Prashant V. Kamat ACS Energy Lett. 2020, 5, 1, 56–63.
531. Temperature-driven anion migration in gradient halide perovskites Rebecca A. Scheidt and Prashant V. Kamat J. Chem. Phys. 151, 134703 (2019)
530. Probing Perovskite Photocatalysis. Interfacial Electron Transfer between CsPbBr3 and Ferrocene Redox Couple Jeffrey T. DuBose and Prashant V. Kamat J. Phys. Chem. Lett. 2019, 10, 20, 6074-6080
529. Bidirectional Halide Ion Exchange in Paired Lead Halide Perovskite Films with Thermal Activation Tor Elmelund, Rebecca A. Scheidt, Brian Seger, Prashant V. Kamat ACS Energy Lett. 2019, 4, XXX, 1961-1969
528. Electrochemical Hole Injection Selectively Expels Iodide from Mixed Halide Perovskite Films Gergely F. Samu, Ádám Balog, Filippo De Angelis, Daniele Meggiolaro, Prashant V. Kamat, and Csaba Janáky J. Am. Chem. Soc. 2019, 141, 27, 10812-10820
527. Tracking Transformative Transitions: From CsPbBr3 Nanocrystals to Bulk Perovskite Films Rebecca A. Scheidt, Corey Atwell, and Prashant V. Kamat ACS Materials Letters 2019
526. Ag(I)-Thiolate-Protected Silver Nanoclusters for Solar Cells: Electrochemical and Spectroscopic Look into the Photoelectrode/Electrolyte Interface Muhammad A. Abbas, Seog Joon Yoon, Hahkjoon Kim, Junghyun Lee, Prashant V. Kamat, and Jin Ho Bang ACS Appl. Mater. Interfaces 2019
525. Tuning the Excited-State Dynamics of CuI Films with Electrochemical Bias Gergely F. Samu, Rebecca A. Scheidt, Ádám Balog, Csaba Janáky, and Prashant V. Kamat ACS Energy Lett. 2019, 4, pp 702–708
524. Influence of Plasmonic CuxS Interfacing Layer on Photovoltaic Performance of CIZS Quantum Dot Sensitized Solar Cells Senthilkumar Muthu, Gary Zaiats, Moorthy Babu Sridharan and Prashant V. Kamat J. Electrochem. Soc. 2019 volume 166, issue 5, H3133-H3137.
523. Optoelectronic Properties of CuI Photoelectrodes Ádám Balog, Gergely F. Samu , Prashant V. Kamat , and Csaba Janáky J. Phys. Chem. Lett. 2019, 10 (2), pp 259–264.
2018
521. Interfacial Charge Transfer between Excited CsPbBr3 Nanocrystals and TiO2: Charge Injection versus Photodegradation Rebecca A. Scheidt, Elisabeth Kerns, and Prashant V. Kamat J. Phys. Chem. Lett. 2018, 9, 20, 5962-5969
520. Mixed Halide Perovskite Solar Cells. Consequence of Iodide Treatment on Phase Segregation Recovery R. Geetha Balakrishna, Steven M. Kobosko, and Prashant V. Kamat ACS Energy Lett. 2018, 3, 9, 2267-2272
519. Hierarchical Arrays of Cesium Lead Halide Perovskite Nanocrystals through Electrophoretic Deposition Vikash Kumar Ravi, Rebecca A. Scheidt, Jeffrey DuBose, and Prashant V. Kamat J. Am. Chem. Soc. 2018, 140, 28, 8887-8894
518. Electrodeposition of Hole-Transport Layer on Methylammonium Lead Iodide Film: A Strategy To Assemble Perovskite Solar Cells Gergely F. Samu, Rebecca A. Scheidt, Gary Zaiats, Prashant V. Kamat, and Csaba Janáky Chem. Mater. 2018, 30, 13, 4202-4206
517. Indium-Rich AgInS2–ZnS Quantum Dots—Ag-/Zn-Dependent Photophysics and Photovoltaics Steven M. Kobosko and Prashant V. Kamat J. Phys. Chem. C 2018, 122, 26, 14336-14344
516. To Exchange or Not to Exchange. Suppressing Anion Exchange in Cesium Lead Halide Perovskites with PbSO4–Oleate Capping Vikash Kumar Ravi, Rebecca A. Scheidt, Angshuman Nag, Masaru Kuno, and Prashant V. Kamat ACS Energy Lett. 2018, 3, 4, 1049-1055
515. Thiolated Gold Nanoclusters for Light Energy Conversion (Review) Muhammad A. Abbas, Prashant V. Kamat, and Jin Ho Bang ACS Energy Lett. 2018, 3, 4, 840-854
514. Probing Interfacial Electrochemistry on a Co3O4 Water Oxidation Catalyst Using Lab-Based Ambient Pressure X-ray Photoelectron Spectroscopy Xueqiang Zhang, Yong-Siou Chen, Prashant V. Kamat, and Sylwia Ptasinska J. Phys. Chem. C 2018, 122, 25, 13894-13901
513. A quantitative and spatially resolved analysis of the performance-bottleneck in high efficiency, planar hybrid perovskite solar cells Sergiu Draguta, Jeffrey A. Christians, Yurii V. Morozov, Anselme Mucunzi, Joseph S. Manser, Prashant V. Kamat, Joseph M. Luther and Masaru Kuno Energy Environ. Sci. 2018, 11, 960-969
512. Electrochemistry and Spectroelectrochemistry of Lead Halide Perovskite Films: Materials Science Aspects and Boundary Conditions Gergely F. Samu, Rebecca A. Scheidt, Prashant V. Kamat, and Csaba Janáky Chem. Mater. 2018, 30, 3, 561-569
511. Modulation of Charge Recombination in CsPbBr3 Perovskite Films with Electrochemical Bias Rebecca A. Scheidt, Gergely F. Samu, Csaba Janáky, and Prashant V. Kamat J. Am. Chem. Soc. 2018, 140, 1, 86-89
510. Ligand Assisted Transformation of Cubic CsPbBr3 Nanocrystals into Two-Dimensional CsPb2Br5 Nanosheets Subila K. Balakrishnan and Prashant V. Kamat Chem. Mater. 2018, 30, 1, 74-78
2017