All Publications
2022
557. Do Sacrificial Donors Donate H2 in Photocatalysis? (Viewpoint) Federica Costantino and Prashant V. Kamat ACS Energy Lett. 2022, 7, 1, 242–246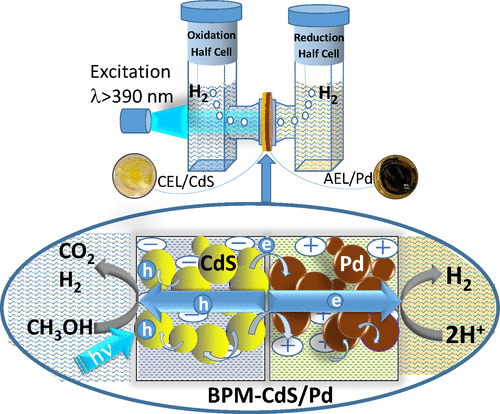 Generation of solar fuels using a semiconductor photocatalyst continues to be a popular topic in light–energy conversion. Semiconductor-assisted photoelectrolysis usually includes water (or H+) reduction to produce H2 or CO2 reduction to produce value-added chemicals. Significant strides have been made in recent years to design new photocatalysts and obtain mechanistic insights into the interfacial charge-transfer processes in semiconductor particle systems. However, semiconductors such as metal chalcogenides (e.g., CdS) are susceptible to hole-induced oxidation (anodic corrosion) when employed as photocatalysts for H2 generation. Sacrificial donors such as alcohols, amines, ascorbic acid, and EDTA are commonly employed to scavenge the photogenerated holes and, thus, maintain photocatalyst stability. The product formed in such a process (e.g., H2) is often assumed to arise exclusively from the reduction process. Because of this popular belief, the direct involvement of sacrificial donors in the net accumulation of the product often goes unchecked.



556. Transformation of Perovskite Nanoplatelets to Large Nanostructures Driven by Solvent Polarity Jeffrey T. DuBose, Andrew Christy, Jishnudas Chakkamalayath, and Prashant V. Kamat ACS Materials Lett. 2022, 4, XXX, 93–101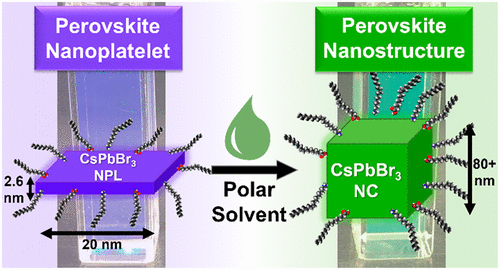 Perovskite nanoplatelets have potential use in optoelectronic and photocatalytic applications because of the enhanced quantum confinement they experience. However, often ignored is the effect of solvent polarity on the stability of these nanoplatelets. When perovskite nanoplatelets are exposed to small amounts (<1 vol %) of mildly polar solvents such as acetonitrile, the particles rapidly grow to larger nanostructures. Their quantum confinement is lost as they grow from uniform 2.6 nm thick particles to large nanostructures ~85 nm in size. This ripening brings characteristic red-shifts in the absorption and photoluminescence of the particles as they transform. Using methyl acetate as a model polar solvent, we succeeded in establishing factors that control ligand desorption and lowering of the activation energy for ripening. These results highlight the challenges in using these quantum-confined nanoplatelets in applications such as photocatalysis, where polar solvents and/or intermediates may be unavoidable.



2021
555. A Bipolar CdS/Pd Photocatalytic Membrane for Selective Segregation of Reduction and Oxidation Processes Federica Costantino, Luca Gavioli, and Prashant V. Kamat ACS Phys. Chem Au 2021, XXXX, XXX, XXX-XXX
554. Directing Energy Transfer in Halide Perovskite–Chromophore Hybrid Assemblies Jeffrey T. DuBose and Prashant V. Kamat J. Am. Chem. Soc. 2021, 143, 45, 19214–19223
553. CsPbBr3–CdS heterostructure: stabilizing perovskite nanocrystals for photocatalysis Anthony Kipkorir, Jeffrey DuBose, Junsang Cho, and Prashant V. Kamat Chem. Sci. 2021,12, 14815-14825
552. Photoinduced Halide Segregation in Ruddlesden–Popper 2D Mixed Halide Perovskite Films Junsang Cho, Preethi S. Mathew, Jeffrey T. DuBose, Prashant V. Kamat Adv. Mater. 2021, 2105585.
551. Light Induced Processes in CsPbBr3–Au Hybrid Nanocrystals: Electron Transfer and Expulsion of Au Jishnudas Chakkamalayath, Gregory V. Hartland, and Prashant V. Kamat J. Phys. Chem. C 2021, 125, 32, 17881–17889.
550. State of the Art and Prospects for Halide Perovskite Nanocrystals Amrita Dey, Junzhi Ye, Apurba De, Elke Debroye, Seung Kyun Ha, Eva Bladt, Anuraj S. Kshirsagar, Ziyu Wang, Jun Yin, Yue Wang, Li Na Quan, Fei Yan, Mengyu Gao, Xiaoming Li, Javad Shamsi, Tushar Debnath, Muhan Cao, Manuel A. Scheel, Sudhir Kumar, Julian A. Steele, Marina Gerhard, Lata Chouhan, Ke Xu, Xian-gang Wu, Yanxiu Li, Yangning Zhang, Anirban Dutta, Chuang Han, Ilka Vincon, Andrey L. Rogach, Angshuman Nag, Anunay Samanta, Brian A. Korgel, Chih-Jen Shih, Daniel R. Gamelin, Dong Hee Son, Haibo Zeng, Haizheng Zhong, Handong Sun, Hilmi Volkan Demir, Ivan G. Scheblykin, Iván Mora-Seró, Jacek K. Stolarczyk, Jin Z. Zhang, Jochen Feldmann, Johan Hofkens, Joseph M. Luther, Julia Pérez-Prieto, Liang Li, Liberato Manna, Maryna I. Bodnarchuk, Maksym V. Kovalenko, Maarten B. J. Roeffaers, Narayan Pradhan, Omar F. Mohammed, Osman M. Bakr, Peidong Yang, Peter Müller-Buschbaum, Prashant V. Kamat, Qiaoliang Bao, Qiao Zhang, Roman Krahne, Raquel E. Galian, Samuel D. Stranks, Sara Bals, Vasudevanpillai Biju, William A. Tisdale, Yong Yan, Robert L. Z. Hoye, and Lakshminarayana Polavarapu ACS Nano 2021, 15, 7, 10775–10981
549. Spacer Cations Dictate Photoinduced Phase Segregation in 2D Mixed Halide Perovskites Preethi S. Mathew, Jeffrey T. DuBose, Junsang Cho, and Prashant V. Kamat ACS Energy Lett. 2021, 6, 7, 2499–2501.
548. Vectorial Charge Transfer across Bipolar Membrane Loaded with CdS and Au Nanoparticles Manjeet Chhetri and Prashant V. Kamat J. Phys. Chem. C 2021, 125, 12, 6870–6876.
547. Modulation of Photoinduced Iodine Expulsion in Mixed Halide Perovskites with Electrochemical Bias Jeffrey T. DuBose, Preethi S. Mathew, Junsang Cho, Masaru Kuno, and Prashant V. Kamat J. Phys. Chem. Lett. 2021, 12, 10, 2615–2621.
546. Halide Ion Migration in Perovskite Nanocrystals and Nanostructures (Review) Prashant V. Kamat and Masaru Kuno Acc. Chem. Res. 2021, 54, 3, 520–531
545. Electrochemically induced iodine migration in mixed halide perovskites: suppression through chloride insertion Junsang Cho, Jeffrey T. DuBose, Preethi S. Mathew and Prashant V. Kamat Chem. Commun. 2021,57, 235-238
2020