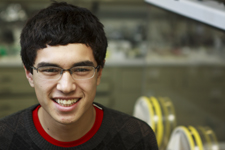 Alex Mobashery, a Penn High School, Mishawaka student carried out research in the Kamat laboratory for the past two years (his junior and senior year). Recently, he participated in the Intel International Science and Engineering Fair 2013.
His Project "Boosting Current of Quantum Dot Sensitized Solar Cells with CdS/PbS Heterostructures" placed fourth in the Energy and Transportation category of the Grand Award Winner.
Join us in congratulating Alex on his great work in our lab and awesome showing at the Science and Engineering Fair!