The Kamat Group
Graduate Students
James Radich
James Radich graduated Cum Laude from Mississippi State University with his Bachelor's of Science in Chemical Engineering in 2003. His work experience ranges from the petrochemical refining industry to serving the State of Mississippi as a Groundwater Assessment/Remediation Engineer. Ultimately, in 2005 James was led to a research position in his hometown of Biloxi, MS where he worked on bioenvironmental projects ranging from wastewater treatment, bioremediation, and consumer product biodegradability. In 2007 James pursued a Master of Science in Chemical Engineering at Mississippi State, graduating in 2009, finally following his passion for energy research to the University of Notre Dame. His current focus is on photo- and electrocatalysis, in particular as it relates to energy conversion and storage. He is interested in developing new devices and processes for future energy solutions.
Sachidananda Krishnamurthy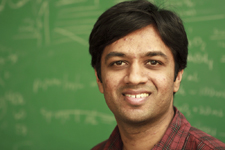 Sachi Krishnamurthy is from Bangalore, India. He completed his BS and MS in chemistry in 2007 from St. Joseph's College, Bangalore. After his Masters he was selected as a research assistant at the prestigious Indian Institute of Science, Bangalore, where he carried out research on solvothermal synthesis of Metal Organic Frameworks (2007-2009). He started as a Graduate student in the department of Chemistry and Bio-chemistry at Notre Dame in 2009. In the Kamat-group, his field of research includes studying electron transfer into graphene oxide, interaction between graphene oxide and metal and semiconductor nanoparticles, graphene based nano composites for photo-catalysis, solar cells and H2 production.
Doug Hines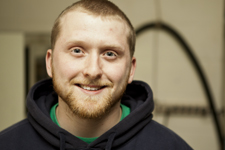 Doug is from Mansfield, Ohio and received his Bachelors of Science in Chemistry from Baldwin-Wallace College in 2009. Doug is in his third year of work for his PhD in Physical Chemistry. His current research uses ultra-fast transient absorption spectroscopy to study the effect of various surface reactions on the recombination dynamics of quantum dots. The ultimate goal is to better understand quantum dot passivation effects and to use this knowledge to optimize photovoltaic construction.
Jeff Christians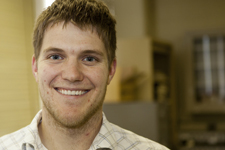 Jeff is a third year doctoral student in the Chemical and Biomolecular Engineering Department at Notre Dame. He is originally from Grand Rapids, Michigan where he received his bachelor degree in Chemical Engineering from Calvin College in 2010 and performed research on using individual CdSe quantum dots as wide dynamic range fluorescent biosensors. Jeff's work in the Kamat lab is focused on further improving and understanding solid-state quantum dot solar cells or extremely thin absorber (ETA) solar cells. He is currently investigating the charge transfer mechanism and dynamics in Sb2S3/CuSCN ETA solar cells using transient absorption spectroscopy. He is also working on the development of high efficecy solid-state ETA solar cells employing antimony sulfide and lead halide perovskites.
Yong-Siou Chen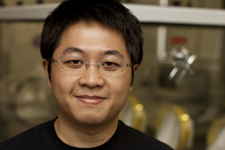 Yong-Siou received a M.S. in Chemical Engineering at National Taiwan University of Science and Technology in 2008. He is currently a second year graduate student in Chemistry and Biochemistry at the University of Notre Dame in Prof. Kamat's lab. His research interests include hematite as a catalyst for the water oxidation reaction.
Joseph Manser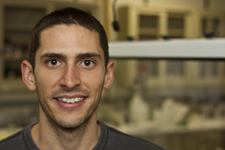 Joseph received a B.S. in chemistry in 2011 from Catawba College in Salisbury, North Carolina, where he also played two years of varsity baseball. He participated in two undergraduate research internships during his time at Catawba—first as a visiting scientist at the FBI's Counterterrorism and Forensic Science Research Unit, and second as an undergraduate researcher through the NSF REU program at UNC Charlotte. The latter work involved studying the photon enhanced aggregation kinetics of single walled carbon nanotubes to better understand and control the underlying directed self-assembly mechanism. He is currently enrolled in the chemical and biomolecular engineering PhD program at Notre Dame. Joseph's research focuses on the synthesis, characterization, and optimization of semiconductor nanomembranes. The ultimate goal is to harvest the unique mechanical and electrical properties of these materials to improve the overall efficiency and light harvesting capabilities of solar cells.
Liyuan Sun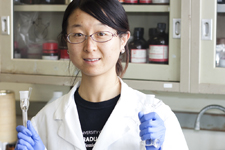 Liyuan received her B.S. in Chemical and Bio-industrial Engineering in July, 2011 from Tsinghua University in Beijing, China. She has been pursuing her Ph.D. degree at the Department of Chemical and Biomolecular Engineering at University of Notre Dame since fall, 2011. Her current research focuses on electrochemical reduction of carbon dioxide in ionic liquids under the guidance of Professor Prashant V. Kamat and her advisor Professor Joan F. Brennecke from the chemical engineering department.
Jacob Hoffman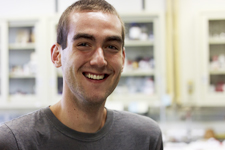 Jacob Hoffman received his Bachelors of Science in Chemistry and Mathematics from Heidelberg University in 2012. During undergrad he did research in the synthesis of Dafachronic acid derivatives and computational modeling of core/shell type quantum dots. He is currently pursuing his doctoral degree at the University of Notre Dame in the department of Chemistry and Biochemistry.
Danilo Jara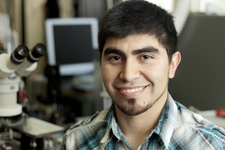 Danilo received his Bachelors in Chemistry at University of Santiago de Chile. During his undergrad thesis he did research in the synthesis and characterization of copper(I) complexes. He received the "Becas Chile" scholarship from the Chilean government to pursue a doctoral degree abroad. Because of his passion for energy research, he started as a graduate student in the department of Chemistry and Biochemistry at Notre Dame in 2012 at Prof. Kamat's lab. He is interested in developing and optimizing liquid-junction and solid-state solar cells using multiternary quantum dots and perovskite materials. In his free time, Danilo enjoys soccer, table tennis, gardening and spending time with his wife, Dania.
Anshuman Bajpai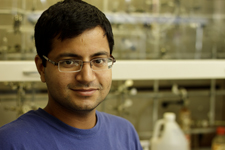 Anshumaan received his BS and MS in Chemical Engineering in 2010 from the Indian Institute of Technology, Kanpur (IIT Kanpur), India. In his thesis, he worked on fabrication of solid acid fuel cells that used methanol as fuel. From 2010 to 2012, he worked as a research assistant at IIT Kanpur on electrochemical water splitting using Ruthenia based catalyst in acidic and basic medium. He started as a graduate student in the department of Chemical and Bio-Molecular Engineering in the Fall of 2012 and is currently advised by Dr. Prashant Kamat and Dr. Masaru Kuno in the Department of Chemistry. His research interests are in development of 2-D nanomaterials and photo-electrochemical water splitting.