News From the Kamat Lab
Testing Fruit-Sensitized Solar Cells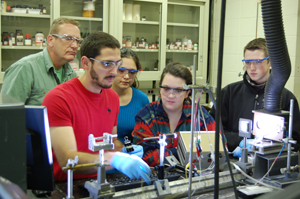 About 20 sophomore students at Notre Dame test dye-sensitized solar cells they made in lab using blueberry, raspberry, blackberry, or tea as the light absorber. Joe Manser, a third year chemical engineering graduate student in our lab, gave the students an introduction on how DSSCs work and then took them up into our lab and helped them measure the solar cells they made. This lab was developed in conjuction with Ken Poling, a science teacher at Penn High School in South Bend, through the Research Experience for Teachers (RET) program this past summer. Joe Manser and Jeff Christians worked with Ken to develop the techniques needed to make fruit-sensitized solar cells in the summer, and then helped the students as they measured their solar cell efficiency. It was a really great experience to help teach students about solar energy!
CdS Nanowire Solar Cells and Squaraine
Read the latest paper from the Kamat Lab!
CdS Nanowire Solar Cells: Dual Role of Squaraine Dye as a Sensitizer and a Hole Transporter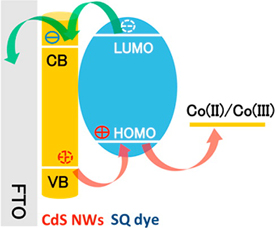 Abstract: The squaraine dye (SQ) anchored onto CdS nanowires serves as a photosensitizing dye and a hole acceptor. This dual role of the squaraine dye has been successfully exploited in a nanowire solar cell to improve the photoconversion efficiency. Electrophoretic deposition of CdS NWs and CdS NWs+SQ composite onto conducting glass electrodes was performed to obtain robust photoanodes and evaluate the photovoltaic performance of nanowire solar cells (NWSCs). Whereas the sensitization property of the SQ extends the response of CdS NWSCs into the near-IR (NIR) region, its redox property facilitates shuttling of holes to the electrolyte and suppressing the charge recombination process. Transient absorption measurements confirm the formation of cation radical of the dye arising from these two processes. The dual role of the squaraine dye has enabled us to improve the power conversion efficiency of NWSCs by a factor of ~20. Photoelectrochemical, spectroelectrochemical, and spectroscopic measurements provide insight into the multifaceted role of squaraine dye in improving the performance of NWSCs.
Kamat Lab Twitter: @KamatLabND

We now have a Kamat Lab twitter page! Follow the Kamat Lab on Twitter @KamatLabND. Find interesting research articles about different areas of science our lab is interested in and other papers that grabbed our attention. In addition, keep up to date with our latest publications and group news. Feel free to tweet us if you come across anything interesting, we'd love to hear from you!
You can find our Twitter page in the future by reminding to follow us or by simply clicking the blue Twitter bird on the right side of the navigation bar at the top of each page.
Prashant Kamat - 30 years at ND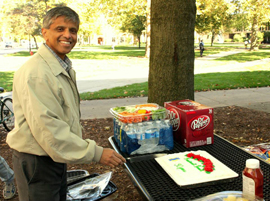 This year, Prashant is celebrating 30 years at the University of Notre Dame in the Radiation Laboratory. To help him celebrate, we planned a surprise cookout lunch for the entire Radiation Laboratory staff. Doug and Jeff grilled hamburgers and bratwursts (after taking an online food safety course), and James set up a fake conference call meeting with Prashant then lured him outside with a "safety hazard" that he wanted checked out. We had beautiful weather outside and great food!
Nickel-Doped MnO2 for Lithium Batteries
Read the latest paper from the Kamat Lab!
Nickel-Doped MnO2 Nanowires Anchored onto Reduced Graphene Oxide for Rapid Cycling Cathode in Lithium Ion Batteries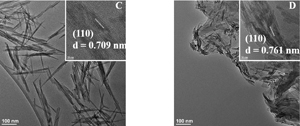 Abstract: Nickel-doped MnO2 nanowires were synthesized directly onto reduced graphene oxide (RGO) to generate a composite cathode material with improved high-rate cycling characteristics. The presence of RGO improves the electrochemical characteristics of the cathode in Li-ion half-cell architecture. Cyclic voltammetry, electrochemical impedance spectroscopy, and electrode cycling are confirm that RGO plays a major role in enhancing the ability of the NixMn(1-x)O2 to reversibly intercalate lithium ions at 1C rate. The chronocoulometric response of the RGO-based electrode shows the improvements originate from faster reaction kinetics and transport of Li+ coupled with increased specific capacitance and Li+ adsorption.
Prashant Awarded 2013 Langmuir Lectureship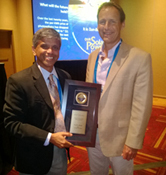 Congratulations to Prashant on receiving the 2013 Langmuir Lectureship! Prashant gave his lecture entitled, "Meeting the Clean Energy Challenge with Semiconductor Nanostructures" at the 2013 ACS National Meeting in Indianapolis, Indiana. Prashant's lecture was so well attended that chairs had to be brought in from the neighboring lecture hall and there was still a large group standing in the back (and even out the back!) of the lecture hall. Prashant was one of two recipients of the award, along with Dr. Nicholas A. Kotov from the University of Michigan, which was co-sponsored by the ACS Division of Colloid & Surface Chemistry and the journal Langmuir. Join with us in the Kamat group in congratulating Prashant on this wonderful career achievement!