News From the Kamat Lab
Publishing Scientific Research
Prashant and the other editors at the Journal of Physical Chemistry Letters have published a number of great editorials on scientific publishing. The topics range from scientific writing, to review, to multimedia.
The editorials offer helpful insight into the scientific publishing process and help authors increase the impact of their work.
C&EN Cover Story - Perovskite Solar Cells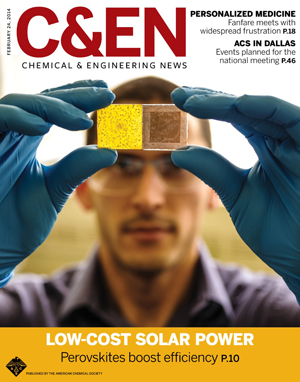 Chemical & Engineering News (C&EN) senior correspondant Mitch Jacoby recently visited our research group to talk about the exciting up and coming field of perovskite solar cells. Now, C&EN has run a great cover story article on this emerging research field. Dr. Kamat is quoted in the article and Joe Manser, a 3rd year Chemical and Biomolecular Engineering graduate student made the cover of the issue. You can read the full article on C&EN's website by following the link below.
"Every now and again, a well-studied research topic explodes with new life. Long after carbon materials filled chapters of dated textbooks, for example, that field's soul was reenergized around 1990 after buckyballs and carbon nanotubes were discovered. It happened again in that field about a half-dozen years ago when graphene took the world by storm. It's happening now in photovoltaics." - C&EN (image credit: Mitch Jacoby)
Excited State of [9]- and [12]-CPP
Read the latest paper from the Kamat Lab!
Carbon Nanohoops: Excited Singlet and Triplet Behavior of [9]- and [12]-cycloparaphenylene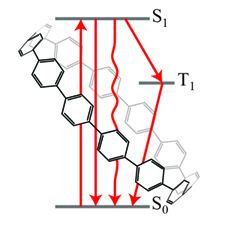 Abstract: Cycloparaphenylene molecules, commonly known as 'carbon nanohoops,' have the potential to serve as building blocks in constructing carbon nanotube architectures. The singlet and triplet excited state characteristics of [9]-cycloparaphenylene ([9]CPP) and [12]-cycloparaphenylene ([12]CPP) have now been elucidated using time resolved transient absorption and emission techniques. The fluorescence quantum yields (Φ) of [9]CPP and [12]CPP were determined to be 0.46 and 0.83 respectively. Rates of non-radiative recombination (knr), radiative recombination (kr) and intersystem crossing (kisc) determined in this study indicate that radiative decay dominates in these nanohoop structures. The triplet quantum yields determined through energy transfer with excited biphenyl triplet were 0.18 and 0.13 for [9]CPP and [12]CPP respectively. The rate of triplet state quenching by oxygen was measured to be 1.7 × 103 s-1 ([9]CPP) and 1.9 × 103 s-1 ([12]CPP). The excited state dynamics established in this study enable us to understand the behavior of a carbon nanotube-like structure on a single subunit level.
Improved Charge Separation in CdSe QDSC with CuxS
Read the latest paper from the Kamat Lab!
Charge Transfer Mediation Through CuxS. The Hole Story of CdSe in Polysulfide
Abstract: Hole transfer to dissolved sulfide species in liquid junction CdSe quantum dot sensitized solar cells is relatively slow when compared to electron transfer from CdSe to TiO2. Controlled exposure of cadmium chalcogenide surfaces to copper ions followed by immersion in sulfide solution promotes development of interfacial CuxS layer, which mediates hole transfer to polysulfide electrolyte by collection of photogenerated holes from CdSe. In addition, CuxS was also found to interact directly with defect states on the CdSe surface and quench emission characteristic of electron traps resulting from selenide vacancies. Together these effects were found to work in tandem to deliver 6.6% power conversion efficiency using Mn-doped CdS and CdSe co-sensitized quantum dot solar cell. Development of n-p interfacial junction at the photoanode-electrolyte interface in quantum dot solar cells unveils new means for designing high efficiency liquid junction solar cells.
Quantum Dot Surface Chemistry
Read the latest paper from the Kamat Lab!
Recent Advances in Quantum Dot Surface Chemistry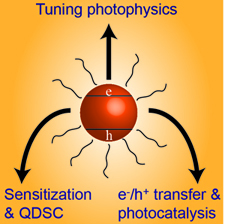 Abstract: Quantum dot (QD) surface chemistry is an emerging field in semiconductor nanocrystal related research. Along with size manipulation, the careful control of QD surface chemistry allows modulation of the optical properties of a QD suspension. Even a single molecule bound to the surface can introduce new functionalities. Herein, we summarize the recent advances in QD surface chemistry and the resulting effects on optical and electronic properties. Specifically, the feature article focuses addresses three main issues: (i) How surface chemistry affects the optical properties of QDs, (ii) How it influences the excited state dynamics and (iii) How one can manipulate surface chemistry to control the interactions between QDs and metal oxides, metal nanoparticles and in self-assembled QD monolayers.